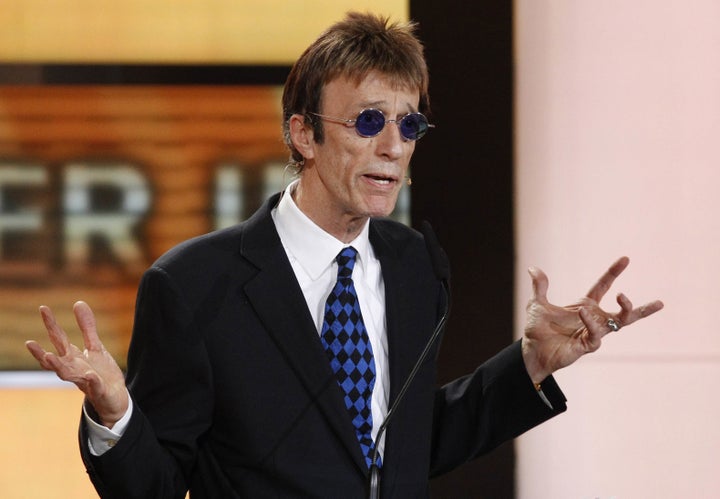 UPDATE: People magazine reports that Gibb is awake and talking, according to his doctors who issued this statement on Sunday: "Robin is fully conscious, lucid and able to speak to his loved ones ... He is breathing on his own, with an oxygen mask ... He is on intravenous feeding and antibiotics. He is of course, exhausted, extremely weak and malnourished."

LONDON, April 21 (Reuters) - Bee Gees singer Robin Gibb has woken from a coma more than a week after he lost consciousness and has attempted to communicate with family members at his hospital bedside, the BBC reported on Saturday.
Gibb, 62, has begun to show signs of recovery and has been able to nod and communicate with his family, spokesman Doug Wright was quoted as saying by the BBC. Wright could not immediately be reached to confirm the report.
The singer contracted pneumonia and fell into a coma at a central London hospital earlier this month. He had been receiving treatment for colon and liver cancer.
He founded the Bee Gees with his twin brother Maurice and older brother Barry in the late 1950s. They have sold an estimated 200 million records during a career spanning more than 50 years.
The group helped to define the disco sound of the 1970s with a string of hits, including "Stayin' Alive", "Night Fever" and "Jive Talkin'". Their distinctive sound was characterised by falsetto vocals, tight harmonies and lush orchestration. (Reporting by Peter Griffiths; Editing by Michael Roddy)

CORRECTION: A previous headline for this story referred to Robin Gibb as a "former" member of the Bee Gees. Gibb is still a member of the band.
Popular in the Community