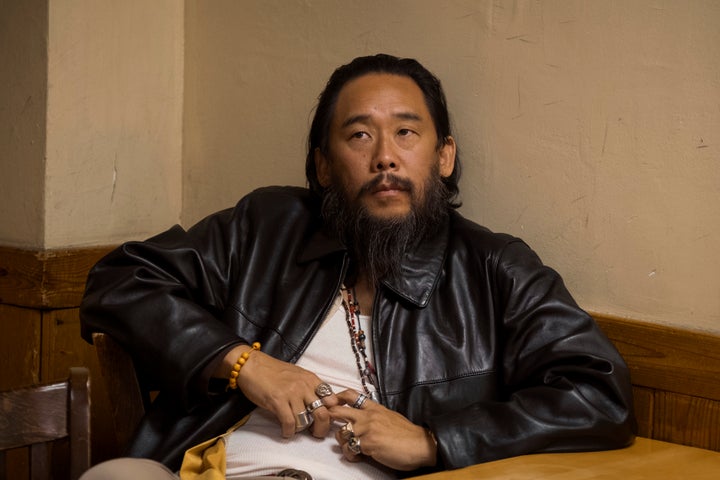 This story contains graphic language regarding sexual assault.
The Netflix hit "Beef" has drawn controversy amid the resurfacing of a 2014 clip where one of the show's stars, David Choe, seemed to claim he'd sexually assaulted a massage therapist.
Choe, who plays Isaac on "Beef," told the story on his now-defunct podcast "DVDASA," seemingly telling co-host Asa Akira that he'd coerced a Black massage therapist into performing oral sex on him.
"I just take her hand and I put it on my dick, and she just holds it there," Choe says in the short clip available online. He says the massage therapist went along with his action but didn't seem enthusiastic about it.
Choe then says he asked the masseuse to pleasure him, and that she began manually stimulating him but he found it unsatisfying. He says he asked the woman to spit on his penis and kiss it, and that she refused.
"I take the back of her head and I push it down on my dick, and she doesn't do it, and then I go, 'Open your mouth, open your mouth,' and she does it," Choe says. "And then I start face-fucking her."
"You raped," Akira replied.
After the podcast aired and drew widespread criticism, Choe said he was telling a fictional story, and that the events he described never actually happened.
The "DVDASA" clip has caused many on Twitter to question why Choe was cast in the buzzy Netflix series, which also uses Choe's art for its title sequence.
After Bogado tweeted the clip on Thursday, it was taken off the platform "in response to a report from the copyright holder," per Twitter.
Bogado later tweeted that Choe "wrote to Twitter to get the video I posted of him talking about the woman he says he raped taken down on copyright grounds."
Bogado posted screenshots of the email she says she received from Twitter.
Other Twitter users say their own videos of Choe's story have also been yanked from the platform.
On Friday, Bogado tweeted a TikTok video of Choe telling the story. As of Monday afternoon, that tweet was still on the platform.
Choe's story was widely reported on in 2014, garnering immediate outrage. In a statement shared by BuzzFeed News at the time, Choe claimed that the story was a fabrication and "not a representation of [his] reality."
"I am not a rapist. I hate rapists, I think rapists should be raped and murdered," Choe wrote at the time. "I am an artist and a storyteller and I view my show DVDASA as a complete extension of my art."
He added that the only thing he's guilty of is "bad storytelling in the style of douche."
BuzzFeed's 2014 coverage of Choe's story offers more details about what happened on the podcast episode after Akira told Choe he'd "raped" the massage therapist.
"Well... encouraged," Choe replied, according to BuzzFeed.
"I just want to make it clear that I admit that that's rapey behavior," he said later in the conversation, per BuzzFeed. "But I am not a rapist."
He reportedly went on: "With the rape stuff... I mean, I would have been in a lot of trouble right now if I put her hand on my dick and she's like, 'Fucking stop, I'm gonna go call security.' That would have been a much different story. But the thrill of possibly going to jail, that's what achieved the erection quest."
"You're basically telling us that you're a rapist right now, and the only way to get your dick hard is rape," Akira said.
After the story was first reported in 2014, backlash followed Choe for years. In 2017, a mural he'd painted was vandalized with the word "rapist." Choe responded with a message on Instagram in 2017, per NBC News, saying he had "ZERO history of sexual assault."
"In a 2014 episode of ['DVDASA'], I relayed a story simply for shock value that made it seem as if I had sexually violated a woman. Though I said those words, I did not commit those actions. It did not happen," his statement read. "I am deeply sorry for any hurt I've brought to anyone through my past words. Non-consensual sex is rape and it is never funny or appropriate to joke about."
Popular in the Community