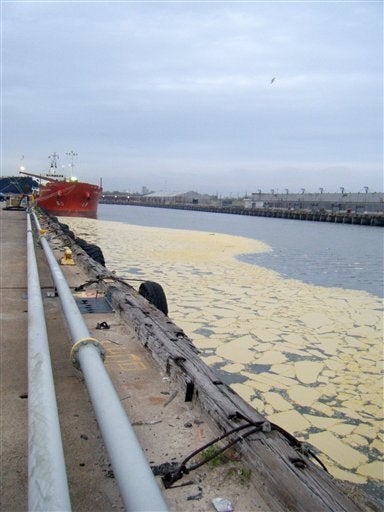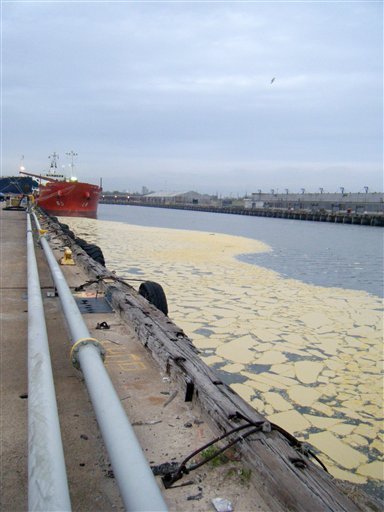 In this photo provided by the U.S. Coast Guard, beef tallow is shown floating in the Houston Ship Channel Tuesday, Jan. 4, 2011. Part of the Houston Ship Channel was closed Tuesday after about 15,000 gallons of animal fat leaked into it from a shore-based storage tank. (AP Photo/U.S. Coast Guard)
From the Associated Press:
HOUSTON — Workers with the U.S. Coast Guard and the Texas General Land Office used pitchfork and fishnets Wednesday to pierce, corral and remove chunks of beef fat clogging the Houston Ship Channel, shutting down nearly a mile of one of the nation's busiest marine arteries.
No ship traffic was delayed, however, because the spill occurred at the end of the waterway, said Richard Brahms, a spokesman with the Coast Guard.
Some 15,000 gallons of animal fat poured into the channel through a storm drain on Tuesday after an onshore storage tank owned by agricultural company Jacob Sterns and Sons leaked 250,000 gallons of the greasy substance, Brahms said.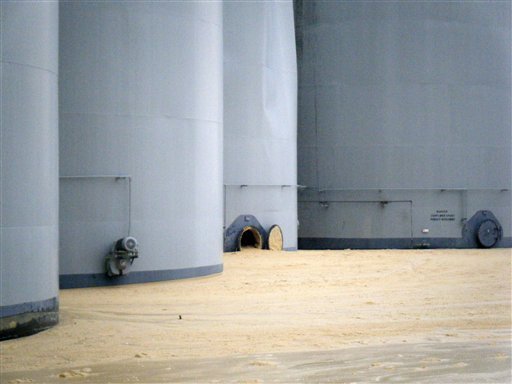 Unlike oil, beef fat doesn't create a colorful sheen on the surface of the water that can be skimmed off, Brahms said.
"When it hit the water it instantly thickened," Brahms said. "It turned into a thick pattie, which is pretty much what we're cleaning up now."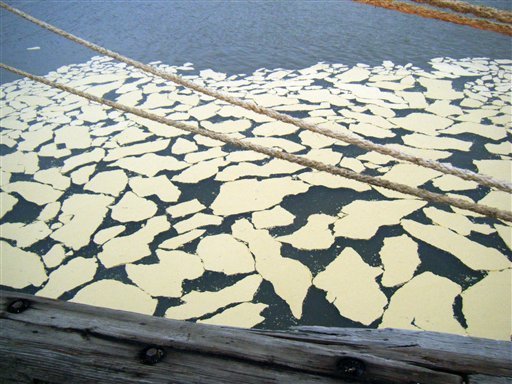 Workers are using fishnets to corral the fat, then pitchforks to lift 1-foot-by-1 foot chunks of the cream-colored debris, officials said. Animal fat is often used in cosmetics, soaps, pet food and a variety of other products.
The Coast Guard hopes to complete the job later Wednesday, Brahms said. At the latest, the channel will reopen to ship traffic by early Thursday.
The cause of the tank leak is being investigated, Brahms said.
Jacob Sterns and Sons did not immediately return phone calls seeking comment.
If the fat washes ashore it could smother marine life in the sand, said Richard Arnhart, director of the LaPorte region of the Texas General Land Office However, at the moment, it is all still floating in the water so he does not foresee any casualties from this spill.
"Our biggest concern right now is to ensure that this gets cleaned up," Arnhart said.
Photos from the U.S. Coast Guard, via the AP

Related