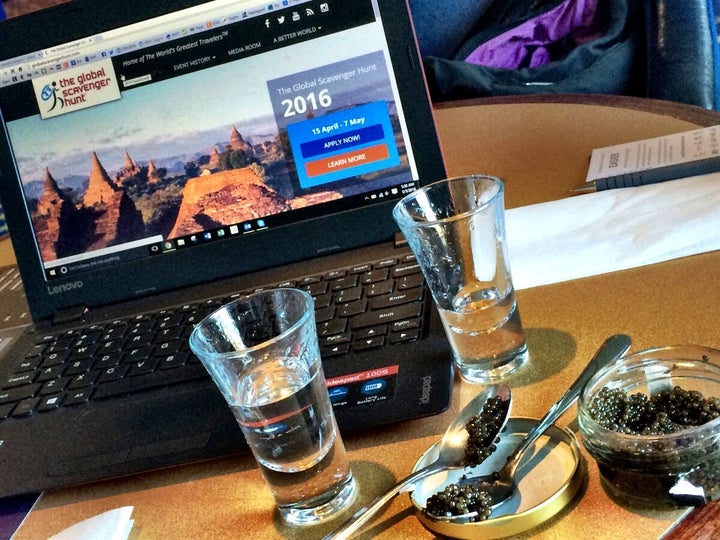 Took that cheap flight to North Korea already; ran the Antarctica marathon too. Been there.
Tried sandboarding the Namibia dunes; scuba dove Mexico's Cenote underground river too. Done that.
Did the Rickshaw Rally across India; and sick of sand in every orifice after Burning Man. What's next?
You may be The World's Most Interesting Person, but for jaded travelers that have supposedly done everything and have nothing left on their Bucket List, what is next?
Well, the world is still your oyster if you are up for some grand adventures in 2018, and here are eight obscenely over-the-top adventures:
1. Bike ride the infamous Ho Chi Minh Trial (aka The Blood Road). It straddles the evergreen jungle border area between Viet Nam, Laos and Cambodia; and at just under 2,000 kilometers (1,200 miles) long, you will traverse a maze of roads, trails, rivers without bridges, and lush rice paddy-lined footpaths…some gutted with craters from another era (read: bombed out). Amazing in every way: the food, the people, the history—but watch out for UXO's…unexploded ordinances!
2. Biking not your thing? Seek tranquility, and maybe even enlightenment too, along Nepal's Annapurna Circuit. They say Millennials aren't into roughing it, but if you can unplug for 15-20 days, you can take in the whole 160-230km (100-145 mile) loop in pilgrimage fashion; experiencing extreme vistas, extreme serenity and extreme solitude. Dine nightly on $1.50 dinners of Nepalese dal bhat with glasses of mind-expanding raksi in warm hospitable teahouses along the route. From Besiahar to Pokhara, thundering waterfalls, turquoise lakes, hot springs, yaks, and cinematic sunsets will fill your day. And at the 5,416 meter (17,769 ft) Thorong La pass, you will ponder a majestic sea of mountain peaks, with 4 of the world's 10 highest summits within your sight…and maybe the secret of life too. Ommm…
3. Take A Blind Date with the World and join the 2018 edition of The Global Scavenger Hunt. But this real-life Amazing Race-like event is for savvy globetrotters and adventurers only, who want to test their travel IQ in a competitive setting where you will circumnavigate the globe in 23-days visiting ten countries as a participant in the annual travel adventure competition that crowns The World's Greatest Travelers. Not for those anal Type-A planners either, because you won't know which country you are going to next until you actually get to the airport! The 2018 event takes place between April 13 and May 5, 2018. I dare you...
4. Take the ultimate urban safari. After visiting Buenos Aires, Argentina's main attraction—La Recoleta Cemetery with a Freddo's ice cream—board colectivos bus #46 outside the famous Boca Juniors stadium and take it to the end of the line at Liniers. Sit close to the driver and clench tightly as you pass through mile after mile of villa miseria (aka economically distressed residential areas) for what will probably seem like an eternity. A friendly tip: Empty your pockets before you board.
5. With the 2016 election a year behind us and everyone suffering a bout of daily PTSD, maybe we Americans need to get to know each other better; see firsthand why America is so divided. And what better way than to pull a Jack Kerouac and experience Steinbeck's America by hitting the road for the ultimate road trip across "forgotten American." Pick one: Route 66 from Chicago to LA, or the Great River Road from Wisconsin to the Big Easy. Maybe Highway 1 from Maine to Key West, or the Lincoln Highway from Jersey to Oregon. Take your own listening tour to better understand why it is called the United States of America—in name only.
6. Head to Papua New Guinea (PNG) for the 8th annual Kutuba Kunda and Digaso festival. In a remote rainforest surrounded village along Lake Kutubu, you will experience a culturally-rich spectacle like none other in a place like nowhere else on the planet. Get out of the Mad Max-like city of Port Morseby and head for PNG's highlands on the second-largest island on Earth to witness colors, rituals, costumes, drum beats and indigenous cuisines of this festival of people—some of the most linguistically diverse in the world with more than 800 local languages spoken. Don't forget your GPS and Google Translate app.
7. I did this last year and ended up in Madagascar—pre-plague outbreak! Take the 24-Hours to Anywhere Challenge: It is my belief that with today's growth of regional air carriers that you can be anywhere in the world in 24-hours. So, pick a destination furthest away geographically from you and attempt to get there in 24-hours. On a bet, I recently did Sacramento to Mauritius—17,646 kilometers away! SMF to JFK (5 hours), then JFK to Johannesburg on South African Flight #204 (14:30 hours), followed by a flight to Antananarivo (3:40 hours). I got to Madagascar in 23 hours and 13 minutes—I did it on the night we changed clocks! Tip: Pack a really good multi-media playlist.
8. Finally, and we double-dare you on this one. Already swam with sharks and dolphins? Well, take a swim with the carnivorous "wolves of the water" (aka piranha) in Pantanal, Brazil. Got your attention? Well, not only will you experience the amazingly secluded and relatively unknown but infinitely vast 624,000-square-kilometer floodplain that is the world's largest wetlands, the Pantanal; but you will one-up everyone you know. And maybe live to tell about it. Maybe?. The park is super abundant in wildlife with over 700 species of birds; 100 species of mammals; 80 species of reptiles; and 240 of fish. So, if the jaguars, caimans, snakes, spiders and mosquitos don't get you, one of the black, red-bellied, gold, or marginatus piranhas will. Two phrases will come to mind: What am I doing? And Don't do it! But then again, don't be a capybara. Tip: Don't nick yourself shaving on this day!
As for me in 2018? I'll be going on the around-the-world event, The Global Scavenger Hunt...better food. Enjoy! Got any other novel adventures to share?
Support HuffPost
The Stakes Have Never Been Higher
Related
Popular in the Community