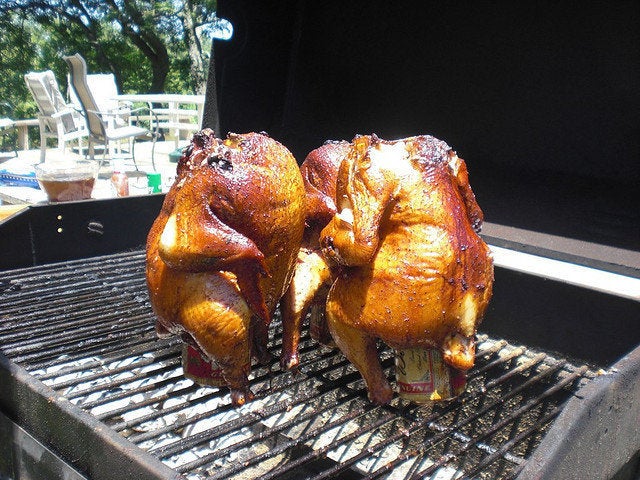 1)
. Beer Can Chicken exposes the exterior to even convection heat so it can crisp the skin on all sides. Do it right and you'll always have crunchy, crackly, tasty skin. If you bake a chicken horizontally in a standard roasting pan, the bottom doesn't brown and often gets soggy. Even if you raise it up on a rack, the air does not circulate under the bird properly unless the rack is well above the pan, as it is on a grill.
1)
. The thoracic cavity of the bird, where its guts and lungs were, narrows almost to a close at the top. On a typical 3 to 4 pound bird, a 12 ounce can will go all the way up the cavity and rest its shoulders just under the bird's shoulders. In other words, all but a little part of the cavity is filled by the can. There is a much smaller cavity where the neck was, and it connects to the lower cavity with a smaller hole. With a metal cylinder up its butt, warm air cannot enter the cavity from below, and only the tiniest amount imaginable can enter from above. The can effectively prevents the chicken from cooking on the inside. All the heat must enter the meat from the outside. Because meat doesn't heat evenly, it progresses inward from the part in contact with air, the outer parts are warmer than the inner parts. By the time the meat nearest the cavity hits 165°F the outer layers are in the 180 to 190°F range. That may darken and crisp the skin a bit more, but it makes the outer layers drier.
So I asked
, to think about all this. He started by roasting three pound chickens at 325°F, the temp I recommend for chicken and turkey. It is low enough to slowly cook the meat without badly overheating the outside layers, and high enough to render fat for crispy skin.
By far the meat temp is the single most important factor in getting juicy, flavorful, safe chicken. The cooking method is less important. You want to remove the bird when the breasts are 165°F in the center (or against the ribs if you have a can in there). The dark meat should be about 170°F. Dark meat can withstand higher temps and you'll hardly notice it, but overcook the breasts and you have cardboard. With all the money you can save on beer,
. Cutting the meat to look for clear juices is not reliable and the fact is that salmonella is widespread in poultry nowadays.
Related