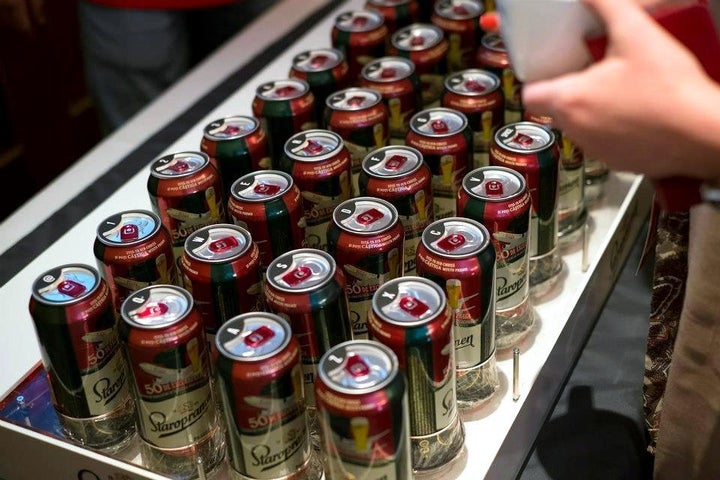 This takes "texting while drinking" to a whole new level.
Last month, Bucharest-based tech company RoboFun caught the attention of conference-goers at Webstock 2012, a web design conference in Romania, with a "keyboard made of beer." That's right: This is just like any other fully-functional keyboard you can type messages on, with beer cans instead of normal keys.
Watch it in action below:
Made in partnership with Czech brewery Staropramen, the keyboard works exactly as you would expect a regular keyboard to -- except the keys are empty beer cans connected to small, Italian-made Arduino computers. Staropramen, which was a sponsor of Webstock, backed the project and provided the 44 beer cans that were the "keys," along with the wall-mounted plasma TV used to display the typed-out messages.
"Everybody was so curious to see how this thing really works, so we had a waiting queue in front of the beer device during all the coffee breaks," Viorel Spinu, one of the founders of RoboFun and maker of the keyboard, told the Huffington Post by email.
Participants at Webstock could use the beer-can keyboard to enter themselves into a Staropramen-run sweepstakes, a contest which every single conference attendee had entered by the end of the weekend, Spinu said.
Spinu explained the mechanism behind the keyboard by comparing it to the common smartphone screen, where every touch modifies the screen's electrical characteristics.
"It's exactly the same concept we used," Spinu told HuffPost. "When someone touches a beer can, it slightly alters the electrical characteristics of the beer can. This change is accurately measured by an Arduino board (which is a really small embedded computer), so we know which key to trigger without having the user press hard on the can."
And indeed, the beer-can keyboard promotional video emphasizes that the keys need only to be pressed "gently." (Probably a good idea when you make a keyboard out of crushable beer cans.)
The keyboard-making studio, RoboFun, is the largest "open-source hardware store" in Romania. They pride themselves on making "that kind of technology you cannot buy in stores, as it's not there yet," Spinu said.
The keyboard is hardly the first eccentric device RoboFun has made. The studio has also produced a laser harp and a beer piano, the latter of which inspired the beer-can keyboard, Spinu claimed. According to RoboFun, the keyboard can be attached to any laptop or desktop computer with a traditional USB plug.
As for "unconfirmed reports" that beer-hungry thieves stole the keyboard at the end of the event? Spinu says that was just "a joke" made Donald Melanson in a blog post for Engadget, which like the Huffington Post is owned by AOL.
"The keyboard was always safe in our Bucharest office, nobody ever stole it," Spinu said.
Before You Go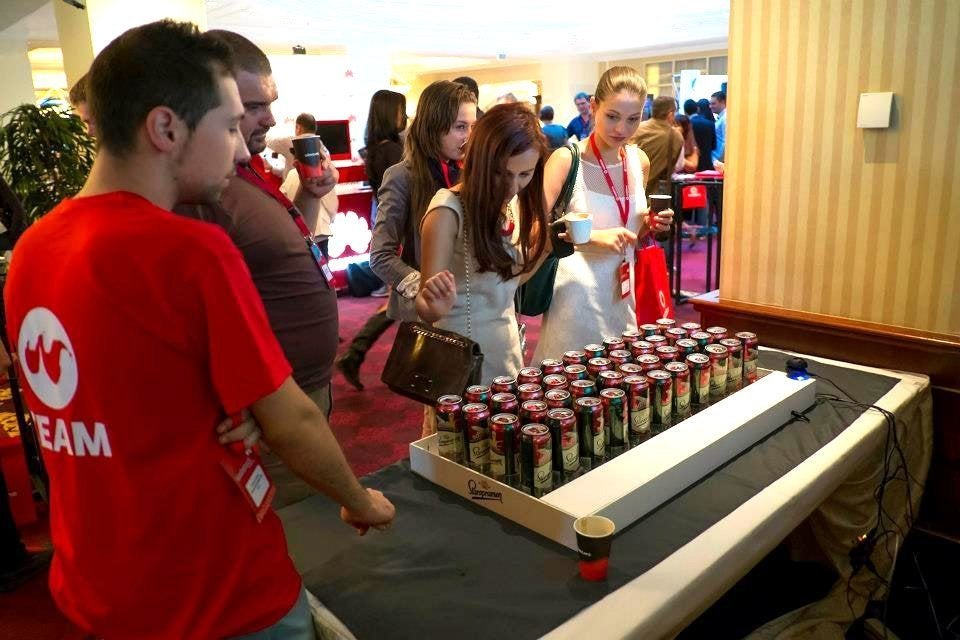 Beer Keyboard
Popular in the Community