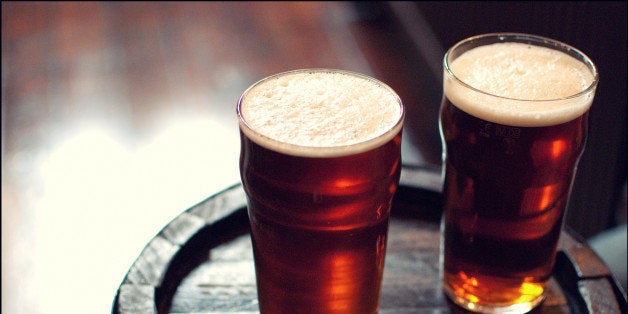 WASHINGTON -- A group of 24 brewers from across the country have come together to cut greenhouse gas emissions from their operations and call for strong national action to address climate change.
The breweries, which include Smuttynose Brewing Company, Guinness and Allagash Brewing Company, have signed onto the Climate Declaration organized through the sustainable business group Ceres. The declaration pledges that each company will take its own action to reduce emissions from its business, and will also support political action at the national level.
Jenn Vervier, director of strategy and sustainability at New Belgium Brewery, which is based in Fort Collins, Colorado, said action on climate change makes a lot of sense for the brewery because it uses a lot of energy in heating, cooling and transportation, and uses a lot of water. Rising emissions, too, are expected to have negative effects for the beer industry because it relies on the cultivation of barley and hops, which are sensitive to changes in the climate.
New Belgium Brewery has already installed 300 kilowatts of solar at its brewery in Colorado, and it capture methane generated in its operations, which it then burns to generate 15 percent of its electricity.
Vervier said the advocacy for national climate action also makes sense for brewers. "Even if we were to be ourselves climate neutral, it's such a small drop in the bucket," she said. "It's going to take a cleaner grid to lower the emissions from manufacturing."
Julia Person, sustainability manager at the Craft Brew Alliance, which owns the brands Redhook, Widmer Brothers and Kona, said the commitment to addressing their impact also has clear economic benefits. The company lowered its greenhouse gas emissions 8 percent in 2014, she said, which saved it more than $250,000 in energy costs. It has also reduced the amount of water needed to produce a gallon of beer to 3.5 gallons -- much lower than the craft brewery average of 6 to 8 gallons, Person said.
"It's good for business, it's not just good for the environment," said Person. "We're lowering our operating costs. It's doing the right thing and having a benefit."
Also signing the declaration: Aeronaut Brewing Company, The Alchemist, Aspen Brewing Company, Brewery Vivant, Bouy Beer Company, Chuckanut Brewery and Kitchen, Deschutes Brewery, Fort George Brewery and Public House, Fremont Brewing Company, Georgetown Brewing Co., Guinness, Hopworks Urban Brewery, Ninkasi Brewing Company, Odell Brewing, Rockford Brewing Company, Smuttynose Brewing Company, Snake River Brewing Co., Standing Stone Brewing Co., and Wet Dog Café & Brewery.
The brewers hope that their advocacy reaches consumers, too. "Beer is near and dear to people's hearts. It's part of people's everyday activity," said Vervier of New Belgium. "I think when people see their favorite brands speaking out, it gives them courage to speak out. I think it makes it relatable for people."
Related