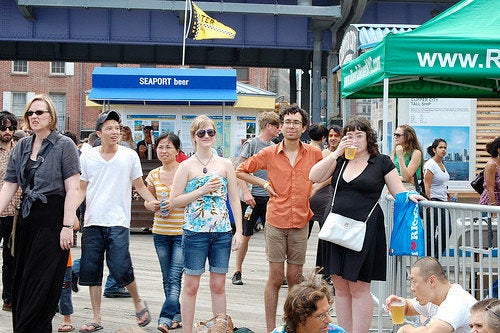 It's a misconception in New York City that you can open any outdoor space and slap the designation "beer garden" on it just because you happen to serve liquor and beer. A plethora of "beer gardens" have been popping up throughout the five boroughs and another will be joining the crowd this May when the former Water Taxi Beach at South Street Seaport transitions into Pier Garten, a space that's been compared to Biergarten at The Standard Hotel.
I was never really a fan of the Water Taxi Beach. All three of the venues (there were Water Taxi Beaches in Long Island City and on Governor's Island as well) charged a little too much for what should have been a laidback experience. And I know for a fact that the LIC location ran out of beer way more than any bar ever should -- especially when they're charging a cover and still asking $7 for a drink. Since I'm originally from Florida where beach bars are a dime a dozen, this place never really thrilled me.
It seems that a lot of New Yorkers agreed with me, too. According to DNAinfo.com, the owner of the Water Taxi, Tom Fox, who also leased the beaches, had to close the South Street Seaport location for much of last summer due to expenses. And, according to the official site, the LIC location will have to shut down altogether due to construction needs in Queens.
This new plan appears to be a way to regain some of the losses incurred by the original incarnation of the Water Taxi Beach. I'm very interested in seeing how it turns out but a little weary of another purported "beer garden" -- especially when recent news pieces have described the space as "upscale" -- that word should never describe a beer garden.
Telly Hatzigeorgiou, owner of Slate, is spearheading the transformation which calls for the removal of sand and the addition of ping-pong, foosball and billiards tables -- three more terms that should not be associated with the word "upscale." But a quick peek at Telly's other property, Slate, and you'll find an upscale bar with pool and snooker tables -- so perhaps that's the inspiration for this place.
No matter how this beer garden turns out, I'd be willing to bet that it'll attract a tourist crowd in large part to its proximity to the Seaport. That won't keep me from visiting at least once -- I've been known to have a beer or two in the vicinity of South Street Seaport from time to time.
I reached out to Tom about the plans for the location and have yet to hear back but I'm looking forward to getting some additional information on this. I certainly cannot judge a place I haven't visited but it does sound like they're going to great lengths to be authentic, what with the trees and such.
I'd like to know what beer will actually be on the menu -- do they plan to cater to a macro audience with macro brew or will they take the high road and serve up craft beer? I'd be really impressed if they had some local beer on tap alongside high-quality German brews. But that remains to be seen.
I've a long history with New York City beer gardens so I'm an interested party. But I still have a special place in my heart for Bohemian Hall in Queens -- even taking into account the meat heads that used to frequent the beer garden. (The meat heads have since started flocking to the "beer garden" at Studio Square -- but that's a story for another time).
Related
Popular in the Community