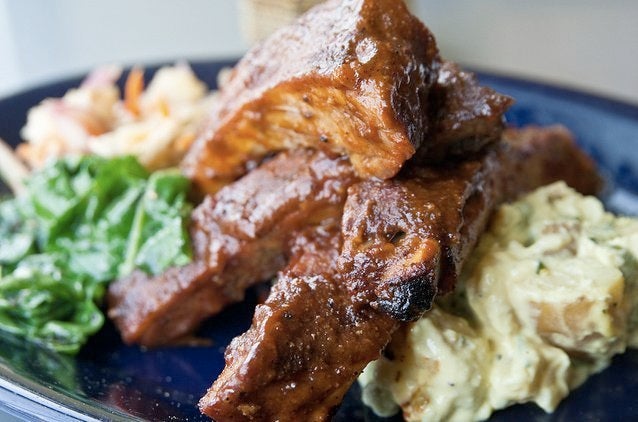 You may not like a strong drink with your meal, but have you considered trying a drink in your meal? Head to one of these Chicago restaurants to try boozy foods that bring new flavors to some of your favorite dishes.
The Southern: Since The Southern has some of the best comfort food in the city, it's no surprise that pot roast is on the menu. Their version of this classic dish includes slow-cooked beef chuck, baby spinach and seared mashed potatoes. However, it's the red wine gravy that really stands out; this rich, creamy sauce takes the dish to a whole new level. 1840 W. North Ave.; 773-342-1840
Chief O'Neill's Pub and Restaurant: Leave it to the Irish to slip a little booze in their dinner. At Chief O'Neill's, their Dublin broil features a flank steak marinated in Guinness and then topped with a mushroom demi glaze, giving it an undeniably rich flavor. This hearty dish is served along with roasted asparagus and mashed potatoes, ensuring that you leave this restaurant with a full stomach. 3471 N. Elston Ave.; 773-583-3066
Mrs. Murphy and Sons Irish Bistro: Forget everything you know about barbecue and head to Mrs. Murphy and Sons for a whole new experience. Their barbecue ribs are slathered in a tangy whiskey marmalade BBQ sauce that is unlike anything you've tried before. To top it all off, the dish comes with a side of mac and cheese made with a creamy Guinness-infused cheese sauce. It doesn't get much boozier than that. 3905 N. Lincoln Ave.; 773-248-3905
Big Jones: Who said booze-infused foods can't be sweet? At Big Jones, a boozy dessert is the best way to end your meal. Their bread pudding is spiked with bourbon for a distinct taste. The dessert is made even sweeter by the addition of an apple compote and vanilla bean ice cream on the side. 5347 N. Clark St.; 773-275-5725
Jerry's Sandwiches: Like Big Jones, Jerry's likes to pair alcohol with sweets. That's why they offer ale floats for dessert. Think of your standard root beer float, but replace the root beer with any of their draft beers and the ice cream with a creamy custard for a unique dessert experience. 1938 W. Division St.; 773-235-1006
Calling all HuffPost superfans!
Sign up for membership to become a founding member and help shape HuffPost's next chapter