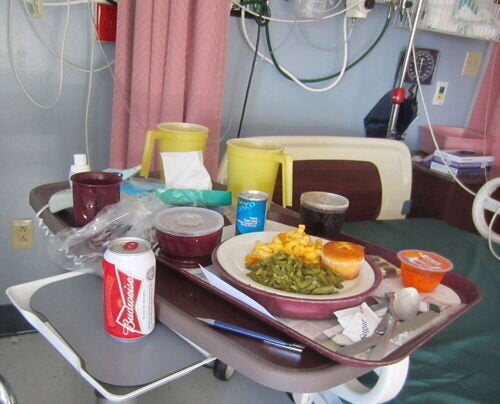 I visited someone in the hospital yesterday. Having survived a car accident, he sustained multiple fractures in major bones. This hurts. He was prescribed Dilaudid.
I entered his room mere moments after his lunch tray had arrived. It was a generous array of mac-and-cheese, green beans, beef-and-barley soup, corn muffin, orange gelatin dessert, coffee, and beer.
It stood there pertly in its sturdy snow-white-and-cherry-red can.
"You have a beer," I said.
"It just came on the tray," he said. "I didn't ask for it. The doctor ordered it."
I was unwilling to believe this. First of all, he has a tendency to lie. Second, what doctor orders beer? What purpose could it serve? I spent two weeks in January with my mother in another hospital, and never saw a beer. They gave her chicken teriyaki, French toast, chocolate poundcake, salmon steak. I was touched by the kindness with which these meals were prepared by kitchen staff who called ahead of time to ask which menu items she preferred, although she could not tell them, so I chose. She was dying. She was out of her mind. She had no idea what this food was or who I was. She believed I was her friend Elizabeth. She nibbled the corners of her sheet, thinking it was pie. She had refused nearly all food for seven years but ate her hospital meals lustily because she believed she was someone else or perhaps herself long ago and far away. Potatoes au gratin, hot cocoa, sweet-and-sour carrots. It was not a fancy hospital. But still. This is a different story, but the point is: No beer.
Yesterday I snapped a picture.
Then he cracked open the can and gulped it down between forkfuls of beans.
He said a Bud came with his breakfast too.
After leaving, I called the hospital to ask: Are patients really given beer?
A friendly kitchen staffer told me it was true:
Doctors sometimes order beers for patients who are going through withdrawal. The kitchen staff places on the trays whatever doctors order, and sometimes they order beer. A lot of patients get it, said the staffer, because doctors think they need it. Not usually throughout their whole stays, but at least at first.
Ohhhkay. So beer is a kind of comfort food to certain patients, and doctors decide.
Beer-by-prescription has a controversial history in America. The New York Times reported on March 11, 1921: "Leading breweries in the metropolitan district announced yesterday that they were ready to supply the legitimate trade with all of the real beer required for medicinal purposes, under a decision of former Attorney General Palmer." Yet eight months later, President Warren Harding signed the Willis-Campbell Act, which prohibited doctors from prescribing beer and other alcoholic beverages to patients.
Mariah Carey was investigated by the Los Angeles County Department of Children and Family Services four months ago after TMZ reported that she had imbibed beer in Cedars Sinai hospital while breast-feeding her newborn twins Moroccan and Monroe. According to the New York Daily News, Carey's husband "recounted in several interviews how a nurse told the couple that the yeast from a Guinness, a dark beer, can help breast-feeders ... TMZ reported that Carey did indeed drink the alcoholic beverage -- and the hospital staff was well aware of it."
Carey was cleared of child-endangerment charges after a DCFS visit "in which Carey's lawyer was reportedly present, the singer again explained that she was following hospital advice when she drank the beer and that it wasn't done in secret."
Chapter 270, section 5 of the General Laws of the Commonwealth of Massachusetts prohibits giving or delivering alcoholic beverages to hospital patients "except under the direction of a physician."
While talking with the friendly kitchen staffer yesterday, I asked for a final clarification.
"So the doctors at this hospital," I ventured, "prescribe Bud?"
"Not Bud specifically," she said. "Just beer."
Images courtesy of Kristan Lawson.