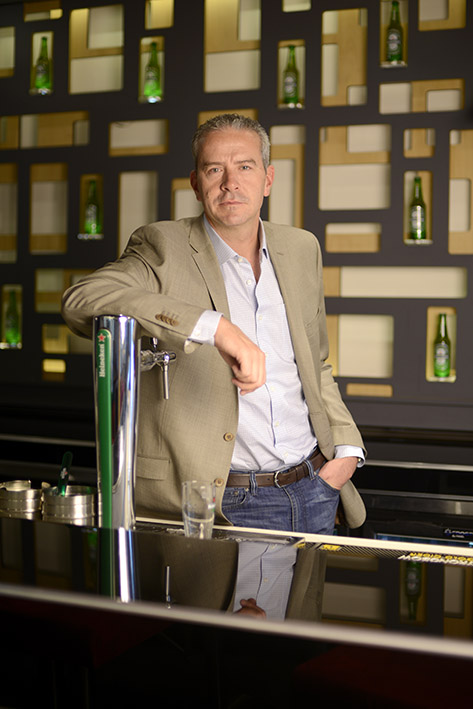 "Great friendships are not made in milk parlors." So says an English friend. Those who might not readily agree with him have only to look back a few generations to see that bars are indeed places where friendships are born and flourish. A bar has a place for every moment, good or bad. That's why people so easily yield to its setting to have the simplest, most abiding conversations about life. There's no place like a bar for confessions; or anecdotes that can go on forever. For millions of people everywhere, sitting down to a beer to set the tone for an evening is one of the great pleasures of life. And I don't need to furnish any figures as proof of that.
We've only got to sit and observe the way so many people amble into a bar and order a first beer after a long day. To release tension from work; it doesn't matter who you stumble upon. The ritual of savoring a beer is carried out very naturally. Some might perform it on their own to begin with. But the first sip leads to complicity with those sharing space there with you. Unlike other drinks, beer places you on an even keel with those around you. Once you've got a beer in your hand, there's no pretentiousness. No differences. It's a social frequency equalizer, even between men and women.
My work as a journalist has taken me into the most diverse social and cultural milieus. I can tell you there's nothing like a beer with peers once the assignment at hand has been dealt with. Initially, you relish just how simply refreshing it is. Then it imbrues conversation, though it might have nothing at all to do with the event that has brought us together as communications professionals. We all order our favorite and choice is often purely emotional, especially if you chance upon a brand that reminds you of home. There's no denying the link between the two. It's like an identity seal that often transcends to the realm of personal pride when you're far from home. With the broad choice range available, there's nothing like the brew you've downed all your life to make you feel at home.
On a recent trip to Mexico City, I had the opportunity to chat with Marc Busain, CEO of Heineken Mexico (Cuauhtémoc Moctezuma), a beer expert who has worked extensively in the field in Africa, Europe and Latin America. I was curious about cultural heritage and beer consumption, about how the one informs the other.
"There might be cultural differences between continents and their traditions, but the most interesting factor is that beer is not just a liquid product that's low in alcoholic content. Beer represents good moments with friends. In all the places I've worked I've seen that beer plays a very important cultural role because it's served in bars, pubs and restaurants, which are social and cultural platforms".
At a time when physical presence is starting to be a privilege, when droves of virtual friends are the in-thing, sharing moments with others around a table at any bar or restaurant is, for me, absolutely necessary/*an increasingly precious commodity/*. They are spheres of encounter that make beer culture all the more important to young adults. Social networks, which are so important today as well, are also a key vehicle for reaching that same consumer group. Apart from summoning them to all types of events, they also provide instant, nonstop messages about consumption.
"Our campaigns emphasize over and over again the importance of intelligent consumption. A recent one, which bore the slogan "No te hagas Guey" ("Don't push it, young buck"), launched with the Cámara Nacional de la Industria de la Cerveza, is a good example of what Mexican beer companies are doing to promote responsible consumption."
Beyond age or generation though, and after tasting a fair amount of beer myself, I've come to realize that for me it is best savored in my moments of leisure. Where you grow up and the factors that shape your personality, personally and professionally, will always be crucial.
"Mexican culture is a beer culture, especially northern Mexico. Good moments always include beer. The climate is key and no doubt explains why consumption per capita is higher there than in the rest of the country. All our brands have a specific consumer profile. Young adults who are in to alternative rock prefer INDIO. Those who like to think they're more interesting and in sync with the latest fashion identify with DOS EQUIS. The more macho, for whom sharing with friends is 'cool', tend to go for TECATE," concludes Busain.
Years of contact with beer, tasting different brews, make it easy to pinpoint exactly what you like, what you feel most comfortable with, and when. In my case, state of mind counts a great deal when it comes to deciding which. Time of day as well. But I've always been concerned about new consumers, those just coming of age, who still don't know what they really like or feel most comfortable with, given the range of alcoholic beverages available to them. That's no easy task. My first sip of anything alcoholic was beer. So I asked Mr Busain whether, drawing upon his wealth of experience as a market connoisseur, he would consider this the first step towards the loss of alcoholic virginity. "I don't think so. Not beer. Its bitter taste continues to be a factor for rejection among young adults. Sweet mixes are probably more likely to lead to that loss of virginity, in terms of the first time one tastes alcohol." He said he doesn't recall exactly how things transpired in his own case, but he did confess that after all these years in the culture, with all the beer he's tasted, his pallet has evolved towards quality lager. He even told me that his favorite is the one he always has to help him recover after his long bike rides every weekend. He is a cycling fanatic and points out that it is scientifically proven that beer has antioxidants, vitamins, and no fats or minerals. Which makes it an even more interesting drink for him.
In a world where there's so much information about brands, drinks and luxury foods, this only makes my appreciation of beer even greater. And when I see what it represents for society, I cherish it even more. It belongs to no one. But wherever I go I see that it has forged a special place for itself.
Translated by Owen Thompson