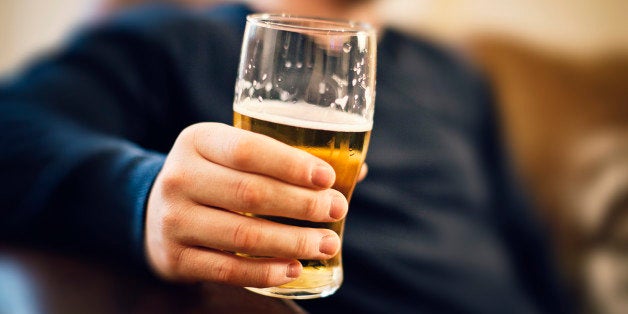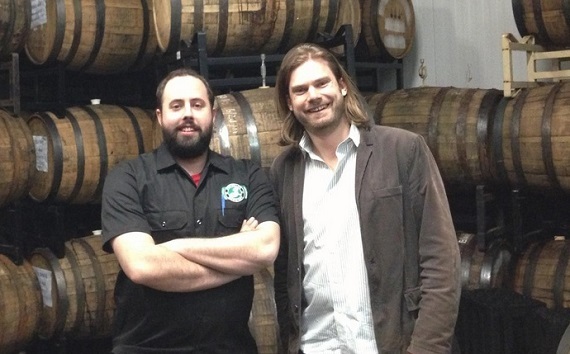 The best beer in Munich is not at the Hofbräuhaus. Beer awesomeness awaits you, but not necessarily at the places you've heard about.
Mormons gravitate to Salt Lake City, Muslims to Mecca and Catholics to the Vatican. For beer-lovers across the world, true north is Germany, the global home of beer and brewing greatness. And within Germany, Munich is widely regarded as Beer Central.
Which is why international beer-lovers and tourists in search of the perfect beer adventure flock to Munich.
But there's only one problem. They tend to lavish their love on the city's big breweries and the Oktoberfest, so they miss out on sensational off-the-grid brews.
With seven huge breweries, this city is high on brewing muscle, but low on diversity. A skull-flattening 6 million hectoliters, or 158 million gallons, of beer gush forth from the Augustiner, Hofbräu, Paulaner, Hacker-Pschorr, Löwenbräu, Spaten and Franziskaner breweries every year. Much of it is Helles (a light lager) and Weizen, the wheat-based beer that Bavarians love.
That's all good if craft beer is not your thing. But the big breweries suck up all the oxygen. They overshadow the valiant small breweries and craft beer pubs in Munich that are swimming against the beer tide. If you come to Munich in search of beer greatness, you may not even know they exist.
Likewise, the Oktoberfest, that unrivaled global magnet for beer fans that is the stuff of legend. Go if you will. But surrender your executive functioning at the gate and shed your dignity. All manner of beer-fueled lunacy lies ahead.
This is a mass event like no other, where locals and tourists join forces in a sacred mission: to down torrents of beer in a single-minded quest for the ultimate rush.
An epic 6.7 million liters, or 1.77 million gallons, of beer lubricated partygoers at the Oktoberfest in 2013. Let's just say things can get a little crazy when beer is consumed in quantities like this.
If you're tempted to participate, you can rent a bosom-lifting dirndl or a pair of clingy lederhosen to blend in with the crowd. But however you dress, know that you'll be rubbing shoulders with -- count 'em -- over 6 million other uninhibited, thigh-slapping partygoers. The count was 6.4 million in 2013.
Think of it as a marathon beer-storm. It can be fun if you're in the right frame of mind. But it's not where you go to experience authentic regional beer culture, encounter the diversity of native Bavarian beer or connect with the people who brew it.
For all its buzz, charm and hip cultural highlights, Munich is an irresistible destination. But since the beer scene is dominated by big-gun breweries and driven by the Oktoberfest, if you want to unlock the authentic German beer experience, you have to look hard.
Somewhere outside of Munich's mega-breweries and beyond the Oktoberfest, lies a beery divide that separates the mundane from the transcendent. You can't find the exact tipping point on a city map, but it's real and you'll notice that the beer definitely starts getting more diverse and flavorful when you get off the official beer grid.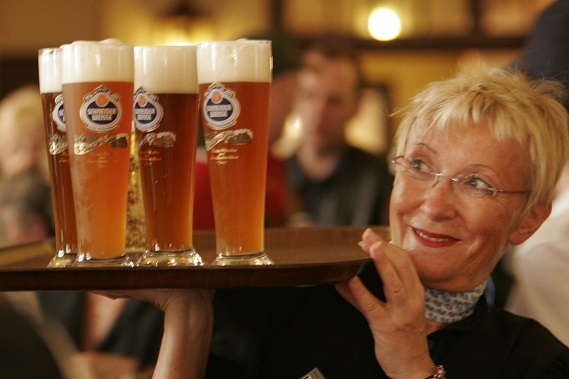 Want to forage Munich's alt-beer scene for really good brews? Here are some tips.
A wheat-beer champ that is a fraction of the size of Munich's big beer-makers, Schneider Weisse brews its beer in Kelheim and operates the venerable Weisses Brauhaus in Munich at a site where beer has been brewed and served since 1540. A warm atmosphere, sturdy food and memorable beer await you. Try Schneider's Aventinus, Nelson Sauvin, Porter Wheat and Eisbock if they're available when you visit and thank your lucky stars if they are. Schneider Weisse is still owned and operated by the Schneider family and some of their beers are exported.
Tal 7
80331 München
Tel. (089) 2901380
The Giesinger brew-house was born in a garage in a working-class Munich neighborhood and started out life as a nanobrewery. Owner Steffen Marx captured the beer Zeitgeist, used word-of-mouth and guerilla marketing to win converts and has written a new chapter in Munich brewing history in the process. He makes unfiltered, unpasteurized Märzen, wheat beer, Helles and dark beer in small quantities and will open a new brew-house in September. Until then, buy his beer at the brewery or get it at one of Munich's craft beer shops.
Bearded dudes with tats, standing around the mash tun. Portland meets Munich. Mario Hanel and Timm Schnigula invented "Craft Beer is Not a Crime" as their motto. They run a pioneering craft brewery with an outsider vibe, which leaves no doubt that they see themselves at odds with the beer establishment. They're charting new ground with a range of outsider brews that would have been unthinkable in Munich a few years ago. Try their Foundation 11, a pale ale. They also do an India Pale Ale, Stout, Summer Beer and a double IPA. It's beer-glazed grunge-glam at its best! New brewery and brewpub set to open in March 2015. Until then, the hippest venues to enjoy their beers are the Burritto Company, Augustenstrasse 74; Upper Eat Side, Werinherstrasse 15; or Goldene Bar, Prinzregentenstrasse 1 (all in Munich).
Fraunhoferstrasse 9
80469 München
Tel. (089) 411471290
A must-visit beer destination, the Brauerei im Eiswerk is a sweet microbrewery located in a repurposed, turn-of-the century icemaking plant. Craft beer purists may balk because the brewery is operated by the Paulaner beer company, one of the city's large beer-makers. But the brewers apparently have a free hand and have been rolling out interesting, unorthodox beers, including a triple-fermented Bourbon Bock, a new twist on traditional brown beer called Josephs Spezial, and a strong fruity wheat Bock they call Weizenbock Mandarin.
Ohlmüllerstrasse 44
81541 München
Tel. (089) 39292 350 or 39292 351
Founded by Günther Baumann and co-conspirators as a house brewery, Richelbräu may just be the most laid-back, quirky brewery in Munich. It's located in a turn-of-the-century building in the Neuhausen neighborhood and serves as a cultural center and neighborhood gathering place. The brewery can't serve food and isn't even allowed to sell its beer, but "tasting" is allowed. Demo brewing dates are set for July 5 and 19, August 2 and 16, September 6 and 20, October 4 and 18, 2014. You can also visit at other times, but call ahead.
Richelstrasse 26
80634 München
Tel. (089) 132584
Four other fixed stars in the Munich alt-beer scene deserve honorable mention. They're not breweries, but they have a vast selection of small-batch and specialty beers, craft beers and beers from the hinterlands on tap or in the bottle.
RedHot Amalienstrasse 89, 80799 München, Tel. (089) 20 06 17 18
Taphouse Rosenheimer Strasse 108, 81669 München, Tel. (089) 62 23 118
Biervana Hohenzollernstrasse 61, 80796 München, Tel. (0177) 17 04 598
Getränke-Oase Gabelsbergerstrasse 54, 80333 München, Tel. (089) 57 95 36 37
It will take persistence, but if you ferret out some of these beer destinations when you're in Munich, you'll be doing yourself an immense favor. But don't stop there. You've only had your first sip.
Bavaria has 626 breweries, and 88 percent of them are small- or mid-size operations, with real people standing at the mash tun who turn out luscious authentic styles. Nearly all of them are located outside of Munich in the region's nooks-and-crannies.
These hidden native breweries have deep roots in the towns and villages where they're located. The beers they brew are loaded with character. They ignite passion and loyalty. Only a few of them are exported, so you have to venture to the hinterlands to experience them.
After a stop in Munich, a guided tour of the back roads of Bavaria should be on every beer-lover's bucket-list. Beer always tastes best where it's brewed, and it's magical in the Bavarian hinterlands.
------------
Tom Conrad will lead a small band of beer lovers, craft beer enthusiasts and Slow Food fans on a beer and brewery tour to Germany in October. Craft brewers, abbey breweries and independent beer-makers in Munich and the nooks and crannies of Bavaria are on the itinerary..
Photo credits: Crew Republic, Rainer Kastl/bierwandern dot de; Peter von Felbert; Bierland Oberfranken e.V.; Luber Family; LWL/Maria Tillmann
Related