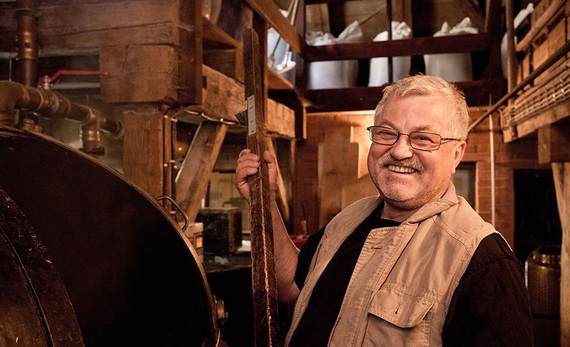 Photo credits: Rainer Kastl/bierwandern.de; Peter von Felbert; Bierland Oberfranken e.V.; Luber Family
Can we let you in on a secret? The best beer in Germany is not in Munich.
Germany has an immense variety of exceptional beers. Even many of the country's everyday brews are amazingly good. But not every beer can be excellent, even in the land where beer is legend.
Aside from a handful of valiant craft brewers who are making very good, genre-busting beers in the shadow of the giant brewing companies, Munich is in the grip of a beer monoculture. Beer-lovers in search of diversity won't find much of it in Munich.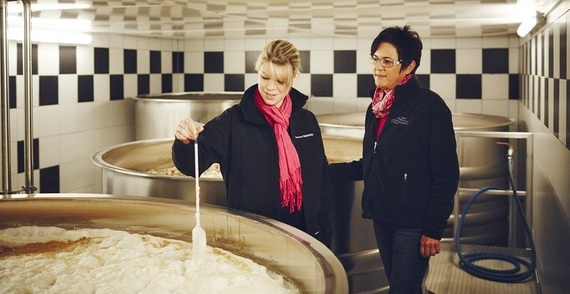 Photo credits: Rainer Kastl/bierwandern.de; Peter von Felbert; Bierland Oberfranken e.V.; Luber Family
Is there life after death? Maybe, maybe not. Is there beer beyond Munich? You betcha!
Let's say you're planning a Tour de Beer and you want to explore the world of beer beyond Munich. What's the best way to do the trip and where should you go?
Fetch a pen and paper and listen up.
There are five outstanding beer regions beyond Munich with the best beers you've never heard of. We're going to let you know where they are and what they have to offer.
First of all, figure out if you want to travel alone or do your beer trip as part of a tour.
If you're thinking of traveling solo, you might be inclined to plot out your own itinerary and try to travel from brewery to brewery under your own steam. This can work, but it brings its own set of challenges. Make sure you know what you're letting yourself in for.
A self-drive tour with a rental car is one option. But Germany has draconian driving-under-the-influence laws and it's not worth risking life and limb, even for the sake of beer.
You're going to want to taste the beer, not just visit the breweries, right? If so, think twice about doing a trip that revolves entirely around driving.
Another alternative is biking or trekking from brewery to brewery on foot. You'll be able to focus on beer destinations within a relatively small area.
But this option may not offer what you want if you're looking for a multi-day trip with more diversity and visits to breweries across various regions.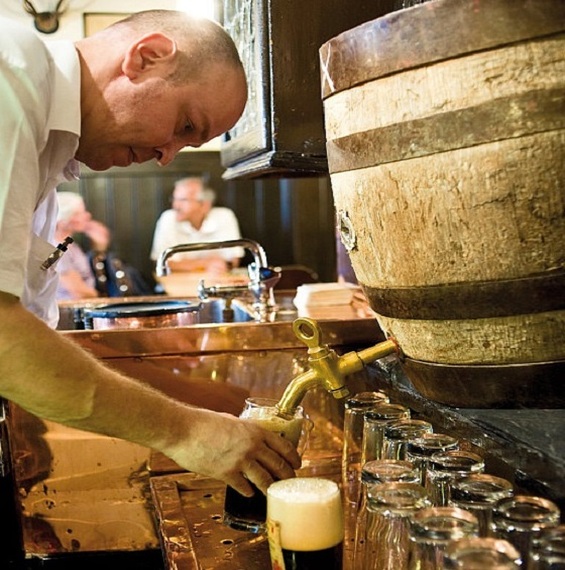 Photo credits: Rainer Kastl/bierwandern.de; Peter von Felbert; Bierland Oberfranken e.V.; Luber Family
Using public transportation to get from brewery to brewery is also an option. This works best if you're very experienced.
Germany's transportation network is to die for, but since many of the interesting breweries are in the hinterlands, you will be traveling by a combo of train and bus and even streetcar, plus foot, to reach your destinations.
Plotting routes, trying to decipher train and bus schedules, making connections and negotiating the language can be adventurous and fun. But too much of it can make the trip tense and frustrating -- that's the last thing you want on a beer tour.
And even one leg of a journey can take several hours if you have to use different modes of public transportation. You may spend more time in buses than breweries.
If you're beer-tripping by yourself, there may also be other challenges to contend with.
Some local breweries are just not in a position to drop everything to invite in an individual or one or two visitors who show up on their doorstep. This is particularly true for mom-and-pop operations or small breweries where it's all hands on deck.
The same brewery will likely be more willing to host a small group that has made advance arrangements. It's more efficient from the brewery's standpoint.
Still other breweries don't even offer formal tours because they don't have a tap or formal tasting room, however they will do an informal tour for a small group with a leader who knows what to expect and can find another way for the group to taste the beer.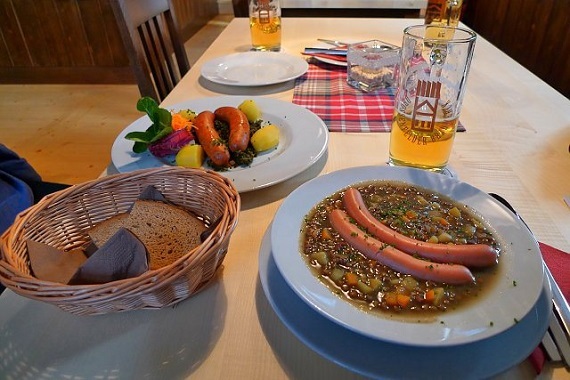 Photo credits: Rainer Kastl/bierwandern.de; Peter von Felbert; Bierland Oberfranken e.V.; Luber Family
Some old-school brewery operators may feel self-conscious about their language skills. English is less common along the back roads and in small towns, so they may not feel comfortable offering a tour in English for one visitor.
However, hosting a small group with a leader who can translate and who knows the scene is less intimidating.
Timing is everything -- even on the beer trail. Production schedules, opening hours, tap room hours and siesta times can fluctuate wildly when you get down to the level of the small-town or village brewery.
If you haven't been able to nail down an appointment in advance, there's no guarantee that the brewery you've just spent two-and-a-half hours to reach will be open when you finally get there.
If you're not sure whether doing the trip on your own is right for you, it's worth exploring the idea of a multi-day package tour with a small group. Beer-themed travel with people who are on your wavelength is major fun.
What applies to solo travel also applies to touring with a group: Check out the tour ahead of time and make sure it will deliver what you want.
A good small-group tour won't stick to the tried and true. It will feature under-the-radar breweries that you could never find on your own in places that might be hard to reach.
It will help you meet the brewers, hear their stories and see what makes them tick. It will put you in touch with local beer culture and also include a focus on regional beer-friendly food.
If you want to eliminate a major stress factor, make sure the tour you're considering includes transportation and has a private driver.
You'll avoid down time, won't get lost and will be able to maximize your beer time. With a designated driver on board for the whole tour, you'll be free to indulge your passion for beer without worrying how you'll get back to your hotel. Bam!
What parts of Bavaria outside Munich should you set your sights on?
These are the best areas to find luscious local beer and interesting, under-the-radar breweries:
1. Lower Bavaria - Niederbayern
This stretch of territory to the East of Munich extends through the Bavarian Forest to the Austrian and Czech borderlands and is one of the least-traveled regions of Germany. That alone makes Lower Bavaria an attractive destination, but the history and culture of beer make it even more appealing.
Seventy-one small- and mid-size breweries operate in this part of Bavaria. Some of them date back to the 1400s. Eleven of them were either established by the church, run by monasteries or owned by nobility. Three are still operated by German barons and one is the oldest abbey brewery in the world. Lower Bavaria is a hidden treasure when it comes to beer.
2. Upper Palatinate - Oberpfalz
Remote and sparsely populated, the Upper Palatinate extends eastward to the Czech border and includes part of the Bavarian Forest.
It's home to 75 mid-size and small breweries, including one which dates to 1356 and another, founded in 1283, which has been operating without interruption for 731 years. Many of them are still run by families.
An added bonus: The Upper Palatinate is home to the legendary Zoigl beer, which is only available in the remote north where it's brewed.
Zoigl is an exceptional old-school artisanal dark-ish beer, crafted in a few remaining communal brew-houses on a rotating basis around the year. It's utterly unique to the Upper Palatinate and each Zoigl brew-house has a unique vibe.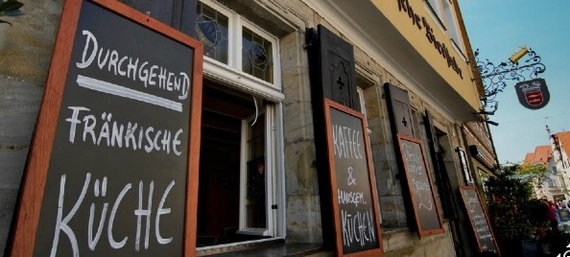 Photo credits: Rainer Kastl/bierwandern.de; Peter von Felbert; Bierland Oberfranken e.V.; Luber Family
3. Central Franconia - Mittelfranken

In the northern Bavarian region of Franconia beer is a sacrament and brewing is a religion. The area's three districts are home to -- count 'em -- 292 breweries that produce a variety of seductive beers.
In Central Franconia, which has a total of 66 breweries, Erlangen and the nearby area has been a bastion of brewing for centuries. This region is known for its stess-melting, leafy, beer gardens built on top of ancient beer cellars. They're a mecca for beer-lovers in the area.
To get to know beer in Central Franconia is to travel back in time. The spread of history is incredible: from the venerable Brauerei Wurm, which dates to 1135, to Weibs Brauhaus, established in 1999 in the medieval town of Dinkelsbühl, where one of Bavaria's rare women brewers, Melanie Gehring, presides. Central Franconia is a major must-see for the beer enthusiast.
4. Lower Franconia - Unterfranken
Lower Franconia, with its 63 small- and mid-range breweries, partly overlaps with Franconia Wine Country, home of Germany's most outstanding dry whites. Wine has a strong following, but Lower Franconia's unfiltered, copper-toned brews and other beers of the region are legendary and fiercely loved.
Tradition gets its due, but it hasn't stopped innovation. Revisionist craft brewers are trying their hand at new creations, including IPAs, pumpkin beers, specialty bocks and fruit beers.
One traditional brewery has even rolled out a pair of new non-alcoholic, Gatorade-like brews. The brewers figured out how to calibrate the osmotic pressure to quickly replenish lost electrolytes, vitamins and proteins, which makes these beers appealing to endurance athletes. High-fives all around!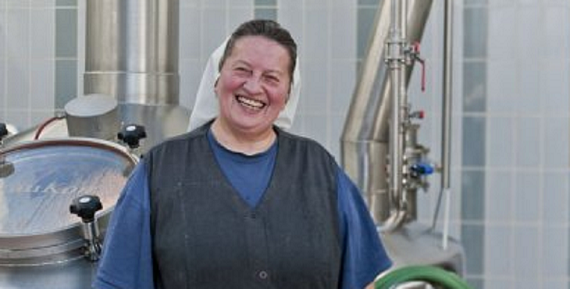 Photo credits: Rainer Kastl/bierwandern.de; Peter von Felbert; Bierland Oberfranken e.V.; Luber Family
5. Upper Franconia - Oberfranken
All hail Upper Franconia! It's quite possibly the pinnacle of beer awesomeness in Bavaria. The gods have been smiling on beer and brewing there for centuries, especially the medieval town of Bamberg, which is the beer capitol of this area.
Imagine the Minneapolis-St. Paul metro area. Then imagine an area that is slightly smaller with a jaw-dropping 163 breweries. That would be Upper Franconia.
This is the most brewery-dense piece of real estate on the planet, with approximately one brewery per 6,937 citizens, compared with one brewery for every 203,000 citizens in the U.S.
Full-bodied brown and fresh, copper-tinged beers, "ungespundet" (non-bunged) beer, Kellerbier, smoked beer and all manner of bock beers are among the traditional brews of Oberfranken. Blonde beers, Märzen and wheat beers are also produced there.

In addition to its traditional breweries, Upper Franconia is also incubating a new generation of craft beer-makers. They're challenging the brewing status quo with new styles for women as well as rye and spelt beers, IPAs and fruit-infused brews.
The Bavarian Beer Trail has it all...
... Historic breweries operated by the same family for 12 generations...
... Insurgent craft beer brewers who are not afraid to experiment...
... Mom-and-pop-run brew-houses whose market reach doesn't go beyond the church tower...
... Abbey breweries tended by monks and nuns...
... Rockin' good beer with flavor and character beyond anything you can describe.
Yes, there is beer beyond Munich. Tap it on the Bavarian Beer Trail and see what you've been missing!.
------------
Tom Conrad will lead a small band of beer lovers, craft beer enthusiasts and Slow Food fans on a beer and brewery tour to Germany in October. The group will visit craft brewers, abbey breweries and independent beer-makers in the nooks and crannies of Bavaria.