 Hurricane Sandy's exacted a heavy toll on New York City, claiming lives, plunging hundreds of thousands of homes into darkness, and devastating small businesses. The damage extended to Brooklyn Grange Bees, New York City's first commercial apiary, located at the historic Brooklyn Navy Yard across from Brooklyn Grange Rooftop Farm, the largest soil rooftop farm in the world. Eighteen hives located on a pier, estimated at between 40-50,000 bees per colony, perished. One colony on the ground, named "Hurricane Hive" survived.
In addition to selling honey and beeswax, the apiary was engaged in a queen bee-breeding program with the goal of ultimately supplying the New York City beekeeping community with local bees. Nine of the hives in that program were located in three different rooftop locations and survived. The apiary intends to continue with the program in 2013.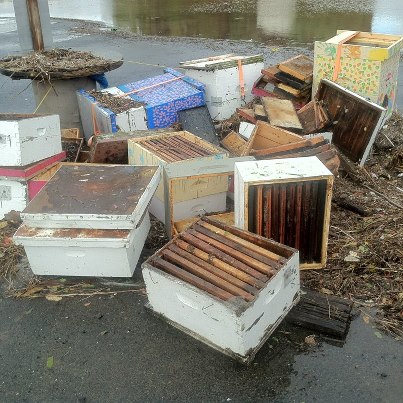 Photo by Emily Vaughn
Here's what Chase Emmons, Special Projects Director and Chief Beekeeper of Brooklyn Grange had to say about the affects of Hurricane Sandy on the farm and apiary and the months ahead.

In addition to the damage done to the apiary how extensive was the damage to the two plus acres of rooftop you have under cultivation in Queens and at the Navy Yard farm?
The farms weathered the storm very well. Some irrigation blew around but the farms themselves are very resilient. Our weighted down hives on the roofs survived as well.
What measures did you take to protect your rooftop farms and the apiary for Hurricane Sandy?
We spent several days securing anything on the roofs that could blow around and clearing drains of any debris. Luckily our wind sensitive crops were mostly done, like tomatoes and such. Since the projections were that flood would not be an issue even on the pier, we secured the hives there with ratchet straps onto palettes, which had weights on them. We were actually most nervous about wind gusts down there. The rooftop hives have parapets to blunt some of the wind. Monday morning, after the first high tide hit and the projections were starting to hedge about the evening storm surge, we were able to get one person into the Navy Yard. It was a strict no-go zone, so they would only allow one person. Ben (Flanner, President and Head Farmer) got in and strapped 100lb concrete pavers onto the hives. The high water from the morning tide was still well below the hives, and even if the evening exceeded projections by another foot we would have been ok. Evening storm surge exceeded projections by many feet, shoulder height at the hives.

Was beekeeping always part of the farm's plan?
Yes, but we were able to seriously scale it up when the Navy Yard partnered with us.

How did Brooklyn Grange Bees decide to participate in the queen bee-breeding program?
It was something that had not been done before on a local level. Since we have so many hives in one central private location, it's a perfect situation to begin a selective breeding program. We still plan to stick with survivor stock and ultimately have NYC-acclimated queens to offer NYC beekeepers, but we've been set back at least a year.

Now that the Navy Yard is amenable to having our hives on rooftops rather than ground level, we will secure the new locations and sign the leases (yes, our bees are actually renters!) Then we have all winter to build and paint the hives. We've already had an amazing outpouring of support for rebuilding the apiary and those generous contributions have helped ensure that we will resurrect the project next spring.

Do you see the NYC Honey Festival happening in 2013?

Absolutely! NYC Honey Fest is about all beeks in the NYC area. Brooklyn Grange started it, but it is now an entity of its own. A much larger and very well known NYC venue has already been selected as our partner for next year, but this was planned well before the storm. The Festival birthplace: Rockaway Beach Club Concessions, was devastated by Sandy and we are doing what we can to help them with relief efforts in their community. We hope to dedicate next year's Fest to the recovery effort even though it is still 10 months out.
Calling all HuffPost superfans!
Sign up for membership to become a founding member and help shape HuffPost's next chapter