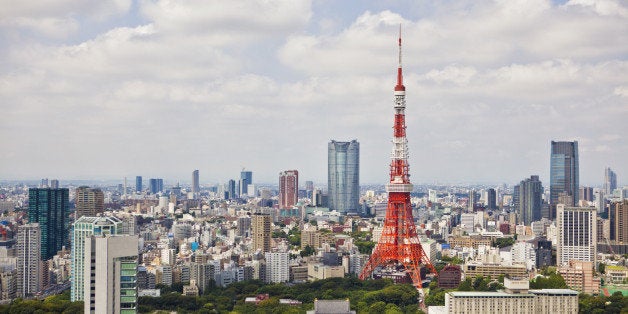 Tokyo is a city with a lot going for it -- transportation runs like clockwork, it has an awe-inspiring skyline and culinary tradition, and the streets are shockingly clean and safe for a metropolis of its size. The city's maturity and efficiency undoubtedly factored into the International Olympic Committee's decision to award Tokyo the 2020 Summer Olympic Games.
Unlike host countries such as Brazil and Russia, Japan won't have to fight hard to curb crime and corruption ahead of the Games, or worry about tourists being taken advantage of in large numbers. But the 2020 Games will bring attention and international travelers to Tokyo in droves, and there are a few areas where Tokyo falls behind in foreign tourist friendliness.
It seems strange in such a modern country, but free Wi-Fi access is extremely hard to come by in Tokyo. And if you do find an open network, get ready to be met by a login page after connecting, often entirely in Japanese.
Tokyoites have little need for free Wi-Fi because unlimited data plans are commonplace, but because cell phones in Japan operate on a different network than most of the world, your iPhone from home probably wouldn't work even if you could get your hands on a SIM card. Therefore, reliance on Wi-Fi is very high for tourists in Tokyo.
Opening the already-extensive wireless grid to short-term users, or at the very least increasing the amount of cafes and hotels offering free Wi-Fi, would go along way toward making tourists feel more comfortable exploring the city.
The smoking laws in Tokyo don't make much sense to non-Japanese tourists. You can't walk down the street with a cigarette in busy districts -- there are designated smoking areas on the sidewalks -- yet restaurants are full of fumes. Even if an eatery has a non-smoking section, there is often no barrier separating those seated there from the smokers.
Western tourists in particular are not accustomed to eating while smelling cigarettes. There are smoke-free establishments, notably all of the city's Starbucks coffee shops, but it's not common enough to satisfy those averse to a side of nicotine with their lunch.
Yes, it feels unworldly to gripe about citizens of another country not speaking your language, but English is arguably the established tongue of tourism, and Tokyo could stand to make private businesses more English-friendly.
Compared to neighboring Seoul or Hong Kong, Japan falls slightly behind in English proficiency, and outside of chain-restaurants and touristy spots, English menus are often hard to come by. The Japanese education system emphasizes reading and writing over English speaking skills, and this may account for the gap.
That said, Tokyoites in general will bend over backward to help you if you are confused -- though probably not in English.
Transportation Cost and Hours
Tokyo's train system is particularly large, but it is clean, well operated and there are a number of apps you can download to help you navigate it. Still, a couple of improvements could help short-term users.
There is a lack of discounted transit passes for tourists, and the existing ones only last one day and only cover certain lines -- very impractical for transferring and sightseeing. Visitors would definitely appreciate a discounted, multiple-day or weekly pass that works across the train and subway companies.
But the main issue for people who want to enjoy Tokyo's lively nightlife is that the trains and buses stop running around midnight, and extremely expensive taxis mean a trip home could run upwards of $100. Some Tokyoites simply stay up all night in bars or manga cafes until the trains start running again in the morning, but a more hospitable option would be some limited train and bus service.
The Tokyo Metropolitan Government (TMG) is already aware of this complaint -- it is currently working on a 24-hour bus trial.
Japanese bank ATMs mostly won't accept foreign cards, which means you need to hunt down a 7-Eleven or Citibank to get cash if your card was issued outside of Japan. When hundreds of thousands of tourists and athletes carrying international bankcards are trying to pull out yen at the same time, this lack of ATM access could spell trouble for businesses, and major inconvenience for travelers.
More than five years out, the Tokyo Metropolitan Government (TMG) is already addressing many of these shortcomings, and is eager to present Tokyo to the world as a powerhouse city. When asked for comment, TMG said it is already working on improving Wi-Fi condition, increasing the number of tourism volunteers, increasing the number of multilingual signs, and working to create an environment accepting of a diverse range of cultures and customs.
Japanese Prime Minister Shinzo Abe also says he wants to double the number of tourists to Japan by 2020, another indication of the county's dedication to becoming a top destination choice for travelers from all over the world.
Tokyo already has a leg up on many host cities at this stage. If the city government starts working on upgrades now, it won't be surprising if most or all of these shortcomings are improved before the 2020 Games begin.
Related