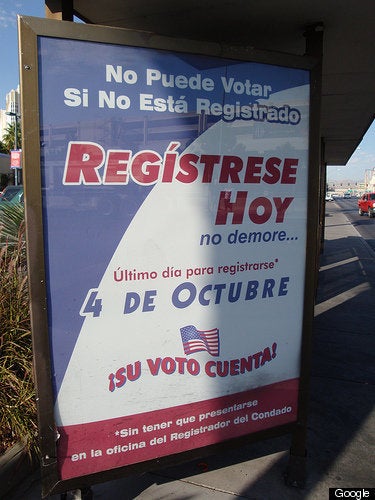 The upcoming U.S. census will show that the American Latino population is now greater than fifty million, which surpasses the population of California, our largest state, as well as any other Spanish-speaking country in the world except Mexico. With this heft comes greater influence as corporations and politicians alike see Latinos as critical to their success, and so scramble to secure their support.
Latinos -- entrepreneurial and social by nature -- have embraced this newfound clout by flexing their $1 trillion purchasing muscle and invigorating the political dialogue by sending a growing number of their own to national office. Despite this influence, still, a recent report by the Pew Hispanic Institute shows that Latino potential in the U.S. is stymied by a lack of unified national leadership -- especially around key issues like education, public health and immigration reform -- that affect Latinos disproportionately and remain stumbling blocks to full equality.

According to the Pew report, more than three quarters of Latinos surveyed drew a blank when asked to identify the most important Latino leader in the country today. The top candidate, Supreme Court Justice Sonia Sotomayor, was named by only 7% of the respondents, with the other top candidates -- U.S. Rep. Luis Gutierrez (D-Ill.) of Chicago, Los Angeles Mayor Antonio Villaraigosa and Univision news anchorman Jorge Ramos -- coming in each at less than 5%. This discrepancy, the report concludes, is the biggest challenge Latinos in the U.S. today face to forming a cohesive national identity.

These findings are somewhat troubling, but not surprising given that the Latino experience in this country is still relatively young, at least as a sizable group given that Latino presence predates the creation of the Union. Those who comprised the bigger waves of Hispanic immigration a couple of generations ago were mostly characterized by silent, diligent toil to build their own version of the American dream. Heroes abounded, but many of them were locally-grown leaders focused on issues specific to a particular region or national group, with little spillover into the mainstream. A few -- like Cesar Chavez -- are exceptions, but overall American Latinos have not, to date, experienced the same type of transformative struggle that can unite a group, inspire identity, and give birth to leaders like Martin Luther King.

While the Pew study is a reality check, I reckon that its results also reveal a tremendous opportunity, especially at this crucial point in history. The release of the census results this Spring can begin a new chapter in the U.S. Hispanic story in the sense that much of the aforementioned growth is being driven by second-generation Latinos who are likely to be more educated and middle class than prior generations. These young citizens, along with civically-active naturalized Latinos, are -- intentionally or not -- crafting a new, more assertive, and more integrated Latino identity, with the requisite social and political attitude to boot. More bluntly put: we're becoming more comfortable exercising our power.

There are already signs that a shift in Latino power is well underway. President Obama appointed a record number of Latinos to his administration, and in last year's mid-terms a number of young, high-profile Latinos won spots in the new Congress. And as the 2012 presidential campaigns kick in this year, both parties will undoubtedly attempt to parlay the Census figures into votes by grooming Latino leaders to come forth as spokespeople, potentially creating a new national platform upon which Latinos of all stripes can come together to share their stories, discuss the issues most important to them, and find new inspiration in the process.

There are already a number of established and rising Latinos who could emerge and consolidate leadership from this process: veterans like Secretary of Labor Hilda Solis and former New Mexico Governor and Presidential candidate Bill Richardson, along with newbies like San Antonio Mayor Julián Castro, Ford Foundation President Luis Ubiñas and freshman members of Congress Jaime Herrera (R-Wash) and Marco Rubio (R-Fla). But beyond this pool of the usual -- and highly political -- suspects, there are also a number of young Latinos in realms like media, entertainment and business who are using their influence to encourage awareness and activism around issues where Latinos still lag, like nutrition, the environment and education.
Many -- like actor and entrepreneur Wilmer Valderrama, who is the spokesman for a national campaign to keep Latino kids in school -- work in partnership with or are products of programs led by organizations like National Council of la Raza and the Congressional Hispanic Caucus, among others. These groups have also worked tightly in tandem with Hispanic media to address crisis points like high rates of educational delinquency among Latino teenagers and as part of their mission support a number of scholarship, mentoring, policy and civic development programs which are designed to give rise to the next generation of Latino leaders and influencers.
Latinos, in the moment, might be hard pressed to come up with specific leaders, but the landscape suggests that this soon will change. As a group, we are still young, enterprising, gaining in numbers and -- despite the absence currently of a single unifying national figure -- can still point to a number of inspiring individuals and committed organizations upon whose shoulders we can stand, and propel forward. Let the leaders emerge, and the countdown to the White House will begin.
Popular in the Community