Just about the time that Burners are packing up their RV's for the annual Burning Man festival in the Nevada desert, the citizens of Santa Fe, New Mexico and savvy visitors will be filtering into a refurbished retail complex known as The Railyard. They will grab a pencil and scrap of paper, steal to a corner and write down their worries, woes and anything they want to rid from their lives.
They will stuff these small pieces of paper into the giant 50 ft. muslin and wood, white, big-eared, mustachioed, tuxedoed marionette spread out before them --an effigy known as Zozobra, (Spanish for "the gloomy one").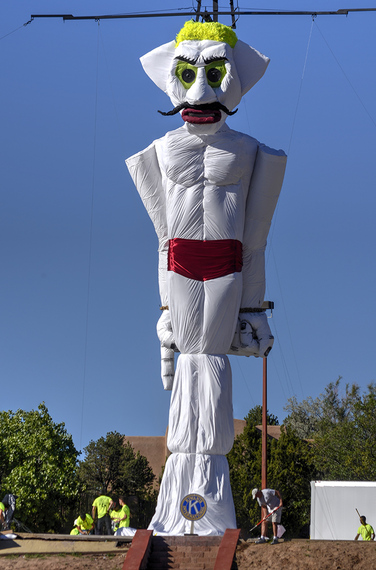 On September 4, approximately a day before Burning Man erupts into flames this year, thousands will gather in Santa Fe's Fort Marcy Park to watch Zozobra groan, flail and menace the atmosphere like a particularly bad collective monster nightmare. Then, they will burn Zozobra and watch their troubles literally go up in smoke.
Burning Man is in its 29th year. Zozobra is in its 91st year.
Zozobra Rises
Zozobra came to life in 1924 when an artist, Will Shuster, created the large scale puppet for a party in 1924. Reportedly, Shuster was inspired by celebrations of the Yaqui Indians of Mexico who burned an effigy of Judas filled with firecrackers during Holy Week. The Kiwanis Club of Santa Fe acquired rights from Shuster in 1964 and has operated the event as a fundraiser ever since.
Zozobra has grown into a major attraction of the Santa Fe calendar, drawing a record-breaking 43,000 people last year "with no arrests," adds Zozobra's event chairman, Raymond Sandoval of the Kiwanis. The event serves as a fitting ceremonial end to the city's peak summer tourism season which includes the wonderful Santa Fe Opera and the world famous Indian Market. The September 4 Burning Of Zozobra kicks offs the city's annual Fiestas de Santa Fe.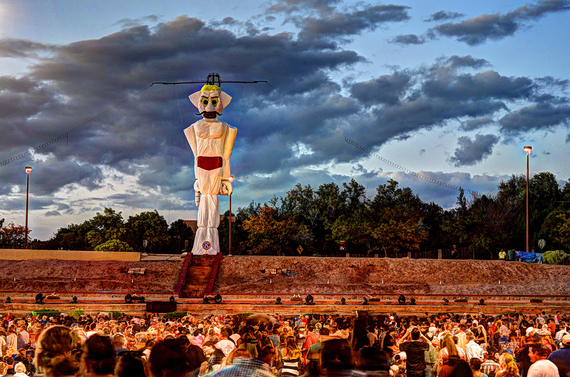 The March to the 100th Anniversary
In many ways, Zozobra is emblematic of Santa Fe's unique amalgam of cultures, its history as an artist and spiritual colony and a level of iconoclasm that its isolated geography has helped create. Last year, The Kiwanis Club of Santa Fe embarked on a decade long project that will culminate with the 100th anniversary of the Burning of Zozobra in 2024. From now until then, each Zozobra will assume the look of a different decade.
In 2014, he took on his appearance from the 1920s. 2015 will see a recreation of Zozobra from the 1930s, when he was bald and chunky."Given the Great Depression, Zozobra absorbed a lot of gloom, so he gained weight and looked rather dowdy," says Sandoval.
Consequently, 2015's Zozobra will be gray, with no color. The torch bearers who set fire to the statue will be dressed in black, and the "gloomies," portrayed by local children, will wear white. The fireworks that explode as Zozobra burns will light up the sky with rainbow colors. "We see the event as going from black and white to technicolor, rather like the 'Wizard of Oz,' " says Sandoval.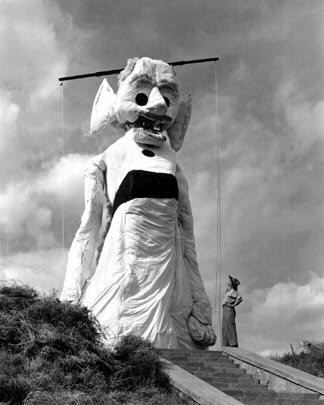 Zozobra is a big party, no doubt. But Santa Fe citizens often take seriously the ceremonial side of the event. "We've had people stuff their divorce papers, mortgages, old love letters, even their hospital gowns into Zozobra," says Sandoval. "Symbolically, the Zozobra festival represents the people of Santa Fe coming together to chase away their feelings of gloom and doom."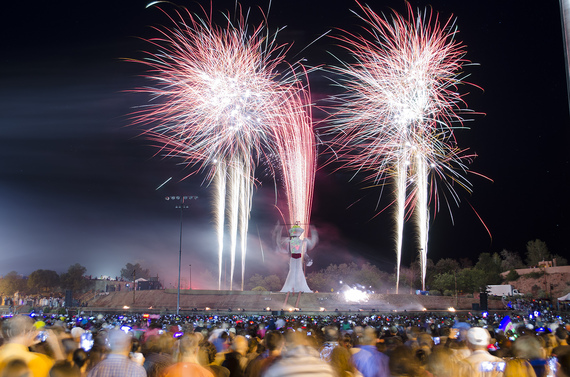 Key Events:
*The Ceremonial Stuffing of Zozobra, where participants stuff him with notes of their personal problems, takes place on Saturday, August 29 and August 30, 2015 at The Railyard's Sanbusco Center. The Zozofest Art Show is also on display.
*The Burning of Zozobra occurs on September 4, 2015: If you attend only the burning, you can still participate in the misery-ridding by placing your worries in a box set up in a "Gloom Tent" located on site. The box goes into Zozobra before he turns into embers that night.
* A general stuffing of Zozobra begins on Saturday, August 22: "We stuff him with shredded paper from the Santa Fe police department. So it is definitely doom and gloom," says Sandoval. The public is invited to participate.
Oh, one of Zozobra's biggest contrasts with Burning Man? Burning Man 2015 tickets cost $390. The burning of Zozobra is $10. The ceremonial stuffing and art show is free.
For more information, see Burn Zozobra.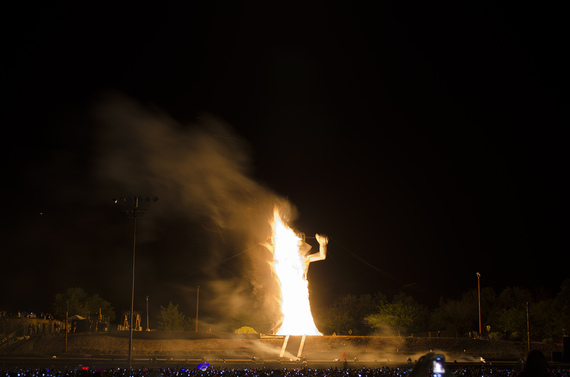 *Place to Stay: Drury Hotel. If you want a hotel within easy walking distance to Santa Fe's main plaza and with brand new facilities that still maintain a Santa Fe feel, the one year old moderately-priced Drury Hotel offers an alternative to the traditional favorite hotels in the vicinity. Free hot breakfast buffet and light evening buffet with free drinks are served daily. Good for families. http://druryplazasantafe.com/
*Place for an elegant dinner and a great Margarita: The Anasazi Restaurant and Bar for its Silver Coin Margaritas and fine New Mexican cuisine. http://www.rosewoodhotels.com/en/inn-of-the-anasazi-santa-fe
*Santa Fe Opera. If you time it right, you might be able to secure a ticket during the last week of this season, ending Aug. 29. Its stage, which can use its spectacular natural setting as part of the theatrical scenery, as well as its often adventurous repertoire of new or rarely performed works, makes the Santa Fe Opera an innovator. For the full experience, attend the pre-opera buffet dinner.
Can't make it to Santa Fe this year? Zozobra will burn via live streaming on the internet.

All Color Photos by Paul LeSage, 2014
Archival black and white photo portrays Zozobra from the 1930s