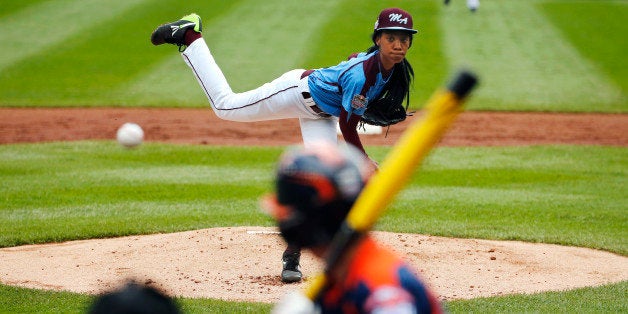 When Mo'ne Davis discovered baseball she was throwing a football. It was 2008 to be exact. She was delivering perfect spirals to her friends while waiting for her older cousin to finish practice with the Anderson Monarchs -- a youth travel team in Philadelphia. Davis' coach, Steve Bandura, witnessed this phenomenon. He knew she could be special.
In all his years of coaching, he had never seen an arm like that-- not at that age. Mo'ne possessed "pin-point accuracy and natural whip." Soon, he convinced her as well as her parents that she should give baseball a try. So they did, and well, the rest is history.
Mo'ne, caught the world by storm in the Little League World Series this past summer. She became the first Little League player ever to grace the cover of Sports Illustrated. Her jersey was inducted into the National Baseball Hall-of-Fame, and recently, she was named AP's "Female Athlete of The Year."
But that's all a given -- you can read news-feeds for that. So let's take it a little deeper.
Baseball in our urban areas is an afterthought. No one really cares about it. If you walk around with a bat and glove, you are an anomaly -- considered an outcast, or you must've just come over from the Dominican Republic.
That's the way it is in every "urban oasis." Everyone in the neighborhood bounces basketballs and prefers squeaky sneaks instead of the dirt-digging-cleats.
Some blame it on baseball being a father-son sport, and since the predominant thought is that there's an absence of fathers' in a lot of black households, it contributes to the lack of African -Americans on the field. Others say it's all "about the Benjamins." Baseball after Little League is too expensive with the inclusion of travel teams.
Then, you have some who believe it has become too boring. No flash, no flair -- and "we love the spectacular in sports." All somewhat true -- but for the most part, clichés are for the ill-informed.
It comes down to player development or lack thereof, plain and simple. You can't place inadequate staff in lower-income areas, and ask them to teach the game -- especially if they don't know it and don't have the tools and fields.
It's the equivalent to the schools in these same areas -- torn-and-worn books, and unqualified or disengaged teachers -- trying to teach in run-down schools.
You get my drift? No one would want to learn under those conditions. It's chaos. But let's get back to the original topic.
It's 2013 and though it's February, it's a beautiful day for baseball. We are in the heart of Philadelphia -- Marian Anderson Recreation Center located at 744 South 17th Street.
And if you don't know Marian Anderson -- she was denied the right to sing at Washington D.C's Constitution Hall. She ended up singing, but not there. Instead, she took her talents to the steps of Lincoln Memorial. A crowd of 75,000 folks and millions in radio audience heard her voice. Kind of like Mo'ne.
From the rec center you can see the skyscrapers that occupy Center City about two miles north. The buildings sometimes look as if they are teasing the residents of South Philly -- you can look, but you can't touch. It's a constant reminder of what they "don't have," a contradiction -- that either motivates or deflates
At first glance of the Marian Anderson, you might think of Philly's basketball legends, not baseball. Was this where Rasheed Wallace honed his skills? Maybe Richard Hamilton as well -- or, was it possibly the hardwood where Earl Monroe's name became "Black Jesus?
Nonetheless, when you walk into the building, you can peek out of the windows to the opposite side only to see a freshly manicured field. Coaches are instructing, some kids are listening and others you could tell are just there for the ride.
But in the corner stood an 11-year-old Mo'ne taking batting practice. She was far removed from her seven-year-old self who would just give baseball a try. She was now certain she could play with anyone.
Her hair wasn't braided at the time, but it was still as many black women call it "laid." In between school, basketball, baseball, and soccer practice -- her hair was always "done." Her mom made sure of it. No doubt about it. She's just a young girl -- who loves to play.
Her eyes remained the same as they have always been: serious yet engaging, focused but endearing. She knew she had a job to do no matter how small it was. She steps into the box as her coach Steve delivered what seemed to be the 100th pitch of the practice, "POW" the bat crackled. "POW" it sounded again.
She was squaring up pitch after pitch, hitting some well onto the warning track and a couple out of the park. There was little reaction by her teammates or coaches, and that said a lot. They carried on their conversations as if this was a daily routine, like something she had been doing for a while.
As I stood in the dugout in awe of what I was seeing, Coach Steve comes over and says, "wait till you see her hop on that mound." There couldn't possibly be more.
Mo'ne quickly ditches the bat, placing it on the bench beside me in the dugout and picks up her glove. She runs to the mound with a bounce, simulating more of a basketball trot than anything else, which by the way, is her best sport.
The mound, however, you could tell -- was also a special place. It was her sanctuary, her spot. That's where she made her magic, the poetic art that we all came to admire. She confirms her skill level as she delivered pitches toward home plate.
She possessed such a live-arm and late-life on her pitches, mixed with an above-average fastball for her age. The pin-point accuracy that her coach Steve discovered four years prior is on full-display today.
I came as a volunteer to the team and felt like I had zero to offer. As Mo'ne trotted back to the dugout Coach Steve then took the time to introduce me to the players.
Afterwards, Mo'ne was one of the first people to introduce herself to me personally. "My name is Mo'ne," she said. "Nice to meet you Mo'ne" I replied. "You have a nice swing and arm on you." "Thank you" she responded, and that was it.
When you grow to know Mo as she is called, you soon understand her graceful ability to deflect. She never makes her success solely about her. After each of her many milestones I always made sure to send her a text, and the response is always the same "thank you."
Whether it was her personal accolades or team's success -- her demeanor never wavered. And it won't. She appreciates the remarks, but doesn't become fixated on what she already accomplished.
I went back to work with the team for the months to follow and the teams' talent was striking, but I used to always come away even more struck by Mo'ne's arm. So for me -- and a few of the others like Coach Steve -- last summer wasn't that surprising. It was just confirmation to the rest that talent grows out of our urban-areas -- even under duress.
We can sing anywhere -- if someone sees us -- and lets us. Just like Marian Anderson. No matter the racial or gender barriers, kids can compete if there is a focus on development with the proper personnel. If it's nurtured, it will grow -- and yes, blossom like Mo'ne.
Mo'ne's impact extends far greater, though. Her transcendent personality even if it was just for a summer will be a fixture in our memories and history. She represents girls -- women, young and old. She thrived. She did the "doggone thing" and what better place to do it than in sports?
I remember there was one time where Mo'ne reminded me of just who she is. The Monarchs were about eight games into their spring season and were having their weekly practices. By that time, they let me chime in on their conversations -- more as a friend than a coach.
The players got on the subject of celebrity lookalikes. I remember Mo'ne turning to me explaining what a teammate said to her, "Zion' told me his mom says I look like Beyoncé, but I don't think so," she said. I laughed hysterically thinking, "What 11-year-old wouldn't want to look like Beyoncé?" I'm just saying. However, Mo'ne wanted no part.
So when ESPN analysts Barry Larkin and Karl Ravech asked about her pitching arsenal and her response was "I throw my curveball like Clayton Kershaw and my fastball like Mo'ne Davis." It wasn't surprising, and I didn't laugh that time.
I knew she was serious. Mo doesn't have an interest in conforming, or aspiring to be someone else. She is comfortable being Mo'ne and blazing her own trail.
Her dream school is UConn. She wants to someday play basketball there, and in my eyes, she will. I'll be sure to tell her how proud I am in about five years regardless of the outcome. I will know her response. It will be that simple and gracious "thank you." She will have her eyes on the next goal -- never too high, never too low -- and always with a smile.
So as this winter turns to spring, expect more girls to take the basketball player trot to the pitcher's mound. Ready to paint their perfect picture -- hoping it could somehow look like Mo'ne.