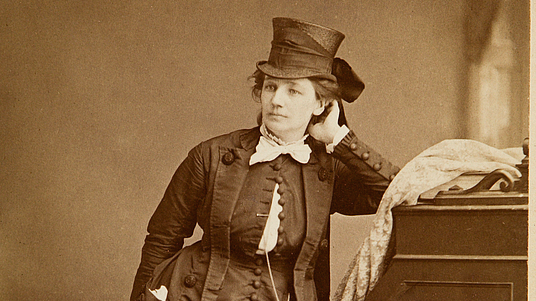 Since Hillary Clinton became the presumptive Democratic nominee for President in early June, many people have noted that she's not the first woman to run for President. I'm not sure if she actually claimed to be or not, or if that was an error in the media – she's actually the first woman to run for President on a major party ticket – but the general sentiment is true. Our nation's first female Presidential candidate was Victoria Woodhull, who ran as part of the Equal Rights Party, a party she founded, in 1872.
This relatively unknown woman who doesn't appear in most history books obviously wasn't elected and may have faded into oblivion if it wasn't for Mrs. Clinton's success. While we may not know how many votes she garnered in 1872 (they either weren't counted or were destroyed), we do know a fair amount about the woman who made Hillary's historic run possible. But unlike her modern counterpart, Victoria wasn't bred for a life in politics. In fact, she's just about the least likely candidate.
The Female Sex
Victoria Woodhull was female in an age when women had little authority. Women couldn't vote or serve on juries. Personal ambition in a woman was considered evil and there were social taboos against women speaking in public. To call attention to oneself in public was thought unladylike and considered a form of treachery to one's husband or father because when a woman strayed from her proper place in the home, she caused him shame. The one exception to this were Spiritualist mediums, who could speak freely because it was the spirits speaking through them, not their own opinions being expressed.
Of course, many women's suffrage leaders ignored these rules. Victoria happened to be a Spiritualist medium, and she did couch many of her words in the context of conversations with the spirits, but she also wasn't afraid to speak her own mind, even going so far as to call for women to overthrow the government and start a new one that will not only listen to them, but give them equal rights. But it was still unthinkable for a woman to run for office, let alone the highest office in the land. Fun fact: Victoria's sister, Tennie, ran for a Congressional seat in 1872; she didn't win. (The first woman wouldn't be elected to the House until 1916 and the Senate in 1922.)
Age
Victoria Woodhull was only 32 when she declared her candidacy and 34 when the election took place. According to the Constitution, one has to be at least 35 to serve as President. Whether or not Victoria or anyone else realized she was in violation of this requirement is up for debate. Chances are good a woman running to for President was controversy enough; it's possible no one bothered to check her age.
Humble Beginnings
Nowadays we tend to equate politicians with money and many of them have had it since birth. But Victoria was not born to a rich family; she grew up in a small shack in Homer, Ohio, with a father who was at best down on his luck and unemployed, and at worst, a con man who broke laws in several states. Her mother was a religious zealot some called insane. The fifth of seven children (or 10 depending on who you ask) with two out-of-work parents, Victoria learned early to earn her keep. She started working when she was a young girl as a clairvoyant and healer alongside her sister, Tennie, a job which she continued until she was married at 14. Her husband's drinking kept them poor, and Victoria took a job as a seamstress and actress before returning to life as a magnetic healer and medium. A second marriage brought her a more stable living, but not what you would expect from a presidential candidate.
Experience
Victoria Woodhull certainly didn't have the experience to become President, never having held any kind of governmental or elected position. According to her own recollection, Victoria had at most three years of formal education. How she went from that to being a self-made millionaire by the age of 33 is anyone's guess. After moving to New York in 1868 she was employed by Cornelius Vanderbilt as his medium; it may have been from him that she and Tennie learned the ins and outs of Wall Street, but that has not been proven.
Whatever the source of their financial skill, Victoria and Tennie opened the first female-run (and owned) stock brokerage on Wall Street in 1870. Hailed as the "Bewitching Brokers" and the "Queens of Finance," their firm was a hit despite being extremely controversial. Victoria made a fortune from the Black Friday crash of 1869 and continued amassing funds as her firm prospered, allowing her to afford to run for President on the merits of her financial success (which sounds a lot like Donald Trump).
In late 1871, Victoria added to her resume when she became the first woman to testify before a sitting House committee. She unsuccessfully argued that the wording of the Fourteenth Amendment already gave women the right to vote. This launched a successful speaking career that carried her to the 1872 election and beyond even though she had little directly applicable experience.
Will 2016 Be the Year?
This is a story where we have the benefit of hindsight. We all know the ending. Prophetically, Victoria wrote in New York Herald on November 20, 1872, only weeks after her failed election, "They may succeed in crushing me out, even to the loss of my life, but let me warn you that from the ashes of my body, a thousand Victorias will spring to avenge my death by seizing the work laid down by me and carrying it forward to victory." She lived to see women get the right to vote in 1920 and a string of women have followed in Victoria's footsteps, hoping to become President. Perhaps in 2016, Hillary Clinton will finally successfully finish what Victoria began 144 years before.
Nicole Evelina is an award-winning historical fiction and romantic comedy novelist based in St. Louis, MO. Her most recent novel, Madame Presidentess, based on Victoria Woodhull's life, is the first-place winner in the Women's US History category of the 2015 Chaucer Awards for Historical Fiction. Connect with Evelina on Facebook, Twitter and Instagram and via her website www.nicoleevelina.com.
Related
Popular in the Community