Before Hollywood was Hollywood, a small town in New Jersey served as home to the American film industry. That town—arguably America's first film town, was Fort Lee, located just across the Hudson River from Manhattan.
Today, Fort Lee is known as the western terminus of the George Washington Bridge—and as the locale where the political scandal known as Bridgegate took place in 2013. A century ago, it was considered by many the film capitol of the world.
Over the years, Fort Lee's place in the history of the American film industry has been documented through a small handful of books and films. Now, the story of the first studio in Fort Lee is told in a poignant and compelling new DVD, The Champion, just out from Milestone Films.
In the early years of the 20th century, dozens of small companies sprang up on the East Coast to fill the growing demand for motion picture entertainment. Many of these concerns, as well as other independent producers, were located in New York City; some were huddled together on East 14th Street.
In 1907, one of those companies—the Kalem Company, began using Fort Lee for location shoots. The New Jersey town and its environs was picturesque, it was open to the coming and goings of movie folk, and, it was located just a ferry ride away from the big city and its Broadway talent. Other companies, like Biograph and its emerging star director, D.W. Griffith, soon followed. (The Musketeers of Pig Alley, the 1912 Biograph film widely considered the first "gangster film," was long thought to have been shot on New York's lower east side—but was in fact shot in Fort Lee.)
One-time salt and herring salesman and theater owner Mark Dintenfass arrived in Fort Lee in 1910. (He went there to escape detectives set upon him by Thomas Edison.) Purchasing land and a building in nearby Englewood Cliffs, Dintenfass founded the Champion Studios, where he produced westerns and Civil War epics. In a few short years, many of the major studios of the time—including the Goldwyn Picture Corporation, Fox, Metro, Paramount ArtCraft, and Selznick—as well as such now lesser known firms as the Éclair Studios, IMP, Triangle, Solax, American Méliès (Star Films), Victor, Paragon, Pathé Frères and others—all followed.
Everyone from Will Rogers and Rudolph Valentino to Lillian Gish, Douglas Fairbanks, Theda Bara, Fatty Arbuckle, Mabel Normand, Pearl White and Mary Pickford worked in Fort Lee area. As did the Barrymore family, who called it home. Alice Guy-Blaché, the world's first director and studio owner, worked there. As did Oscar Micheaux, the pioneering African American filmmaker whose early film, The Symbol of the Unconquered (1920), was the last shot at the Champion studio building.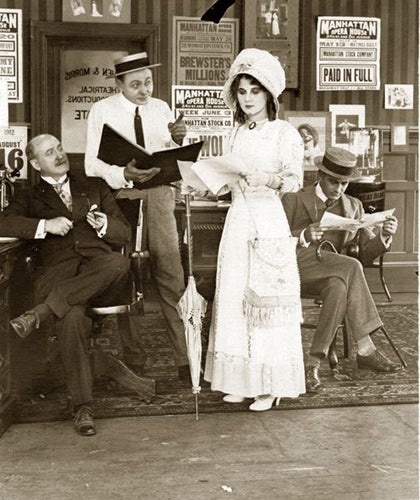 The documentary, newly released on DVD, tells the story of the Champion Film Company. The Champion studio was the first in the Fort Lee area, and though a short lived concern, its building was the last standing.
The Champion also sketches the story of the brief golden age of Fort Lee film-making as well as recent efforts to save its last remaining studio—sadly reminding us that the preservation of cinema history involves more than just the restoration of the films themselves. As is noted in the film, the story of the Champion studio is the story of American film-making.
The Champion DVD is a 2-disc set which also includes a new 2K restoration of Ghost Town (1935), Theodore Huff's poetic documentary about the one-time film town shot not long after it went into decline. It is a fascinating package, and for anyone interested in early film, a must have.
One disc features five rare short films made at the Champion Studios—including Indian Land Grab (1910), A Daughter of Dixie (1911), Marked Cards (1913), and two with Florence Lawrence and Owen Moore, Not Like Other Girls (1912) and Flo's Discipline (1912). None have previously been released on DVD. Notably, these films mark the ur-beginnings of Universal, which purchased Champion and its building in 1912.
Also included on the 2-disc set are three longer Fort Lee-made rediscoveries—a slapstick comedy from director Mack Sennett, A Grocery Clerk's Romance (1912), a "melodramatic comedy" starring Madge Kennedy, The Danger Game (1918), and the first American produced film version of Robin Hood (1912).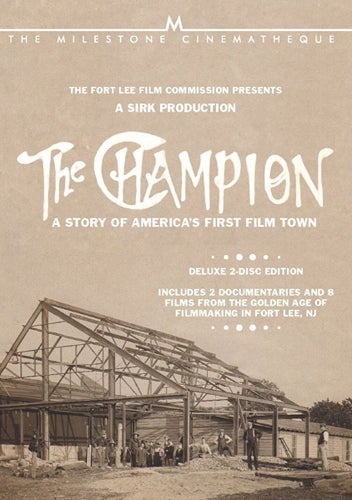 The documentary is based on Richard Koszarski's 2004 book, Fort Lee, the Film Town (John Libbey). Anyone interested in learning more about Fort Lee and its remarkable contribution to film history would do well to get hold of this superb work. Koszarski, a noted film historian, author and member of the Fort Lee Film Commission, also had a hand in The Champion, serving as an associate producer and on-screen narrator and author of the accompanying booklet.
Also worth tracking down is a 2006 pictorial, Fort Lee: Birthplace of the Motion Picture Industry (Arcadia Publishing), and Paul Spehr's 1977 book, The Movies Begin: Making Movies in New Jersey, 1887-1920 (Newark Museum Association). An earlier documentary is Thomas Hanlon's 1964 film, Before Hollywood There was Fort Lee, N.J.: Early Moviemaking in New Jersey, which has been reissued by Flicker Alley.
REAL LIFE. REAL NEWS. REAL VOICES.
Help us tell more of the stories that matter from voices that too often remain unheard.
This post was published on the now-closed HuffPost Contributor platform. Contributors control their own work and posted freely to our site. If you need to flag this entry as abusive,
send us an email
.