TED and The Huffington Post are excited to bring you TEDWeekends, a curated weekend program that introduces a powerful "idea worth spreading" every Friday, anchored in an exceptional TEDTalk. This week's TEDTalk is accompanied by an original blog post from the featured speaker, along with new op-eds, thoughts and responses from the HuffPost community. Watch the talk above, read the blog post and tell us your thoughts below. Become part of the conversation!
__________________________________________
Thanks to my TEDTalk, over 2 million people have watched me cry. This was the first time I spoke about Joan in public and saying her name triggered a rush of memories -- the day she consoled my teenage angst, a conversation about love in a Detroit cafe, the way she set the table with her earthy placemats, the satisfaction in her voice when she talked about her garden. Her death was sudden.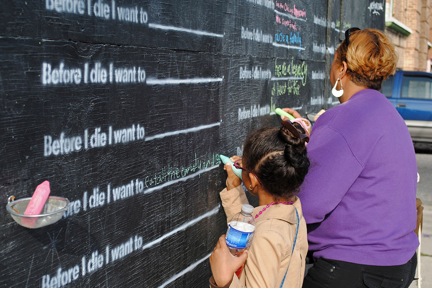 The Before I Die project in New Orleans. Photo credit: Kristina Kassem.
The Before I Die project was a way for me to make sense of the aftermath. I avoided thinking about death for most of my life, in part because I was taught to avoid it. If you bring up death out of the blue, people will often say "don't go there" or "it's too sad" or "you don't need to think about it until you're older." When Joan died, I couldn't avoid it any longer. I went through a period of grief and depression, then gratitude for the time we had together. I thought about death a lot and found a comfort and clarity I didn't expect. Beyond the tragic truth lies a bright calm that reminds me of my place in the world. The moment becomes more tactile. Things that stress me out are reduced to their small and rightful place. Things that matter to me get big and crisp again. Contemplating death, as Stoics and other philosophers encourage, is a powerful tool to re-appreciate the present and remember what makes your life meaningful to you.
We're all trying to make sense of our lives and there's great comfort in knowing you're not alone. Everyone you're standing with in line and everyone you're sitting by in a cafe and everyone you walk past on the street is going through challenges in their life. Yet it's easy to forget this because we rarely venture beyond small talk with strangers. There are a lot of barriers to opening up.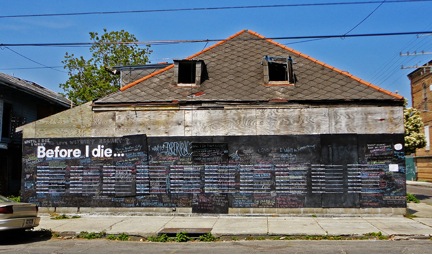 The Before I Die project on a New Orleans house. Photo credit: Candy Chang.
I started making interactive public art projects on abandoned buildings as a way for my neighbors and I to easily share our memories and hopes for these places. Then they became a canvas to ask more personal questions as my priorities changed. Am I the only one who feels like I'm barely keeping it together? The city historian Lewis Mumford once wrote that the origins of society were not just for physical survival but for "a more valuable and meaningful kind of life." Some of the earliest gathering places were graves and sacred groves. We gathered so we could grieve together and worship together and console one another and be alone together. Our public spaces are our shared spaces and at their greatest they can nourish our well-being and help us make sense of our communities and ourselves. Our public spaces are as profound as we allow them to be.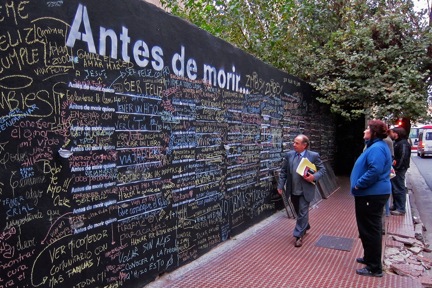 The Before I Die project in Cordoba, Argentina. Photo credit: Jenny Carden.
Everyone you're standing with in line and everyone you're sitting by in a cafe and everyone you walk past on the street is going through challenges in their life. -- Candy Chang
Since the first Before I Die wall in 2011, over 250 walls have been created in over 15 languages and over 45 countries. Passionate people are building new walls each week and it's been one of the greatest experiences of my life to see this little experiment in New Orleans grow into a global project. I'm excited to honor many of these walls in a book about the project that will come out this November.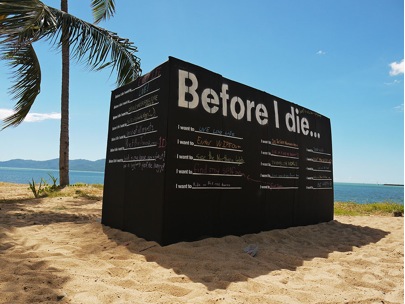 Townsville, Australia. Photo credit: Kim Kamo.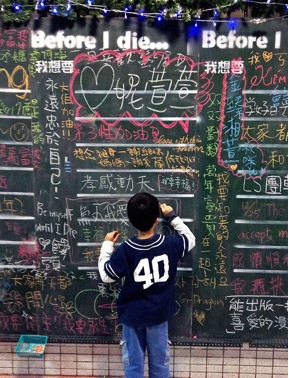 Chung Li, Taiwan. Photo credit: Sammy Tsao.
The Before I Die walls are an honest mess of the longing, pain, joy, insecurity, gratitude, fear, and wonder you find in every community. Seeing other people's feelings have encouraged me to explore my own. I've written many things on the wall: to hole up and read books for weeks, to enjoy more cities with the people I love, to write a bedtime story, to revive a ghost town. It took months before I even began to act on some of these things, but once I wrote them down, those ambient urges took root and became firmer in my mind. I'm a distracted, forgetful person with a short attention span. I need constant reminders of the actions that will really nourish me. And I'm grateful to all my neighbors who have helped stir my mind and step back, pause, be quiet, and reflect.
This story appears in the special July 4 issue of our weekly iPad magazine, Huffington, in the iTunes App store, available Friday, June 28.
Ideas are not set in stone. When exposed to thoughtful people, they morph and adapt into their most potent form. TEDWeekends will highlight some of today's most intriguing ideas and allow them to develop in real time through your voice! Tweet #TEDWeekends to share your perspective or email tedweekends@huffingtonpost.com to learn about future weekend's ideas to contribute as a writer.

Popular in the Community