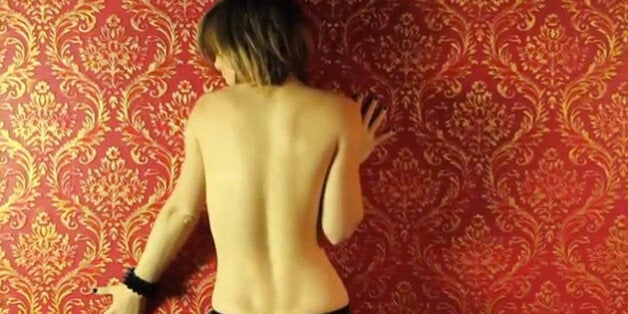 NBC's hit singing show "The Voice" propels singers to instant stardom -- but that talent is a long time in the making.
Season 5 is stocked with incredible talents: masterful Tessanne Chin, the powerful Matthew Schuler and precious Caroline Pennell, to name a few. But these contestants aren't just flashes in the proverbial pan. We hunted through YouTube to find a glimpse of our Top 10 singers before they became famous. From dorm room sing-alongs to a Jamaican reggae video, these musicians lived their passion long before they stepped onto the NBC stage.
Scroll down to see your favorite Season 5 contestants back when they were just 10 young singers with the same dream -- and tell us in the comments who you think deserves to win "The Voice."
Crazy Kat Robichaud's stage antics aren't just something she picked up for primetime TV. As the lead singer of The Design, Kat cut this video wielding a guitar, sequined bra and a pair of hot pants.
Her crowdsurf during "Sail" wasn't the first time Kat got friendly with an audience.
"Sweet Caroline" Pennell must have been born this way. Watch her and Jay Stolar sing a hushed, low-key cover of "Ho Hey" by The Lumineers. We could see Caroline taking on this tune for the judges.
She also released an EP, "The Race," earlier this year.
There's a reason Tessanne always sings like a seasoned pro -- this isn't her first time on stage. "The Voice" told us she was a backup singer for Jimmy Cliff, but the Jamaican beauty also made several reggae videos as "Tessanne."
Apparently it runs in the family -- her sister is a singer, too!
We knew he came from a musical family (his grandma sang with Elvis) but Cole and Tyler Vosbury deliver an achingly tender cover of Amos Lee's "Violin" at a wake.
Here's Cole covering Jackson 5's "I Want You Back" at his old venue -- the Superior Steakhouse in Shreveport, Louisiana.
He dropped out of college to pursue his music career -- but it seems like Wolpert spent a lot of time at his school playing music, anyway. Here's a video he made singing Ray Charles' "I Don't Need No Doctor."
Watch Wolpert nervously introduce a song he wrote himself called "June." Despite what his shirt says, he notes, " I admit for my viewing public that I am not built Ford tough."
This slim soul singer -- still sporting that fro! -- delivers a pitch-perfect rendition of Stevie Wonder's "Overjoyed."
Champlin often sings Mumford and Sons' "Home (Holland Road) to help his daughter Harper Grace fall asleep at night.
Matthew Schuler's vocals have proven absolutely heavenly on "The Voice" tracks like "Hallelujah Chorus." This minister's son actually wrote and recorded his own Christian song with friend Dan Faehl.
Watch Schuler and the Pennsbury High School Alpha Boys sing "Stand By Me" -- the second verse is all Schuler.
Whoever made the video said they couldn't hide it away on their computer any longer. After hearing Austin and fellow singer Jillian Jacqueline's sweet harmonies, America thanks you.
Austin and fellow Season 5 contestant Brian Pounds wrote this song together while they were sitting in the hotel room, waiting to battle. They remind us of David Crosby and Neil Young (if David and Neil still got along).
Boudreaux is every inch the bayou superstar covering Otis Redding's "Sitting On The Dock Of The Bay."
With his mournful wait, we're surprised he hasn't sang Ray Lamontagne's "Trouble" this season.
Jacquie Lee The 16-year-old superstar-in-training sang her blind auditions song, "Back In Black," for another singing competition -- don't worry, it was just Freehold Idol.
If any producers from "The Voice" are reading this, a Woodstock tribute night would be the jam!
Calling all HuffPost superfans!
Sign up for membership to become a founding member and help shape HuffPost's next chapter
BEFORE YOU GO
PHOTO GALLERY
NBC's New Shows 2013-2014