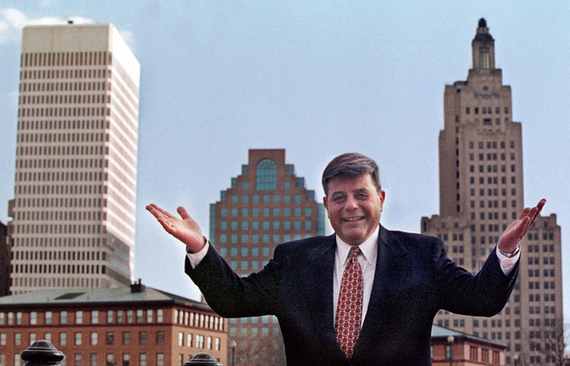 Vincent "Buddy" Cianci Jr., who served separate, decade-long epochs as mayor of Providence, Rhode Island, each punctuated by a felony conviction, died last week at 74. He lorded over only twenty square miles, but across America political junkies smiled and shook their heads at the news. "F---ing Buddy."
In Rhode Island, they're calling it the end of an era, but if a certain reality showman takes New Hampshire and recaptures his dominance, we may look back at Buddy as a pilot project.
Telling the whole story of Buddy Cianci is like doing a Schwarzenegger impersonation. Everyone tries but no one gets it exactly right. Buddy was too many things at once to conceive of, much less to articulate. He was a city of a man, and the boundaries between himself and Providence were never easily definable.
His acts of affection for Providence have been well documented and were so intense and colorful (the inevitable Buddy euphemism) as to be novelistic. But his acts of abuse, while baroque in style, were textbook. That applied to his personal and public lives, which were forever blended. He demanded love but always had to show you why you were a sucker for giving it. For a quarter of a century, Providence stayed in the marriage.
I moved there after a short, post-collegiate stint in Washington politics and some Gen-X career groping when my fiancée was accepted to graduate school. Buddy was everywhere. Of course, I had heard of him. It was the story about when he and a city cop abducted and clubbed his estranged wife's boyfriend with a fire log. It was so brazen and the story such an odd combination of dark and silly. If I thought much about it at all, I figured the guy must have somehow deserved it. In any case, it was all part of Buddy's idiosyncratic passion.
We lived near Brown University's football stadium on a hill and, from that comfortable perch, fell in love with the city and decided to stay after graduation. I had found my way back to public relations and politics, one of the few steady industries. But in those two years, Buddy's fortunes had turned. He was about to be handed his second conviction, now under RICO, the mob statute, for running city hall like a criminal enterprise because of so many kickback schemes. This time it came with a jail term.
"I'm struck by the parallels of this case and the story of Dr. Jekyll and Mr. Hyde," the sentencing judge opined.
"How come I was only getting one paycheck?" was Buddy's later riposte.
The new, young, reform mayor, David Cicilline, now a U.S. Congressman, asked me to be his communications director. From the first morning meeting it was clear that for us the Cianci story was very different. There was only Mr. Hyde. We inherited his government that had run on favors and fear, and were in the process of dragging out all the skeletons from the closet.
Preparing the mayor's first budget speech, I got a full rundown of the damage. Wincingly high property taxes bought dysfunctional services. Cash kickbacks had just been the illegal side of a larger culture. For instance, in a city with a per-capita income of $15,000, we were paying 45 year-old retirees almost their full, generous salaries in annual pension payments for life. They had been Buddy's best campaign workers.
We tried our best to talk about the cost of corruption but it wore thin. If we mentioned Cianci by name, residents and the media got upset. That was personal and mean-spirited. Our story of a good-guy crusade for the sake of more jobs and financial transparency was fine, as long as services got better. They did - with a tax increase. Those pension costs kept ballooning. "F---ing Buddy." It was still about him.
Last Thursday, the day Buddy died, was also the day Donald Trump stole an entire debate's publicity from Fox and the Republican field. Trump's presidential run, baffling for so many, is one that Buddy Cianci would understand implicitly.
In the end, people didn't love Buddy for putting Providence on the map (which he largely did) or "moving the rivers" downtown (which he largely didn't). They loved him for his gall. It might have been monomaniacal but it was still fearless. It might have been driven by narcissism but he embarrassed the business, political and society establishments. For residents of a struggling city, that was exhilarating.
Buddy captivated a city but wrecked its government for a generation. Was it worth it? The answer depends whether you believe you had anything to lose.
REAL LIFE. REAL NEWS. REAL VOICES.
Help us tell more of the stories that matter from voices that too often remain unheard.