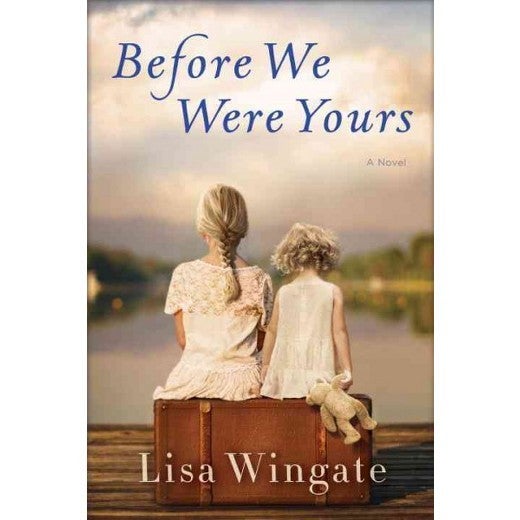 Book Review - Jackie K Cooper
BEFORE WE WERE YOURS by Lisa Wingate
It is almost a cliché to say a book is "lovingly written" but that phrase applies clearly to Lisa Wingate's latest novel BEFORE WE WERE YOURS. This story about children taken from their parents through kidnapping or subterfuge and then placed for adoption, for a price, clearly pours out of Wingate's heart. The plot is based on actual incidents and are a shameful indictment of a set of people who preyed upon the vulnerability of children and/or their parents.
The book is written from two viewpoints, The first takes place in the present and centers on Avery Stafford. She is the daughter of a politician and has been raised to be obedient to the family's needs and wishes. Her father is embroiled in a re-election campaign and so she has headed home to South Carolina to work with him. She is also there to be groomed as his successor.
While there she meets a woman named May Crandall, an elderly lady who somehow has a link to Avery's grandmother Judy. Her curiosity is piqued so she asks her grandmother about the relationship. Judy however is suffering from Alzheimer's and can't respond clearly to the questions. Therefore Avery decides to look into her grandmother's past and when she does secrets become unlocked. They lead to a murky situation concerning orphans and their adoptive parents.
The other viewpoint belongs to a twelve year old girl named Rill. The time is 1939 and the place is Memphis, Tennessee. Rill lives in a boat on the river and helps take care of her four younger siblings. Her parents do the best they can for their children but life is hard. When Rill's mother and father are at the hospital awaiting the birth of a new baby, Rill and her sisters and brother are gathered up by the "authorities" and taken to an orphanage of sorts.
The book has alternate chapters telling the two stories - one of a woman looking into a mysterious past, and the other of a child looking ahead to an uncertain future. They are interwoven beautifully and create a drama that is both bleak and optimistic. Avery is a woman finding her roots while Rill is a girl afraid of losing hers.
It is a rarity for an author to create a book with two central stories told side by side and not have one overshadow the other. That is certainly not the case here as Avery's journey is every bit as compelling as Rill's. They take place in two different worlds but the bond between the two women and the characteristics they both share, evolve naturally as the pages accumulate.
Lisa Wingate has the talent to present this brutal tale tenderly. She is able to get readers into the heads of both Avery and Rill and make their goals crystal clear. Avery is a woman searching for the truth and Rill is a girl trying to keep her family intact. Finding where these two stories intersect makes for the excitement of the book.
It is impossible not to get swept up in this near perfect novel. It invades your heart from the very first pages and stays there long after the book is finished. Few novelists could strike the balance this story requires but Wingate does it with assurance.
There are a lot of books that will catch your eye this summer, some from our best storytellers. Make sure this one is on your radar. It should not be missed.
BEFORE WE WERE YOURS is published by Ballantine books. It contains 352 pages and sells for $26.00.
Jackie K Cooper - www.jackiekcooper.com