Here's a motto that will improve your food immensely: Mise en place (pronounced MEEZ-ahn-plahss). It's French and it means, roughly, "everything in its place", and it is the best thing from France since Pinot Noir. It can prevent disasters. The basic concept is to get all the ingredients out and ready first.
The Boy Scouts have a similar motto: "Be prepared".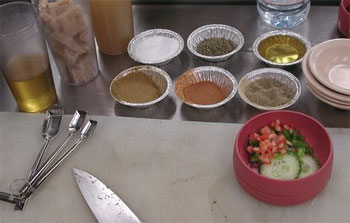 Before I learned mise en place, this was a typical scenario: I'm going to make a barbecue sauce. The recipe calls for me to heat some onions in oil until limp, add fresh garlic, add spices, add ketchup, then vinegar, and molasses. So I get the pan hot, add the oil, and start chopping the onions. The oil starts smoking so I pull the pan off the stove. The smoke alarm goes off, so I turn on the vent fan, finish chopping, toss the onions in the pan, which cools off the oil, so I put it back on high and head for the fridge to get the ketchup. But there's none there because the wife used it up on her lunch, so I run to the pantry for backup, where I hear the smoke alarm going off again because the onions are burning. So I have to clean the pan and start all over again.
Mechanics know the concept of mise en place. Before you raise the hood, read the manual and get all your tools ready. Surgeons too. Chef Anthony Bourdain calls it his religion. Make believe you are doing a TV cooking show. Everything in its place. Makes, cooking, and life, waaaay easier. Here's how to prevent disaster, make better food, and make cooking more fun, by practicing mis en place.
1) Read the entire recipe, start to finish.
2) Clear off your work area.
3) Get all your tools together. That mean knives, bowls, pans, paper towels, spices, etc. Clean the grill.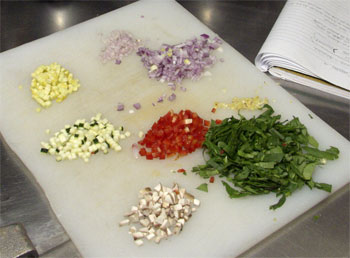 4) Go through the ingredients in the order they appear in the recipe and wash, measure, and chop them as described in the recipe. Measure accurately. Remember a tablespoon has a level top, not a big round hill in the center and valleys along the edges. Put the ingredients on plates so they are easy to handle.
5) Preheat the oven or grill.
6) Start assembling and cooking.
7) Clean as you work. There's plenty of time while pots are boiling and meats are searing to wash your utensils and get them ready in case you need them again. If nothing else, it will make the cleanup when you're done go faster. It also keeps my wife from making that disgusted look at me. The one with her hands on her hips. You know...
--------------------------------
Unless otherwise noted, all text and photos are Copyright (c) 2009 By Craig "Meathead" Goldwyn, and all rights are reserved. Links and recommendations are all products, services, and websites I truly admire, and are never paid endorsements. For more of my writing and recipes, please visit AmazingRibs.com. Click here for information on reprint rights.
Related