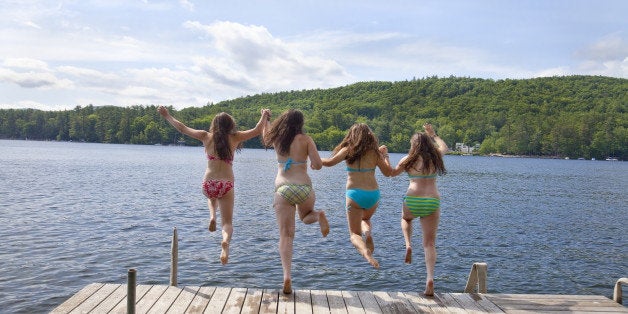 It's travel season! Whether you're planning to dip your toes in the sand and surf, or ride the newest attractions at your favorite amusement park, you're ready to hit the road (or the skies) and get out of town!
Before you travel, there's one thing I can almost guarantee -- estate planning is the furthest thing from your mind.
Estate planning is a daunting topic. It's morbid to think about all of the "what ifs." What if something were to happen and one of your family members were to get seriously injured on the trip? What if catastrophe struck?
Although difficult to think about, it's important to ensure you have everything in place to protect your family no matter what happens. Here are five estate planning must dos to take care of before you go so you can have a more worry-free summer vacation.
Have you been putting off making a will? Perhaps you don't think you need one (you do). Or perhaps you don't think you have enough assets to need a will (you still do). These are all common excuses, but they could land your family in hot water if something were to happen to you.
One of the biggest excuses I hear for not making a will is that the state "makes a will for you" so it's not necessary. Although true (these "wills" are actually called intestacy statutes), leaving your final wishes up to the state is dangerous. Everything you've worked so hard for could be distributed and managed in ways you don't want.
Here's an example. If you have a blended family, most intestacy statutes will give your assets to your "heirs at law." Unfortunately, state do not generally recognize step-children as heirs at law, which would mean you could disinherit your some of the most important people in your life.
Perhaps most important is the guardians to your children. Do you want the state to decide who will care for your children if something were to happen to you?
I'm only touching the tip of the iceberg with these reasons for why you need a will. The point is, making a will before you go will let you rest easier while you're on vacation knowing your final wishes will be granted.
2. Check Beneficiary Designations
Many times, a will is not enough to distribute your assets. Some of your largest assets, such as your IRAs, 401(k) plans or life insurance require are often not subject to the terms of your will.
Each major financial account lets you designate a beneficiary. Usually you'll designate the beneficiary on the spot and in a rush while setting up your account. Sometimes your snap decision will be the right one but other times, you might be making your assets more available to certain people than you'd like. For example, do you want your 18-year-old child to have access to your entire retirement savings? Are you certain s/he will spend that large sum of money in the way you'd like him/her to?
It's worth revisiting who your beneficiaries are in case something happens to you.
3. Name a Guardian or Guardians
Regardless of whether or not you make a will, you should always name a guardian (or guardians) for your children.
It's devastating to think about something happening to you before your children grow up, but it's a relief to know your kids will be well taken care of if catastrophe strikes.
Although nominating guardians is typically done in a will, there are various ways to do so if you're not ready to make a will. These vary from state to state, so contact an estate planning attorney to make sure your nominations are done right way for where you live.
4. Make an Advance Directive
Sometimes, catastrophe doesn't mean death. Sometimes, a person is left incapacitated and unable to make decisions about his/her healthcare. Who would make the decisions for you if you were incapacitated?
Making an advance directive allows you to specify what type of medical treatment you want and don't want. Depending on your state, this document is either called a living will or an advanced healthcare directive.
In addition, most people make a health care power of attorney. This lets another person make decisions based on what you outlined in your living will or advanced healthcare directive.
Why is this necessary? Because without this, the court might need to appoint a guardian to make those decisions for you. That's costly both in terms of finances and risk that your last wishes won't be granted.
5. Make a Durable General Power of Attorney
Your health care power of attorney allows other people to help make medical decisions for you if you're incapacitated, in conjunction with the wishes you specified in an advance healthcare directive. A durable general power of attorney is equally important to have on your side. This person makes decisions about what happens with your assets and other interests when you can't.
The term "durable" is important here. Some powers of attorney are no longer effective if you're incapacitated, but a durable power of attorney is.
Your Summer Vacation Awaits You But First...
First, you'll want to make sure all of your legal documents are lined up. Although chances are good that nothing will happen to you or your loved ones, you don't want to take the risk that something could go wrong and your last wishes aren't honored or even known.
Steve Cook is an estate planning attorney in the Phoenix, Arizona. He helps clients plan get peace of mind through estate planning.
Support HuffPost
A No-B.S. Guide To Life
Related
Popular in the Community