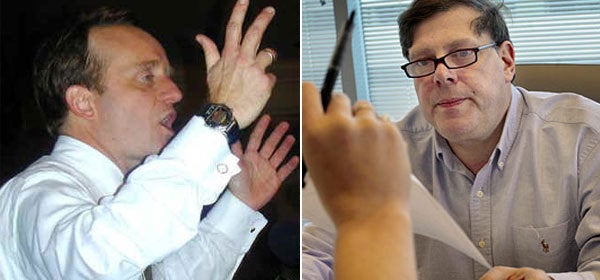 Longtime Clinton adviser and confidant Paul Begala took full aim at Mark Penn on Friday, expressing scorn for the recently demoted strategist, and comparing his time with the Clinton campaign to that of Donald Rumsfeld's tenure as Secretary of Defense.
"I have nothing but contempt for Mr. Penn," said Begala at a New York City breakfast sponsored by the non-profit group Public Agenda. "And for those of us who wanted to see him out from the beginning, it became almost a Rumsfeldian thing. And he is not even fired. He has been demoted. How could this be?"
Begala, who has served as a CNN analyst during this election cycle, spent much of the event touting Sen. Hillary Clinton as a capable and experienced candidate who shouldn't be sullied by her chief strategist's mistakes. Asked how the New York Democrat could end up in her current predicament -- even Begala said it looked, at this moment, like Sen. Barack Obama would win the nomination -- he put the onus on Penn's ill-conceived game plan.
"Mark Penn did have this strategy," Begala said. "He wrote a book called Microtrends in which he argued that the era of big trends is over. That's like going to New Orleans before Katrina and saying the era of big storms is over. It might end up being true but it could be really wrong."
Taking more, often humor-laden swipes, Begala went on: "[Penn] is looking to target non-Catholic Latino woman. All two of them... He slices the baloney incredibly thin. And in addition to being a political strategist, he is heading one of the biggest public relations firm in Washington, which is a huge conflict of interest. The campaign ended up looking like Exxon Mobil instead of what it really is..."
Begala's comments on Penn's tenure as chief strategist are some of the harshest yet to emanate from within the broader Clinton circle. In the wake of Penn's decision to meet with the Colombian ambassador to the U.S. -- to discuss the promotion of a trade deal that Sen. Clinton opposes -- other advisers to the senator (notably Pennsylvania Governor Ed Rendell) hinted their disapproval and desire to see Penn fired. Prior to Penn's demotion, which came as a result of his Colombia misstep, there was still critical sentiment of his leadership within the campaign's inner circle. That dirty laundry, as the Clinton campaign stumbled in post-Super Tuesday slate of primaries, was increasingly aired in public.
On Friday, Begala addressed other, perhaps more pertinent, topics related to the 2008 campaign. He expressed bewilderment over the structure of the Democratic primary, which will have no candidate receiving the needed number of pledged delegate support. But as for one of the inventive measures the Clinton camp has floated as a metric for superdelegates to decide the nominee -- Rendell's idea to look at how each candidate has done based on the Electoral College votes they would receive in a general election match-up -- Begala called that "silly."
That aside, Begala did not show great concern that the clash between Clinton and Obama would come back to haunt the party. Unless, he added, it was taken to the convention.
"The bitterness is at the elite level -- the really close friends and the big donors," he said. If, however, the primary battle went to the Democratic convention in late August, then "there is insufficient time from them to stitch things together."
Overall, Begala reminded the audience that both Obama and Clinton were remarkably well suited and qualified as candidates: "[Sen. Chris] Dodd, [Gov. Bill] Richardson, and [Sen. Joseph] Biden, in any other field they would be frontrunners and between them they didn't get any delegates."
And while both Obama and Clinton would have to overcome racism and sexism respectively (as well as Sen. John McCain's skill at transcending the negative perceptions of the Republican Party), Begala noted that the political landscape was ripe of the Democrat's taking.
"If ever we are going to break through those prejudices it is going to be a year when the economy is in the tank, when we are in an unpopular war, and the stars are aligned," he said.
Popular in the Community