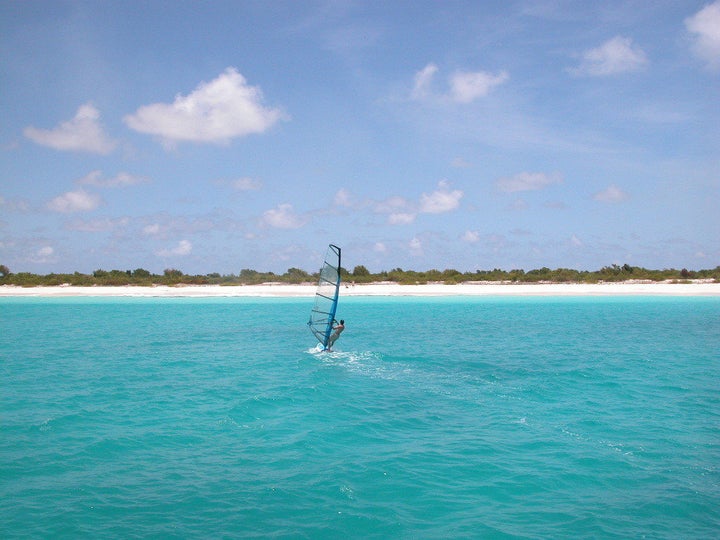 Not many people go to the tiny island of Barbuda. The out of the way leeward island in the British West Indies is accessible to those who make the effort: The 11-mile long powder soft beach is specked with crushed pink coral.
For the most part, Barbuda is unspoiled, remote and laid back. It's unaffected by tourism and probably will remain this way for quite some time. It's purely for escapism. Unwinding is a pastime here and entertainment is found in hiking, beachcombing and scuba discoveries. For people who appreciate solitude, Barbuda is a marriage made in heaven.
Getting There: There are three arrival options: air, ferry or sail. Perhaps the easiest is Barbuda Express, a catamaran ferry service from Antigua, which makes the 90-minute trip five days a week (9:15 a.m. and 3:45 p.m.). Sailors arrive on private or chartered sailboats, and Winair operates one flight per day from Antigua to Barbuda.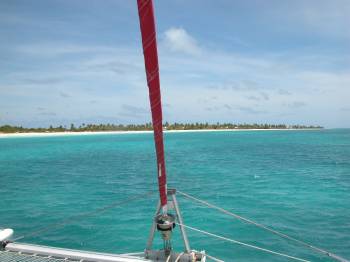 Arriving by Boat - Photo ©Susan Fogwell
Sailors can charter a sailboat at the Sunsail Charter base on Antigua (this is how I arrived). The distance from Antigua to Barbuda is 40 nautical miles. An ideal anchorage is Cocoa Point and Palmetto Point on the southwestern coast. Grab your snorkel gear, jump in your dinghy and head for the perfectly flat beach.
Arid Barbuda is covered in bush and is home to wild cattle and boar. Among twisting and unmarked roads, there is one unpaved main road leading to pristine, empty beaches. Jeeps and 4-wheel drive vehicles can be rented. Scooters, bikes and horses are also available to rent.
Take a cab to Two Foot Bay. Centuries ago, this area was under water. Caves were formed on the eastern side of the island where you can find ancient cave drawings. Follow the path, enter the cave and emerge on top of the Highlands to see coral reef fringing the area. There are many caves offering additional exploration underwater. For divers, there are an estimated 200 shipwrecks in the reef-infested waters to pique your interest.
The small, sleepy village of Codrington has a population of 1,600. They share the winding dirt paths with sheep, goats and deer who roam wild. Not much has changed here in the last few centuries. For hundreds of years, life has remained slow-paced among the Barbudans and the land is held communally among them, which allows the natives to keep tight control over their small piece of paradise.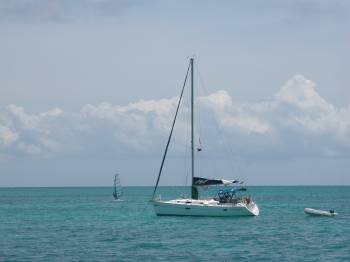 A Sailboat Anchored off Barbuda - Photo ©Susan Fogwell
For bird watchers, venture off to Codrington Lagoon, a nature reserve. This is one of the largest Frigate bird colonies in the world with approximately 2,000 birds. The birds can be found in mangrove bushes emitting strange cries. In order to explore the mangroves, you will need a guide with a boat. George Jeffrey offers bird hikes. To make a reservation, call 268 460 0143.
Sleeping on tiny Barbuda will cost you dearly. At one time, there were four hotels, now there are only two (both all-inclusive), the super exclusive and members-only Coco Point Lodge and Lighthouse Bay Resort (often $1,500 per night during high season).
Barbuda on the cheap: There are a couple of guesthouses and cottages in the village providing rooms to visitors, but they do not advertise. (It's more of a seek and you shall find way of sleeping on the cheap.) They average about $150 per night.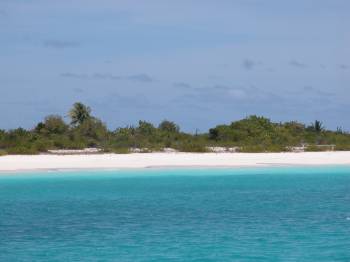 Barbuda's Pink Beach - Photo ©Susan Fogwell
Tip: Several tourism websites on Barbuda are not current. The K Club Resort and The Beach House boutique hotel are no longer in business. For the most up-to-date Barbuda Express ferry schedule, click here.
Note: Several websites state Barbuda's beach to be as long as 17 miles. I referred to Imray's nautical sailing chart as a resource for accuracy.