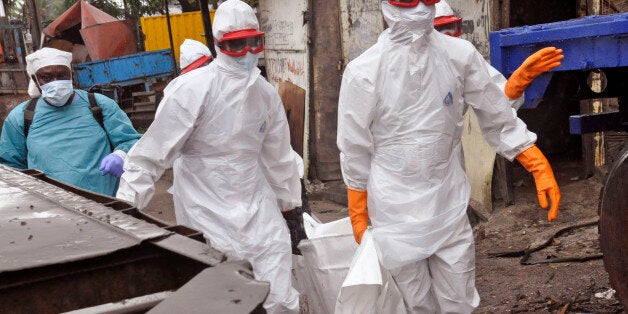 As the number of Ebola cases and deaths grows in West Africa, many remain unaware of its deadly impact, causes and treatment options, or lack thereof. Education about the disease is essential both in the developed world and, more critically, on the African continent.
Sadly, in remote districts in Guinea, Liberia and Sierra Leone correct information and education is desperately needed, but messages essential to stopping Ebola's spread are not reaching those who need to hear them. Most West African villagers don't have access to Google or CNN. There are wealthy individuals in the United States who are misinformed about Ebola, but the people who are seeing their family members get sick and die have to piece together hearsay about an invisible killer. Getting correct information about Ebola prevention and treatment to local communities throughout West Africa must become a higher priority, and we must begin to address it in culturally appropriate and innovative ways.
Because the virus has stricken several countries with meager health care systems, it's creating a tremendous strain on the respective governments. The ministries of health in each of the countries are struggling mightily to stop the disease from spreading because the amounts of financial resources and trained medical personnel at their disposal are both grossly insufficient. To make matters worse, health care workers account for many of the lives taken by Ebola, and those still healthy live in fear every day.
Yet, even as support from around the globe arrives in West Africa in the form of money, medical supplies and health care workers, the epidemic rages on because these resources address just one part of what is a complex and tragic global health problem. No amount of financial support and manpower can defeat Ebola without an informed and mobilized populace in support, and right now cultural, religious and social beliefs are impeding efforts to combat the disease.
In some places locals refuse to acknowledge the existence of Ebola, believing it to be a government plot, and health care workers are regarded with fear or disdain, as many locals hold them responsible for the mounting death toll. When the very people charged with providing treatment and care are run out of villages by angry mobs, hope of eradicating the disease grows dim.
While medical experts work feverishly to make an untested but promising cure for Ebola available, experts in the science of behavior change must address the long-held but misguided local beliefs to spread accurate, sound information about what must be done at the community level to eradicate Ebola systematically throughout West Africa. The disease will only be stopped -- and it will be stopped -- through thoughtful, culturally appropriate education and a comprehensive behavior change campaign.
The absence of an effective community-focused communication strategy about Ebola, and the absence of real-time information will continue to make it harder to quarantine and treat cases. To curb the spread of Ebola, organizations and governments must incorporate a sub-regional response into national eradication plans. An assessment done by the World Health Organization of the outbreak response conducted in Liberia identified several gaps and challenges with response efforts, including low coverage of contact tracing, persisting denial and resistance to help at the community level, substandard management of data, and inadequate infection prevention and control practices -- especially in peripheral health facilities.
Africare is working alongside Liberian President Ellen Johnson Sirleaf and the Liberian Ministry of Health to implement a response plan that will deliver health services and sustainable behavior change communication. Since the onset of the Ebola epidemic, we have provided Personal Protection Equipment to our employees at the 38 health facilities in Bong and Nimba counties, and the Africare/Liberia team is supporting the Ministry of Health by collaborating with the county health teams and the Central Level Ebola Technical Team to produce an emergency work plan and to set-up a task force that is coordinating the emergency response activities. To date, Africare has trained 118 health workers on prevention, surveillance and safe burial practices for those who have died from contracting Ebola. We have also shipped more than $530,000 of medical supplies from the United States to support local health care workers in Liberia, Guinea and Sierra Leone, and we will continue to ship supplies as long as they are needed.
There is currently no cure for Ebola. But by working with communities to communicate culturally sensitive behavior change messages and information effectively, the disease and its spread will be stopped. Communities that are currently in the grips of this deadly disease will understand how to stop Ebola in its tracks when it strikes again in the future, sparing hundreds if not thousands of lives. For now the medical community can only treat the symptoms, but we can treat a cause. Behavior change is one way to defeat Ebola for good.
Calling all HuffPost superfans!
Sign up for membership to become a founding member and help shape HuffPost's next chapter