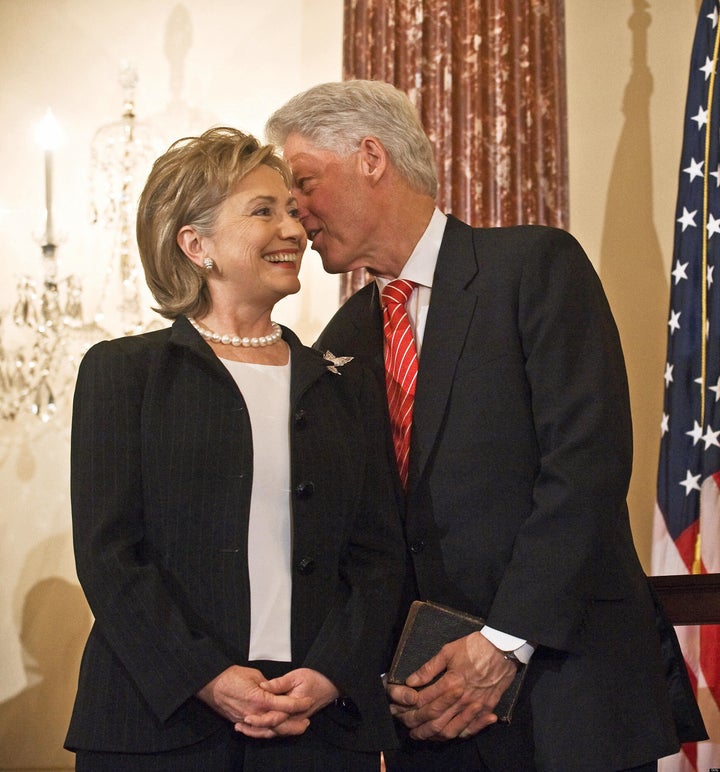 On August 25th, Hassan Nemazee, a top fundraiser for Hillary Clinton, was arrested and charged with forging loan documents in order to borrow $74 million from Citibank. He could face up to 30 years in prison. Early media accounts cast the event as an embarrassment for Ms. Clinton involving the financial misdoings of one prominent backer. Actually, it is much more.
Behind the Nemazee arrest lies a sprawling cautionary tale of presidents, would-be presidents, and the shadow world of wealthy operators who cozy up to them for their own gain. It reaches into the Bush operation as well as that of the Clintons, and is a microcosm of an influence bazaar that has gone global along with the economy.
Hassan Nemazee, who served as a finance director for Hillary Clinton's 2008 presidential campaign, began raising sizable sums for the Democratic National Committee in the mid-nineties. In 1998, in the midst of the Lewinsky affair, Nemazee collected $60,000 for Bill Clinton's legal defense fund in $10,000 increments from relatives and friends.
The following year, President Clinton nominated the money manager and investor to be ambassador to Argentina. Then an article in Forbes raised questions about his business practices. Among other things, Nemazee, an Iranian-American, had magically turned himself into an "Hispanic" by acquiring Venezuelan citizenship in order to fulfill the minority-ownership requirement of a California public pension fund. The nomination was withdrawn.
That embarrassment did not, however, hamper Nemazee's rise within the Democratic Party. By 2004 he was New York finance chair for John Kerry's campaign, and in 2006 he served under Senator Chuck Schumer as the national finance chair of the Democratic Senatorial Campaign Committee (DSCC). During this period the committee raised about $25 million more than its Republican counterpart.
By 2008, Nemazee was one of Hillary Clinton's inner circle, and was being publicly touted as a top foreign policy adviser. When another major fundraiser, a clothing manufacturer named Norman Hsu, was arrested and unmasked as a swindler, it was Nemazee who was trotted out to defend Ms. Clinton and argue that she knew little about Hsu.
But she should have known plenty about Nemazee. In 2005, Nemazee and his business partner, Alan Quasha, went deep into the Clinton circle to hire Terry McAuliffe, the Clinton confidante and former chairman of the Democratic Party, for Carret Asset Management, their newly acquired investment firm. During the interregnum between McAuliffe's party chairmanship and the time he officially joined Hillary Clinton's campaign as chairman, Nemazee and Quasha set McAuliffe up with a salary and opened a Washington office for him. There he worked on his memoirs and laid the groundwork for Ms. Clinton's presidential bid.
In March 2007, Nemazee, at the behest of McAuliffe, threw a dinner for Ms. Clinton at Manhattan's swank Cipriani restaurant, which featured Bill Clinton and raised more than $500,000. In 2008, after Barack Obama gained the nomination, Nemazee raised a comparable sum for him.
But it is not fair to characterize Nemazee as an embarrassment to Democrats alone. Nemazee's profile is considerably more complicated. For legal representation in his current troubles, for example, Nemazee has retained Marc Mukasey, a partner in Rudolph Giuliani's law firm and the son of Michael Mukasey, who served as George W. Bush's last Attorney General.
There's more than choice of counsel involved. Before moving into the Democratic camp, Nemazee had backed such Republican senators as Jesse Helms, Sam Brownback and Alfonse D'Amato. None could be described as Clinton fans. Nemazee's business partner, Alan Quasha, who specializes in buying up troubled companies, has also played both sides of the partisan divide. Quasha gave to both Bush and Al Gore in 2000, and in the 2008 race gave to Republicans Mitt Romney and Rudy Giuliani as well as Democrats Barack Obama and Chris Dodd.
The strikingly trans-partisan and trans-national nature of this high-stakes influence game is best exemplified by the relationship between Quasha's oil company, Harken Energy, and George W. Bush. Harken provided a home for Bush in the 1980's when his own oil businesses failed, offering him handsome compensation and a solid financial base from which to enter politics. Bush was named to the Harken board and received a range of benefits from the company while devoting most of his time to his father's presidential campaign and then his own outside career efforts.
Harken is a curious outfit. Its early funding sources were opaque, and its investors and board members had a dizzying array of connections into global power centers--and ties to the Saudi leadership and the former Philippine dictator Ferdinand Marcos, the Shah of Iran, as well as to the Swiss Bank, UBS, which has been charged by the US government with providing cover for Americans who were evading taxes.
Around the time George W. Bush joined its board, Harken received an unusual and sizable cash infusion from the Harvard Management Company, which handles Harvard University's endowment, the largest in the nation. Robert G. Stone, Jr., a figure with ties to US intelligence and to the Bushes, was head of the Harvard board of overseers that approved financial strategies. Former employees of Harvard Management have recently made highly-publicized charges that the company engaged in Enron-style investment practices. (Prior to going to work for Nemazee and Quasha, Terry McAuliffe had publicly criticized Bush for his financial dealings with Harken, disparaging that company's own Enron-like accounting. Both Quasha and Nemazee, like Bush, have Harvard degrees, and both have sat on prestigious Harvard committees in recent years.)
Nemazee's role as a foreign policy adviser to Hillary Clinton can be better understood through his own Iranian connections. His father was a shipping magnate who was close with the Shah of Iran and served as the Shah's commercial attaché in Washington; Nemazee was a founding member of the Iranian-American Political Action Committee, a lobbying group. Recent strains have been reported between President Obama and Secretary of State Hillary Clinton over policy toward Iran. Clinton has advocated a harder line toward the Islamic fundamentalists who took over when the Shah of Iran was overthrown in 1979, while Obama has stressed dialogue.

With Nemazee's arrest for financial fraud certain to attract some sustained coverage, it remains to be seen whether it will be treated as yet another isolated case of financial wrongdoing, or lead to a deeper look at the influence bazaar that American politics has become.
Calling all HuffPost superfans!
Sign up for membership to become a founding member and help shape HuffPost's next chapter