Last week, a man was arrested in Ohio for an alleged ISIS-inspired plot to attack the U.S. Capitol with gunfire and pipe bombs. According to the government's criminal complaint, to prepare for the attack Christopher Cornell bought two AR-15 style semiautomatic assault rifles manufactured by the American gun company ArmaLite, along with approximately 600 rounds of ammunition.

ArmaLite is one of the nation's leading manufacturers of AR-type semiautomatic assault rifles. The way the company markets and sells these weapons is as revealing as it is typical of today's militarized firearms industry. An ArmaLite ad for the same type of firearm purchased by this prospective terrorist displays a man clad in military gear, and features the slogan: "WHATEVER YOUR MISSION ARMALITE IS READY." Apparently even if your mission is attacking the U.S. Capitol.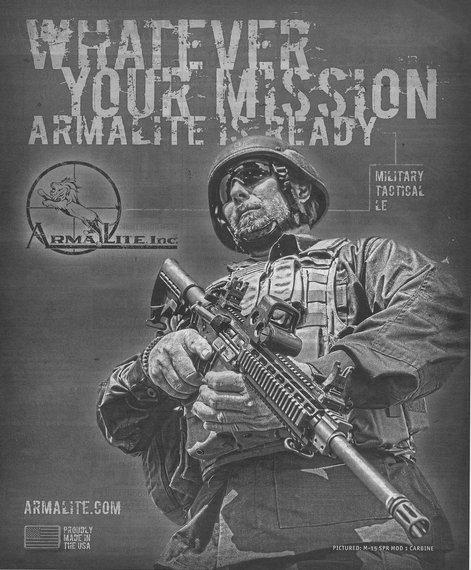 This week, ArmaLite is just one of the many gunmakers that will be hawking their wares at the annual trade show for the firearms industry, known as the SHOT (Shooting, Hunting, Outdoor Trade) Show. The event, billed as the largest gun trade show in the world and a place "where a passion for firearms, ammunition and outdoors equipment, plus the industry's unified support for the Second Amendment, are on display," is taking place from January 20-23 in Las Vegas. It is sponsored by the National Shooting Sports Foundation (NSSF), the gun industry's official trade association which, in a grim coincidence, is located in Newtown, Connecticut.
Access to the SHOT Show is restricted to members of the firearms industry. The general public is banned and media access is tightly controlled, with the show's media guidelines noting: "Because the SHOT Show is run for the benefit of the shooting, hunting, outdoor and law enforcement industry, a demonstrated record of reasonable objectivity, fairness and balance in past coverage of the industry will be considered" -- a level of "reasonable objectivity, fairness and balance" that is, of course, in the eyes of the show's industry sponsors. Under the heading "Professionalism," the NSSF warns media attendees:
NSSF requires all media to conduct themselves in a professional manner and to ask permission before taking photos, video or audio recordings ... However, we ask that you not shoot close-ups of any booths, persons or products without permission. NSSF requires all media to defer to exhibitors who do not want to be interviewed or have their products photographed or videotaped. At its discretion, NSSF may provide an escort for video crews on the show floor. Unauthorized filming, photography or audio recording, or unprofessional behavior, will result in the immediate revocation of media credentials and removal from the premises, and may jeopardize admission into future SHOT Shows.
So why so camera shy? One reason is that such images would reveal all too clearly what the modern gun industry has become: an industry dominated by military-bred weaponry marketed with militarized language (almost always in capital letters) and imagery that would disturb the vast majority of Americans. And not surprisingly, the gun industry is quick to deny any responsibility when these semiauto versions of battle weapons are used for the very purpose they were designed: to kill large numbers of people quickly and efficiently.
ArmaLite's militarized images and language are by no means unique. Below are a few additional examples of the many to choose from:
SHOT Show vendor Daniel Defense markets its semiautomatic assault rifles with soldiers firing their weapons from a prone position and encouraging its civilian customers to "USE WHAT THEY USE":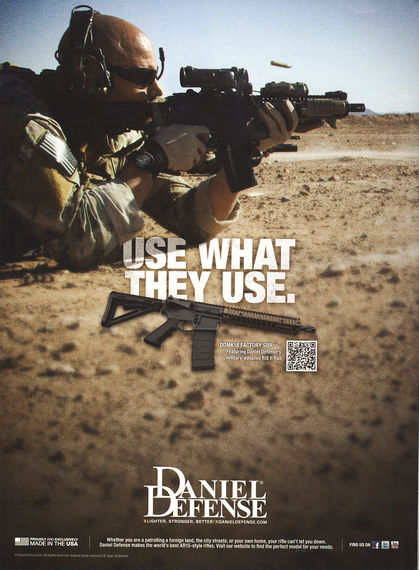 Gun conglomerate Remington Outdoor Company, Inc. (formerly Freedom Group) includes Bushmaster, manufacturer of the XM-15 assault rifle used to murder 20 children and six educators at Sandy Hook Elementary School. The Bushmaster product catalog features a soldier targeting one of the company's assault rifles above the trademarked slogan "JUSTICE FOR ALL."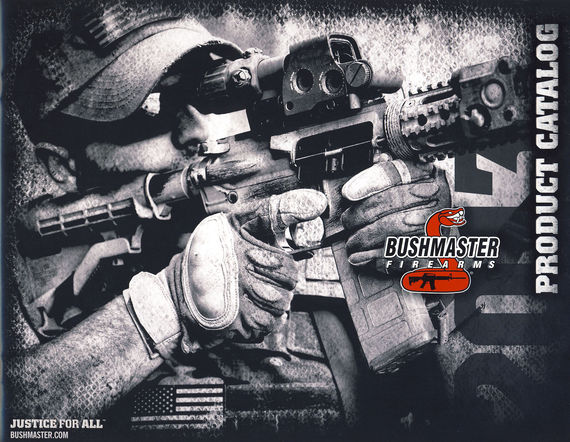 Catalog copy for DPMS/Panther Arms, another manufacturer under the Remington umbrella, boasts that its assault rifle is "BUILT TO BE AS TOUGH AS THE JOB."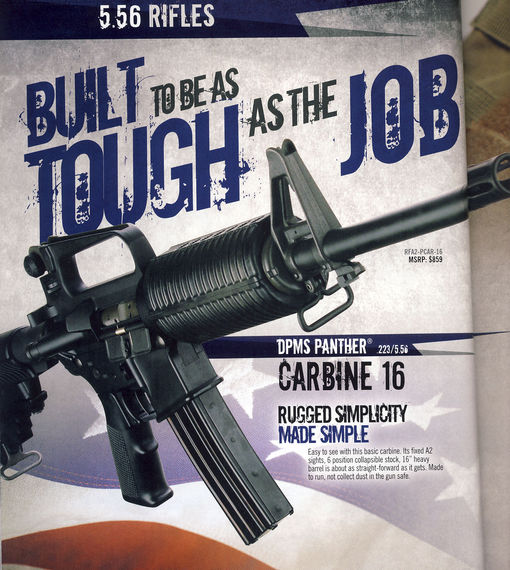 And catalog copy for the Tavor semiautomatic bullpup assault rifle made by IWI US promises that it's "perfect for urban CQB [Close Quarters Battle] applications, where getting in and out of a vehicle quickly or clearing a doorway are important considerations for you."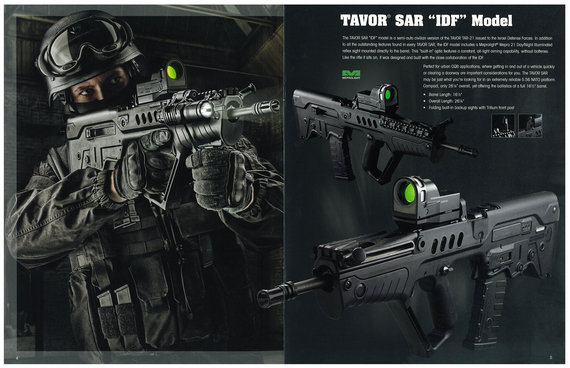 Also present at the SHOT Show with its own display will be the National Rifle Association, a member of NSSF and the unofficial trade association for the gun industry. The NRA is increasingly the recipient of gun industry dollars targeted at increasing sales: whether through industry-branded marketing or opposition to gun violence prevention laws that would impact gunmakers' bottom line.

If this year's SHOT Show is like prior years, the NSSF, the NRA, and the gun manufacturers who help pay their bills will talk about virtually every aspect of guns in America except one: the price the rest of us pay for the irresponsible and virtually unfettered marketing of their increasingly lethal products.
Popular in the Community