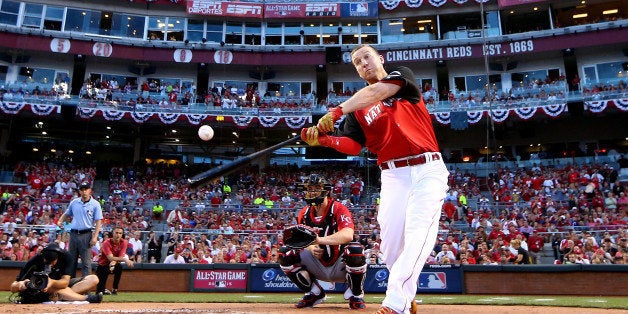 I was fully prepared to not like Cincinnati. In fact, I had planned on breezing in and out without even taking much of it in. But I was wrong. I have to apologize to the Ohio-an's because I kind of fell in love with this place.
We landed late Sunday evening and while our plane was definitely not like the one I had imagined (aka Taylor Swift's jet style), it did still get us here in one piece and was a really fun experience.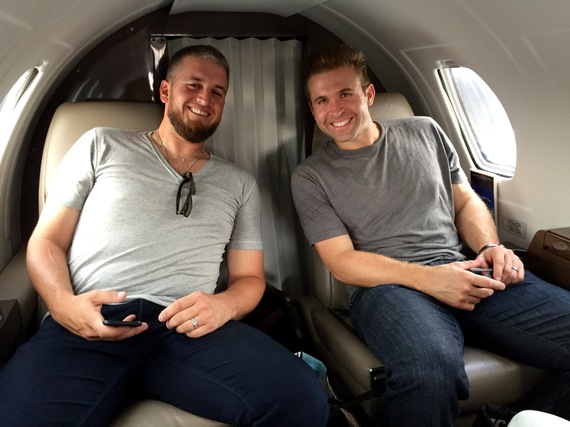 Once in Cincinnati we wasted no time taking in the sights. We grabbed a quick bite among many other players at Jeff Ruby's Steakhouse and then hit the opposite of the spectrum when we walked over to Knock Back Nat's, a local hole in the wall that my hubby had grown fond of when he had played the Red's earlier this season.
We proceeded to stay late into the night and shoot the sh*t with some family, friends and other players. The atmosphere was laid back and made for a perfect way to let loose (and between you and me -- Glen and I love a good hole in the wall).
Lucky for me (or unlucky depend on how you look at it), I had a sinus infection going into this trip so I didn't really drink on Sunday night and was able to get up and head out for a run on Monday morning. Running is how I release the stress and also get to see the city.
I ran down along the river (not the most beautiful river but it is water none the less), over the bridge into Kentucky, looped my way back around and ran through fan fest thoroughly loving everything that I saw.
After a quick shower we headed off to take in fan fest for ourselves (minus Glen) and were in the middle of exploring the city and fans when the heavens opened and we got caught in the middle of a tsunami. We tried to run for cover but before we could find shelter from the tornado sirens we had gotten drenched, I mean bone-soakingly wet!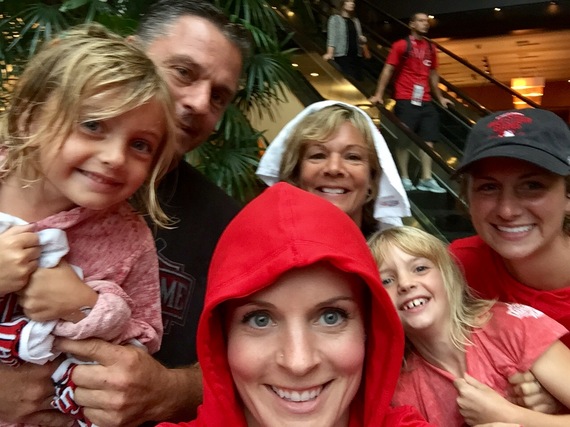 We waited the storm out in The Yard Restaurant and snuck in a meal adorned with clothes that were sticking to us, but once the coast was clear we headed back to the hotel to get ready for the Homerun Derby.
The Derby is always a fun time for us because Glen doesn't have to do anything so the girls and I get to sit on the field with him and take the whole thing in. Once we were situated at Great American Ballpark, we spent the next hour watching the best in the game knock baseballs out of the park with an ease that blew me away. My husband looks foolish standing fully erect in the batters box when he has to hit (thank goodness it is few and far between), so to get to watch the real deal hitters do their thing up close was pretty neat.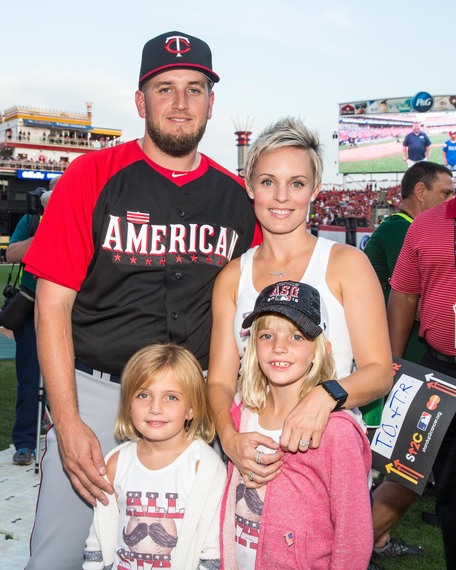 Once we wrapped up the Derby fun (spoiler alert: Frazier "the Cincinnati elect" won) we headed to one of the new hot spots in town -- The Eagle. We had met the chef the night before and he promised us they made the best-fried chicken in town and so we had to check it out. I will say he held up his word with some amazing eats and an incredible atmosphere. The area that it is located in seems pretty up and coming as well and made me wish I had more time to venture around.
With a belly full of chicken and heart full of thanks for our third opportunity to be among the best of the best in the game, I fell asleep Monday night hoping to get enough rest to not look like I got hit by a bus in the parade on All-Star Game day.
Calling all HuffPost superfans!
Sign up for membership to become a founding member and help shape HuffPost's next chapter