After 18 months of research, Oxfam America, an organization that aims to reduce poverty and injustice worldwide, has released a new report and launched a website that measures how the 10 largest food companies worldwide perform on food justice issues. The "Behind The Brands" report evaluates the companies according to seven criteria: women, small-scale farmers, farm workers, water, land, climate change and transparency.
"The bottom line is simple: They could do better. A lot better," reads the website homepage. The 10 companies Oxfam scores are: Associated British Foods, Coca Cola, Danone, General Mills, Kellogg, Mars, Mondelez, Nestlé, Pepsico and Unilever. These companies combined together make $1 billion per day, according to Oxfam.
The report doesn't paint a very encouraging portrait of the global food system. The companies were scored from 1 to 10 in the seven aforementioned categories, for a possible total of 70 points. No company received higher than a score of 7 in any category, and three companies -- Associated British Food, Kellogg and Mondelez -- never scored higher than a 4. The highest overall score went to Nestle, with 38 points (54 percent). The lowest overall score went to Associated British Food with 13 points (19 percent).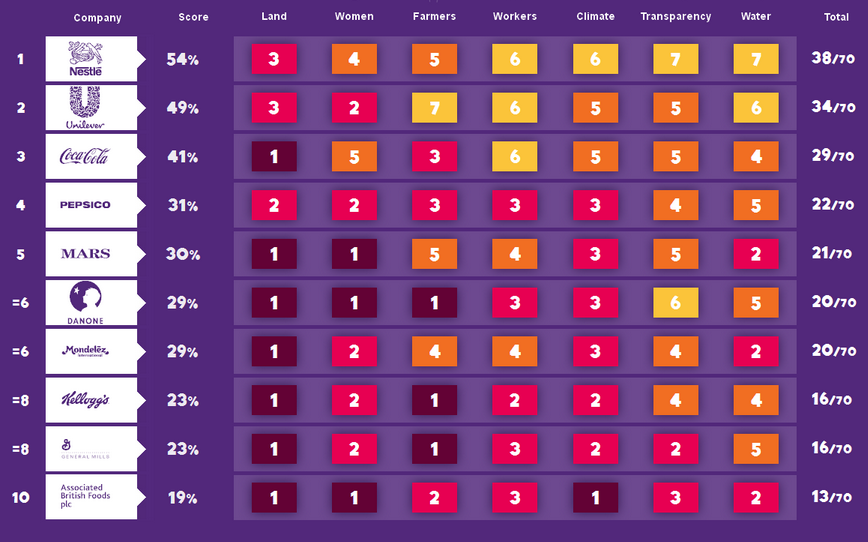 Source: Oxfam
"While some companies are doing better than others, no company has passed the test," said Raymond C. Offenheiser, president of Oxfam America, in a press release. "Some companies have made important commitments that deserve praise. But none are moving fast enough to help tackle hunger, inequality and poverty in their supply chains. No company emerges with passing grades. Across the board all ten companies are failing," he said.
"The key issues highlighted are ones with which we are all concerned," Unilever responded in a statement. "The report recognizes the progress Unilever has made in its policies and practices ... although information on the more recent progress we have made was not available for inclusion in this report." The statement added, "[W]e believe that meaningful progress will only be made when all relevant stakeholders -- including primary producers, first processors, traders, retailers, civil society and governments -- work together."
Oxfam doesn't want "Behind The Brands" to be seen merely as a damning report on the state of the food system, though. Instead, the organization hopes to "produce a race to the top," said Offenheiser in a phone call with reporters. Offenheiser explained that Oxfam has spoken with all of the food companies involved in the report and hopes to continue a dialogue with them. If companies update their policies, Oxfam plans to update the scorecard as well.
A spokesman said that Coca-Cola "welcome[s] a continuous dialogue with Oxfam that enables us to identify and address global challenges collaboratively." And Kris Charles, a spokesman for the Kellogg Company, told HuffPost that the company has been in communication with Oxfam regarding the report, and that the company is "committed to a sustainable, ethical and transparent supply chain" to increase sustainability and combat hunger through donations of their products.
A spokeswoman for General Mills said that it will "continue to work to advance our work" in the areas cited in the report.
In order to calculate the scores, Oxfam relied on publicly available information and documents. While the organization acknowledges that the scorecard doesn't account for everything -- the group concedes that any positive on-the-ground change happening would be impossible to measure accurately -- Oxfam believes its report and scorecard to be a solid mechanism for accountability.
As the Behind The Brands project continues, Oxfam plans to highlight specific issues throughout the year. The first focus is on women involved in the cocoa supply chain. Oxfam found that no company has publicly committed to eliminating discrimination against women throughout their supply chains. Oxfam plans to target Nestle, Mondelez and Mars for their failure to address these issues.
Representatives for both Nestle and Mars released statements that acknowledged the issues raised in the Oxfam report and expressed an interest in working with the organization to address them.
Richard Buino, a spokesman for Mondelez, provided HuffPost with a statement, citing their "Cocoa Life" program and work with groups such as the United Nations Development Program, World Wildlife Fund and Anti-Slavery International "to develop a robust set of principles for success and ways to measure and report our progress." He added, "While we're pleased Oxfam is raising awareness of these issues, we feel their scorecard is a missed opportunity to engage companies in positive change."
The organization has put out a video on the topic:
This post has been updated to include statements from Unilever, Mondelez and other brands mentioned in the report.
Before You Go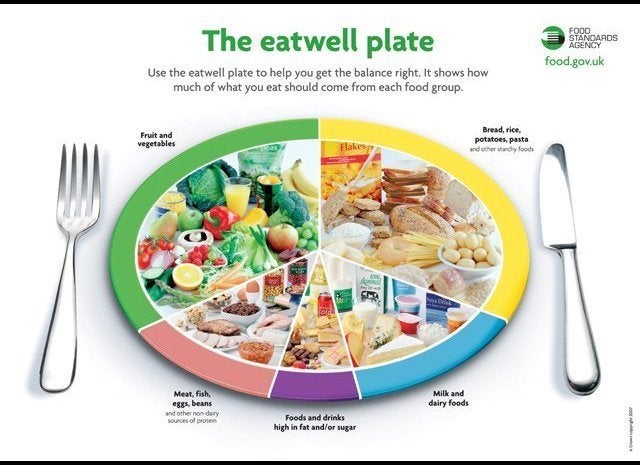 Food Pyramids Of The World
Popular in the Community