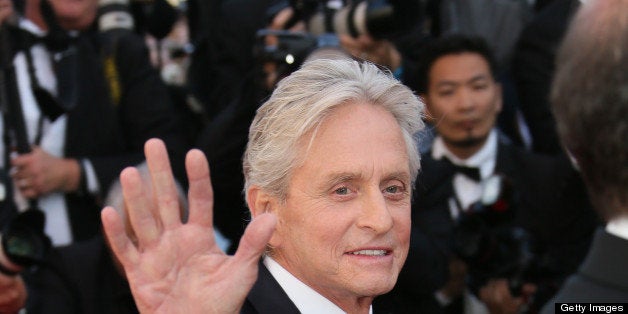 Despite the earnest pr spin surrounding it, Behind the Candelabra invites us to laugh at -- not always with -- the grinning, gaudy Vegas spectacle that is Liberace. But Michael Douglas's performance is also deep, sympathetic and brilliant, an act of impeccable mimicry that reveals the essence of a man defined by his fame as surely as he is encased in his spangled tux. The wonder of Steven Soderbergh's hugely entertaining film is that it beautifully walks the line between hilarious kitsch and character study.
The story follows Scott Thorson, Liberace's boy toy and live-in love during the late '70s played by Matt Damon with his usual conviction and ease. Taken by his friend Bob (Scott Bakula, looking one step away from the Village People) to see one of Liberace's flamboyant Vegas shows, Scott is surprised at how the mainstream, middle-aged crowd embraces something so gay. "Oh, they have no idea he's gay," Bob says, introducing one of the major themes in Richard LaGravanese's deft screenplay: the response of Liberace's straight audience was part naivete, part willful blindness, a reaction that existed in a particular moment in time.
Based on the real Scott Thorson's memoir, the story is seen through Scott's point of view, and Damon creates a young man raised in foster homes, flattered by the attention and the lavishness of his new friend's life, willing to sell himself into an arrangement with an older man. Damon -- the most underrated of actors because he so powerfully underplays -- makes Scott's youth his excuse for some odd choices. Damon is terrific, but the film belongs to Douglas.
He has the voice down cold, the nasal drawl that turns Scott's name into two syllables: Sco-ot. But Liberace never seems like a predator; he's benign and, as he so often says himself, generous. He is also his own fictional construct; it's a great moment when we see him without his pompadoured wig, a sign of his trust in Scott, a scene this smart film leads us to gradually.
And he is ludicrously self-absorbed. The most astonishing episode, which really happened, begins when he asks his doctor (Rob Lowe) to reconfigure Scott's face to resemble a portrait of the young Liberace. Shudder. Yet Douglas's empathy for the character makes even that seem like a child's innocent Christmas wish rather than an act as creepy as it is.
Much of the film take place in Liberace's homes, gilded to excess. And there are many extravagant recreations of his Vegas shows (total camp now). Douglas's fingers, with heavy gold rings poking out of large ruffled cuffs, seem to fly across the piano keys in speeded-up variations on standards. Scott appears on stage in a chauffeur's uniform driving the car that carries Liberace and his $300,000 crystal-lined fur cape.
But all that fun leads Scott to drugs and an inevitable breakup, and a reconciliation scene with Liberace on his deathbed, still capable of endless denial. He was a devoted Catholic who felt God exempted him from the homosexuality-is-a-sin rule, a man who loved men yet successfully sued a tabloid for suggesting he was gay.
Soderbergh's production must have had wizards behind it, because the piano-playing seems authentic, the prosthetics indiscernible, although we know they must be there: Douglas has Liberace's nose, Damon's face is Scott's before and after the redesign, Rob Lowe's eyes have been turned into cosmetically-altered slits and Debbie Reynolds is unrecognizable as Liberace's mother.
Soderbergh's much-discussed "retirement" from film (which he's lately recast as "taking a break") is much less worrisome today than it might have been five years ago, now that the distance between theatrical films, television and whatever pops up online is diminishing so fast. Behind the Candelabra -- on HBO here and in theaters in other countries -- is the best evidence of that, a savvy movie that stands near the top of both Soderbergh's and Douglas's careers.
Calling all HuffPost superfans!
Sign up for membership to become a founding member and help shape HuffPost's next chapter