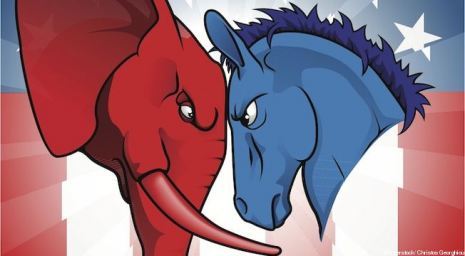 The 2016 election season has been among the most vitriolic political contests in recent years, and it's only fitting that both parties have elected to hold their national conventions in parts of the country battling toxic waste. 
The GOP will convene first, from July 18-21, in Cleveland, Ohio with the Dems following in Philadelphia, Pennsylvania July 25-28.  Ohio and Pennsylvania are both swing states that each stand to play a pivotal role in deciding who will become the next President of the United States. The states' similarities do not end with the Electoral College. Both states also rank among the top ten states with the highest number of preventable asbestos-caused deaths in the country, according to the Center for Disease Prevention and Control (CDC). Pennsylvania ranked third and Ohio took the number seven spot on the list.
Asbestos is made up of invisible fibers that when inhaled by humans cause asbestosis, lung cancer, and deadly mesothelioma, a cancer that attacks the lining, or mesothelium, of body cavities—most often in the chest and abdomen. Asbestos has been linked to excessive mortality rates since the early 1900s, yet it has not been banned in the United States and our country continues to import it en masse—more than 72,000 metric tons from 1999-2015 alone, according to the United States Geological Survey (USGS).
With that much asbestos consumed nationwide, the threat of toxic asbestos exposure isn't unique to Pennsylvania and Ohio—it's a risk the whole country faces. And with the conventions drawing national attention to Pennsylvania and Ohio, it's the perfect time to expose this issue that threatens the health and safety of each and every American.
'The Asbestos Capital of the World'
Philadelphia is fewer than 20 miles from Ambler, Pennsylvania—a little town with a huge asbestos problem. The borough is less than one square mile in size, but housed several asbestos plants for decades, leading Ambler to be called the "Asbestos Capital of the World." Though the moniker was conceived with pride, asbestos now haunts Ambler. Montgomery County, where Ambler is located, ranks 11th out of 518 counties in the nation with the most mesothelioma and asbestosis deaths.
Ambler's asbestos issue is so overwhelming that the federal government took notice, adding two separate sites to the National Priorities List of the country's "most hazardous, uncontrolled hazardous waste sites." Millions have been spent decontaminating these areas, but the threat remains. When traveling in Ambler just last year, I found concrete debris on the ground that positively tested as being 60% Chrysotile asbestos.
Health Disaster in the Heartland
The convention site chosen by the GOP doesn't fare much better when it comes to chemical exposure and related suffering. Ohio has long played host to chemical industry giants with manufacturing plants spread throughout the state.
In 2014, Johns Manville was ordered to pay $80 million to workers with asbestos-related claims. There are 19,000 cases spread across the nation, but 6,000—nearly a third of all claims—are in Summit County, Ohio, just 40 miles away from where the Republican Party will convene in Cleveland.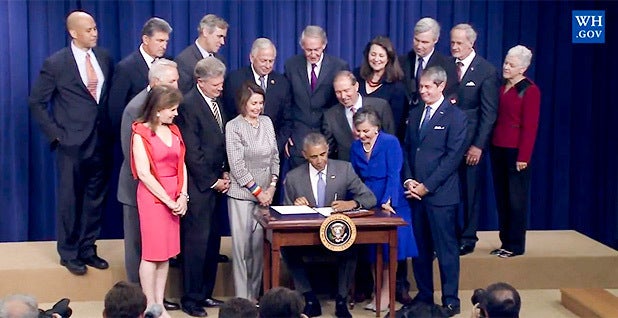 Typically, an issue like this wouldn't even warrant a mention at either convention. After all, many Americans incorrectly assume asbestos has been banned and is an issue of the past. Recent events in Washington may shine a different light on the gravity of America's problem with toxic exposure.
In June, President Obama signed The Frank R. Lautenberg Chemical Safety for the 21st Century Act into law updating and amending the United States' badly broken 40-year-old Toxic Substance Control Act (TSCA). This law is a landmark step toward actual regulation of toxic chemicals. During the signing ceremony, President Obama singled out asbestos to explain why the new law was needed to ban hazardous chemicals, becoming the first sitting U.S. president to ever publicly acknowledge the deadly nature of asbestos.
"The system was so complex, so burdensome that our country hasn't even been able to uphold a ban on asbestos—a known carcinogen that kills as many as 10,000 Americans every year. I think a lot of Americans would be shocked by that," Obama said, before signing into law the reform act that finally gives the Environmental Protection Agency (EPA) the authority they need to ban asbestos once and for all.  As EPA Administrator Gina McCarthy said, "this law is a huge win for public health, and EPA is eager to get to work."
Ensuring Environmental Justice
While signing this bill into law was an important step forward, in order to achieve a full ban on asbestos, we must ensure the law is implemented swiftly and correctly to protect American families. Proper implementation will require not only the cooperation of the EPA, but the support of the next President.
This issue stands to impact our country for generations. It took forty years to update the 1976 TSCA , the first law governing chemicals, if this is not done right, how much longer will our children and grandchildren have to wait to be safe from preventable exposure to toxic chemicals?
Ohio and Pennsylvania can't wait. They can't hide from the reality of the toxic contamination that will remain long after the last delegate departs. As we turn our collective attention to these conventions, it's important as voters to keep this in mind. To those watching on TV, it will be all flag waving and fanfare but just outside the convention walls, real Americans are exposed and suffering.
President Obama set the stage for the next President of the United States to follow through on the promise of protection.
Now it's up to voters to ensure that his replacement is someone who will uphold chemical safety in the 21st century and finally ban asbestos. 
Calling all HuffPost superfans!
Sign up for membership to become a founding member and help shape HuffPost's next chapter
This post was published on the now-closed HuffPost Contributor platform. Contributors control their own work and posted freely to our site. If you need to flag this entry as abusive,
send us an email
.