When you're making an animated film, one of the big differences is that you can add scenes, change dialogue and re-write as you're going along because you only shoot a little bit of the movie each day.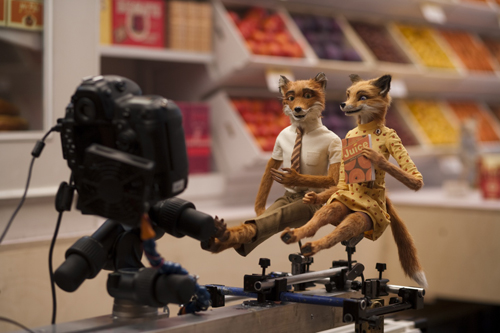 Mr. and Mrs. Fox "on set" shooting a scene in the supermarket.
So, with Fantastic Mr. Fox, about half-way through the shoot, I had this idea for a scene between the two characters played by Jason Schwartzman and my brother, Eric Anderson. I thought one place to start was with something I grew up with: bunk beds.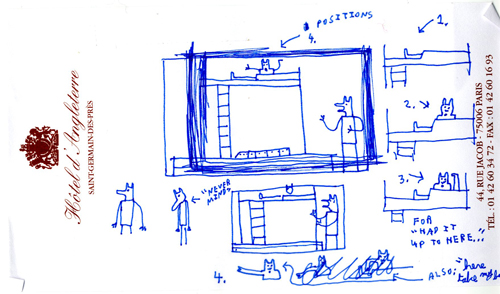 My initial sketches for how the scene in Ash's (Jason Schwartzman's character) bedroom would be shot and acted
In this case, Jason Schwartzman's character does not allow the bunk beds to serve their usual purpose of sleeping two. So, his foreign cousin is forced to sleep underneath the train set. This train set is particularly miniature, because the puppets themselves are only probably about 7 inches high and the train set is very easily the smallest I have ever seen. Throughout the film we all traveled back and forth between France and England a lot. So, we thought it might be fitting that the electric train would actually be something in the vein of a Eurostar. It's actually labeled 'High Speed French Train'. One unusual fact is that the model train is actually the same train that we use for most of the full scale shots of the train.
I don't know, but this is probably an unusual alternative in the movies. The bunk beds themselves are based on the Gypsy Caravan after which Dahl named his house, and it's still there in Great Missenden.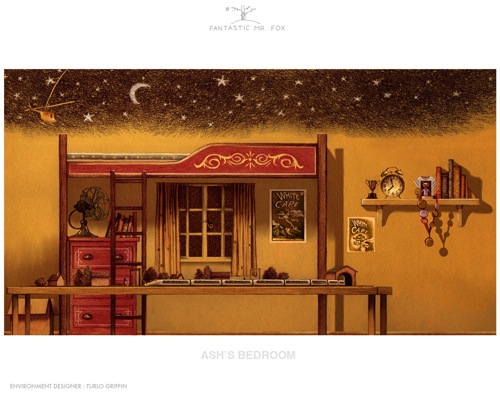 Artist Turlo Griffin's concept artwork for Ash's bedroom, showing the use of the Gypsy Caravan motif
And also on the set, we have the white cape comics which are drawn by our story board artist Christian De Vita, and which are Ash's (Jason Schwartzman's character) sole reading material and the inspiration for his wardrobe. Jason and Eric give two of my favorite performances in the film, and this scene more or less encapsulates their entire relationship. I hope you'll enjoy watching it as much as I did making it.