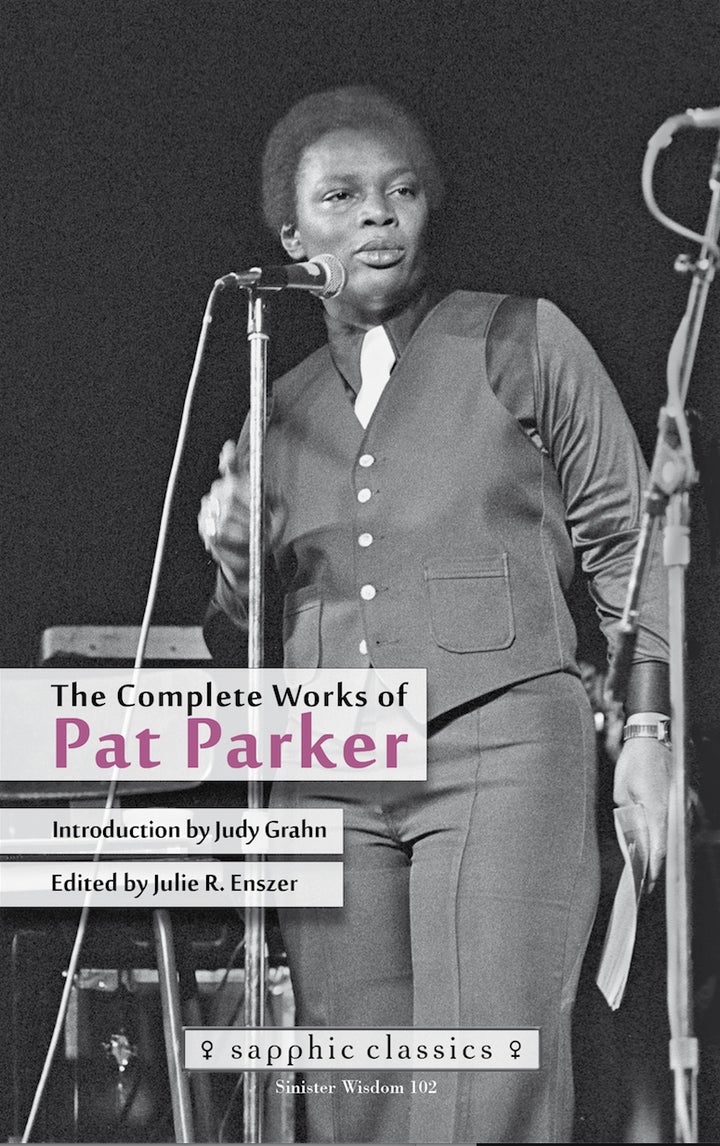 Pat Parker's Movement in Black was her protean work, her most frequently published and widely distributed book. Parker first assembled Movement in Black in 1978. Diana Press published it in a cloth edition along side Judy Grahn's The Work of a Common Woman. The publishers of Diana Press, Coletta Reid and Casey Czarnik, wanted to ensure that the west coast feminist voices of Parker and Grahn were as visible as east coast poets Audre Lorde and Adrienne Rich. Lorde wrote the introduction to Parker's Movement in Black. Rich wrote the introduction to Grahn's The Work of a Common Woman. Shortly after publication, Diana Press encountered difficulties; by early 1979, the press ceased operations. This development curtailed the circulation of both Parker's and Grahn's books.
The title poem, "Movement in Black," is a poem and a spoken word / performance piece. Alberta Jackson, Pat Parker, Vicki Randle, Linda Tillery, and Mary Watkins first performed "Movement in Black" at the Oakland Auditorium on December 2-3, 1977. Parker performed "Movement in Black" with other women during the following year on the "Varied Voices of Black Women" tour organized by Olivia Records. As a poet, Parker performed on the page and the stage—as well as on vinyl. The album, Where Would I Be Without You, featured Parker and Grahn reading from their work.
For The Complete Works of Pat Parker, Movement in Black remains a centerpiece of Parker's work. Following Movement in Black is the complete reproduction of Jonestown & Other Madness. Jonestown has been less in the public eye as representative of Parker's work, but this collection of poetry is extraordinary. Parker blends the documentary, narrative, and lyrical impulses of poetry in powerful ways in this work.
Following these two collections are four sections of additional work by Parker. Parker wrote a number of prose pieces, both fiction and creative non-fiction; many are collected here. She wrote two plays; both, "Hard Time" and "Pinocle" are presented here. "Restored Poems" appeared in Parker's earlier chapbooks, but she omitted them from Movement in Black when she assembled it in 1978.
"Uncollected Poems" have not appeared in Parker's previously published books. Many of these poems were published or performed during Parker's lifetime. These poems appear in roughly chronological order according to when she composed them. They are divided into three sections, 1960s, 1970s, and 1980s. Some critics may question to decision to publish some of the previously unpublished materials. Through feminist and lesbian publications, Parker had many opportunities to publish her work; what remained unpublished may have been incomplete in her eyes. That may be true, but during the final two years of her life, illness hampered Parker's creative production and her ability to publish and promote her work. The breadth of creative output collected here demonstrates the seriousness of Parker's overall work as a writer. Beginning in 1963, when she was nineteen years old, and continuing until she died in 1989, Parker took her work as a writer seriously. Gathering as much of it as possible into a single volume invites readers to take it seriously as well.
Close engagements with Parker's work convince me even more of her significance as a poet and writer and of her compelling vision as an artist. Parker worked hard throughout her life to fulfill her artistic calling. She left behind an impressive corpus for readers and writers to engage. I hope that this book honors her and her work.