Lesbian-feminism. The delicious concatenation of two ideas, two embodiments, twinned theories, dual expressions that together create something greater than what exists separately. Oh, I admit, I am under the spell of lesbian-feminism in its glory and its strife, its love and pain, its present, its memory, its future.
Yes, I believe lesbian-feminism is present today and has a vibrant future. Lesbian-feminism exists in the work of women to find sustainable, environmentally conscientious solutions for human-created problems. Lesbian-feminism exists in theatre and art that nurture and sustain us. Lesbian-feminism exists in politics, in the pragmatic work of people who dig in deep to change conversations and initiate new ones that seek to care for more people in our country. Lesbian-feminism is in the pages of this journal—and in the future we create together.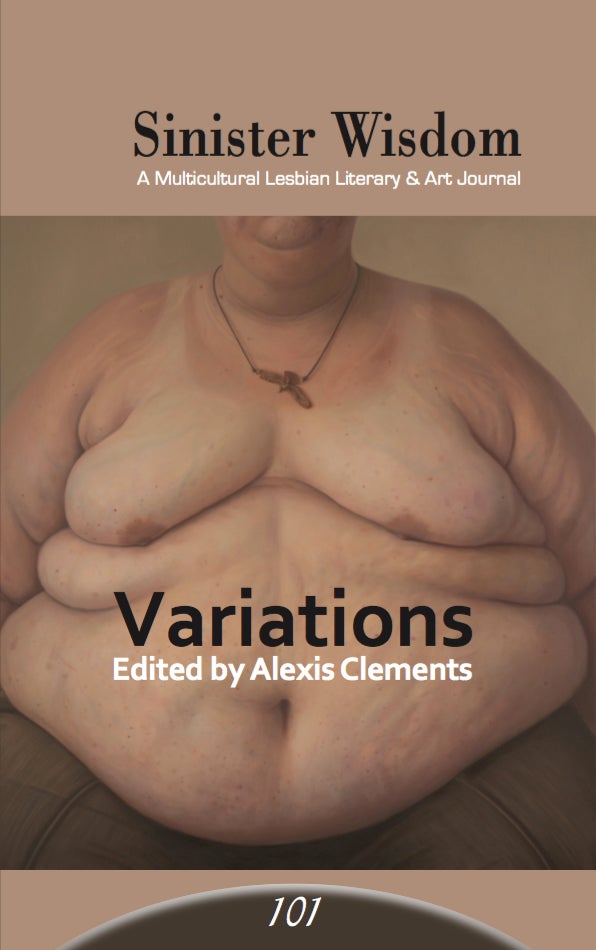 When I became editor of Sinister Wisdom, my dream was to find and build an audience of young women for the journal while sustaining its devoted and supportive audience, the audience that had nurtured it for then thirty-four years. Some stories about feminism and lesbian-feminism would have us believe such an audience is impossible; generational wars, ferociously ever-present, were the undoing of both feminism and lesbianism, not even considering the revolution that the two united imagine. As usual reports of its demise were premature and overstated. That dream of a multi-generational audience, of building many entry points to thinking, writing, reading, and engaging with lesbian-feminism? With this issue and other recent and future issues, it becomes more of a reality.
In Sinister Wisdom 101: Variations, Alexis Clements, our extraordinary guest editor, gathers vibrant and exciting perspectives on lesbian-feminism. Some contributors to this issue have sustained us for many years and multiple generations—for example, Merril Mushroom and Fran Winant—others offer perspectives from a new generation discovering, inventing, and reshaping new forms of lesbian-feminism. Clements combines oral history and testimony about lesbian cultural institutions such as the Mothertongue Feminist Theater Collective with interviews with working artists like Amanda Curreri. Playful, thoughtful, and provocative art by Elvis B and Leah Gilliam works in conversation with poetry by Stacy Szymaszek and Barbara Ruth. Within these pages are wonderful bits of language, art, and thought, all inviting us into a broader conversation about the variations of lesbian-feminism. Alexis is herself and important writer and documentary filmmaker; she has done an extraordinary job of assembling thoughtful and provocative conversations about lesbian-feminism today. If Sinister Wisdom 101: Variations has done it job, it will surprise and delight, provoke and challenge, anger and satisfy.
Exactly forty years ago, the founding editors and publishers of Sinister Wisdom, Harriet Ellenberger (aka Desmoines) and Catherine Nicholson, released the first issue of Sinister Wisdom on the United States's bicentennial, July 4, 1976. They wanted to initiate a new, sinister conversation about lesbianism and feminism and separatism and the philosophical, the metaphysical, and the material. They did not know how women would react to their first issue, their second issue, their third issue, but they promised to publish three and mail them to anyone who sent money for a subscription. The next year the re-upped their promise. Each year since then Sinister Wisdom publishes a few issues and mails them to subscribers. It is now a forty-year conversation. Join Sinister Wisdom in its 40 anniversary—and its continued commitment to lesbian-feminist voices.
Support HuffPost
The Stakes Have Never Been Higher
Related
Popular in the Community