In Sinister Wisdom 103: Celebrating the Michigan Womyn's Music Festival, Allison L. Ricket, Amy Washburn, Angela Martin, Brynn Warriner, and Shawn(ta) Smith-Cruz gathered voices, images, and stories that celebrate the creation and sustainment of the Festival and also mark one of its endings. When I first received the manuscript from the intrepid collective, I emailed these brief sentences:
Wow. Just wow. I read the full manuscript this morning and laughed and cried and just loved every single word in it. Thank you all so much for your labor and love in this issue. In many ways, I feel like this issue may be the reason Sinister Wisdom had to stay alive and keep publishing for all of these years: to witness the life and times of the institution of the Festival. I feel honored to publish this issue.
A few months later, I feel the same way.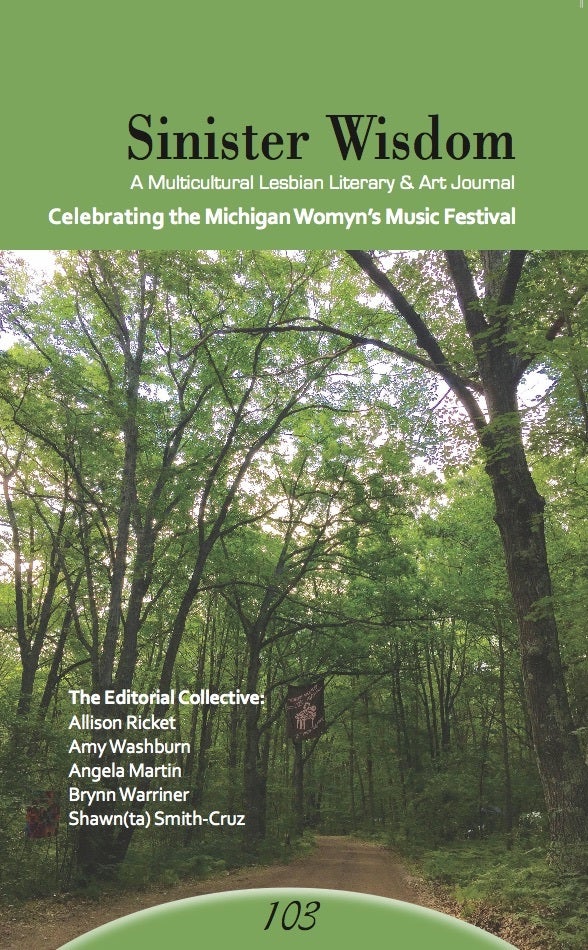 I am awed by this issue of Sinister Wisdom and enchanted by the experience of reading and holding the issue. I am impressed profoundly by the collective, Allison, Amy, Angela, Brynn, and Shawn, and their commitment to a collective process to edit the issue. I thank them for their time, their editorial expertise, and their passion for the Michigan Womyn's Music Festival and for Sinister Wisdom. This issue, in addition to honoring the Festival, honors each of them. I am thrilled to have Sinister Wisdom mark the legacy of the Michigan Womyn's Music Festival.
Like all issues of Sinister Wisdom, the guest editors carefully curated it to capture people's attention and imagination. The excellent choices of the Editorial Collective compose a fantastic issue of Sinister Wisdom: compelling, readable, thoughtful, and celebratory. Sinister Wisdom 103: Celebrating the Michigan Womyn's Music Festival celebrates the festival and the visions and dreams it manifest for forty years. Now some venerable institutions like Sinister Wisdom, entering our forty-first year of publishing, and the Lesbian Herstory Archives continue, holding the flame of lesbian-feminist revolutions. Long-standing institutions in partnership with new projects, fueled by the continuing dreams and imaginaries of lesbians and feminists and queer women, continue lesbian-feminist visions for the twenty-first century.
I hope you settle into reading Sinister Wisdom 103: Celebrating the Michigan Womyn's Music Festival one January evening; in it you may find as much delight and awe in the work as I did when I first read it on a warm summer day. For me, the legacy of the Michigan Womyn's Music Festival is a call to our creative, lesbian selves. The ferns of Michigan whisper: create something that celebrates lesbians. Create it. Nurture it. Sustain it. Celebrate it. In the absence of a yearly gathering, I have come to believe that all of our creative work on behalf of lesbians affirms: I see the August in you.
Calling all HuffPost superfans!
Sign up for membership to become a founding member and help shape HuffPost's next chapter
This post was published on the now-closed HuffPost Contributor platform. Contributors control their own work and posted freely to our site. If you need to flag this entry as abusive,
send us an email
.