Sinister Wisdom 104: Lesbianima Rising is the third collection of stories from the Southern Lesbian Feminist Activist Oral Herstory Project. I am thrilled to present this issue and to be working with the phenomenal women involved in this project.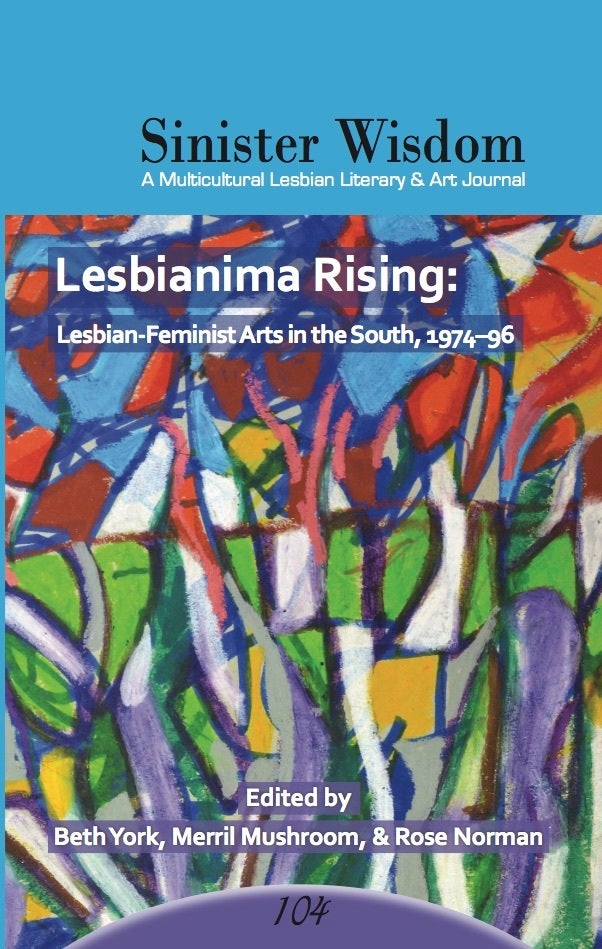 Of course, this work appeals to me as a historian interested in lesbian lives during the twentieth century. It addresses gaps in contemporary historiography which too often ignores the south and activism of women not recognized or embraced by key leaders in the coastal United States. By centering the lives of southern women, we can also reimagine and develop new understandings of lesbian lives in the US—and, I hope, in other global locations.
Yet, this work is not only about history. Sinister Wisdom 104: Lesbianima Rising explores the power of music, art, craft, theatre, dance, and festival gatherings in women's lives. It complements the last issue Sinister Wisdom 103: Celebrating the Michigan Womyn's Music Festival as well as the two previous issues from the Southern Lesbian Feminist Activist Oral Herstory Project, Sinister Wisdom 93 and Sinister Wisdom 98. Collectively, these issues—and all of the issues of Sinister Wisdom—build a foundation, intellectually, politically, and culturally—to ignite our futures.
By documenting and analyzing a vibrant lesbian-feminist past, we create vehicles for women to imagine new futures and to have tools, maps, inspirations, and stories, to create new futures for lesbians and feminists. All of this work could not be more important in the time of the US Trump Presidency and while other movements of nationalism and populism blossom around the world. Our work to nurture lesbian communities and lift up lesbian lives is a crucial mode of resistance. Culture, particularly lesbian art and culture, challenges narratives of domination with new visions for the world.
Support HuffPost
Every Voice Matters
Popular in the Community