Long-time readers know that the first issue of Sinister Wisdom published on July 4, 1976, the bicentennial anniversary of the United States. Forty-one years later, Sinister Wisdom publishes its 105th issue, continuing to celebrate revolutionary lesbian-feminist consciousness, with the theme Passion Fruit and Wet Flowers.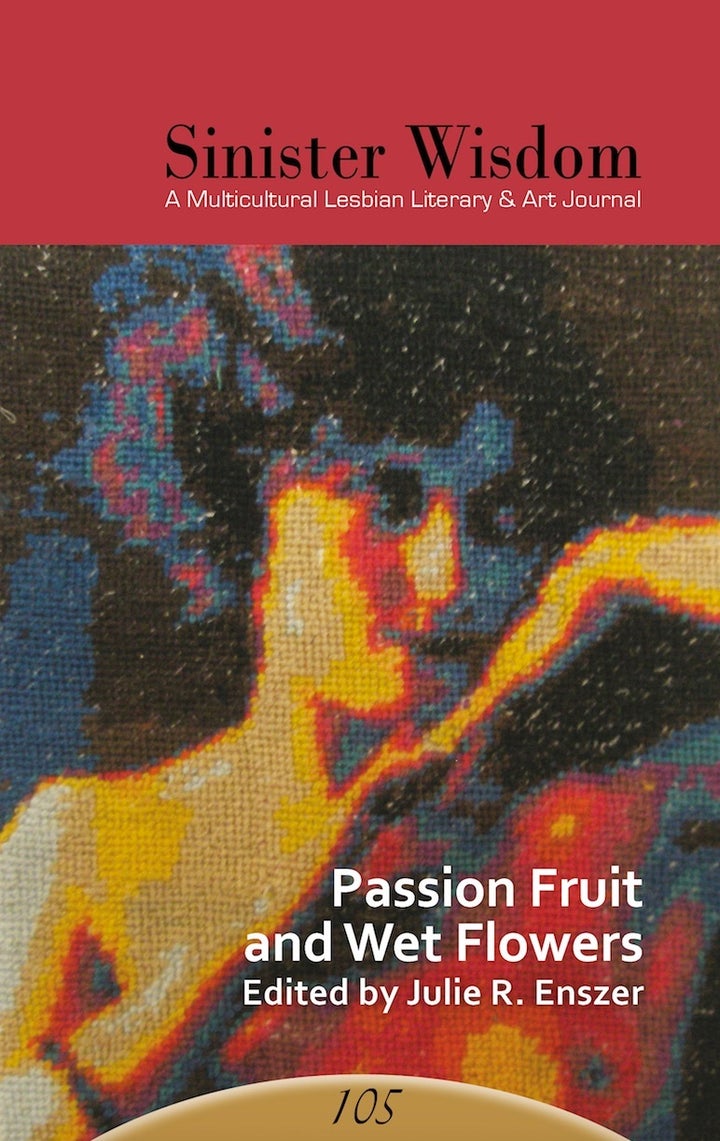 Catherine Nicholson and Harriet Desmoines founded Sinister Wisdom. Nicholson was fifty-four years old; Desmoines was twenty-nine (just seven days short of turning thirty!). In 1976, revolutionary lesbian-feminism suggested that women's lives could be transformed in dramatic and important ways quickly. Five years later, Adrienne Rich and Michelle Cliff took over editing the journal at ages fifty-two and thirty-five respectively. In 1981, the landscape for lesbian-feminism was quite different. The blush of early women's liberation was fading, the realities of Reagan-era backlash settling. In 1987, when she was forty-one years old, Elana Dykewomon became the editor of Sinister Wisdom. Lesbian-feminism remained a vibrant political, theoretical, and practical vision for the world, but new formations were reshaping it—a growing lesbian and gay activism, powerful forms of lesbian separatism, and continued anti-feminist backlash. Nearly twenty-five years later, in 2010, at the age of forty, I became editor. In 2010, lesbian-feminism and the material conditions of lesbians had changed; a generation of LGBT activism reshaped the landscape and analysis of many lesbian activists. New modes of intersectional feminist analysis and activism emerged with powerful motivations for action; globalization, neoliberal capitalism, and a young, hopeful African-American president in the United States all shaped the consciousness of lesbian-feminists. Through all of these changes, Sinister Wisdom published, holding hopes, dreams, visions, and ideals of lesbians.
I provide this chronicle for a number of purposes. First, to revel in the endurance of Sinister Wisdom. The continued publication of this magazine in the past is significant and provides fuel for our belief in and commitment to its future. Second, I reveal the ages of the editors to highlight the significance of editorial work. Long-term editing of a journal requires commitment, time and space. I want to recognize my predecessors for the work that they did to make the journal possible and for the sacrifice to their own creative work in service of their editorial work. Finally, I recount these ages because some people believe that lesbian-feminism is a project for women who are now old, at least over fifty, possibly all over seventy or even eighty. Yes, of course, there are many lesbian-feminists representing the decades over fifty; there also are many young lesbian-feminists. As Sinister Wisdom celebrates her forty-first birthday, more and more young women are participating in the life of the journal.
The creative work in Sinister Wisdom 105: Passion Fruit and Wet Flowers is an eclectic mix of poetry, fiction, a play, and creative non-fiction. Long-time readers of lesbian literature will recognize some of our contributors, including Minnie Bruce Pratt, Carla Tomaso, Yvonne Zipter, Cassandra Langer, Suzanne Gardinier, and Terry Baum. New (to Sinister Wisdom) and emerging writers are in this issue as well, demonstrating the continued vibrancy of lesbian writers. I was particularly delighted to include work by María DeGuzmán, Arya F. Jenkins, Petra Kuppers, Cecilia Kiely, and Lauren Dunn in Sinister Wisdom 105: Passion Fruit and Wet Flowers. Every single piece in this issue of Sinister Wisdom is a piece with which I fell in love.
I am grateful to Sara Gregory, a student at New College Florida who interned this spring semester with Sinister Wisdom and was integral to the curation and completion of this issue. I learned an extraordinary amount from our intergenerational collaboration.
As the title suggestions, passion fruit and wet flowers are symbols of lesbian life, love, and desire regardless of age. If the best of life begins after forty, Sinister Wisdom is starting to see the best of her life—and she is whispering promises of the future to women of all ages.
Popular in the Community