like most things that live in the raw honey between extremes. We were two women finding beauty in clichés, in differences, in overlaps, the sweet burn of sun on our skin as we fell to the ground.
Like many experiences these days, I read the poem on my computer screen after learning of it in an email. The poem dazzled me, and I thought, I have to know this poet; she must be my friend. I wanted to transform the ephemeral electronic experience into an embodied friendship. I sent Tara Shea Burke a congratulatory email. Those electrons sparked a friendship and ignited this extraordinary new issue of Sinister Wisdom.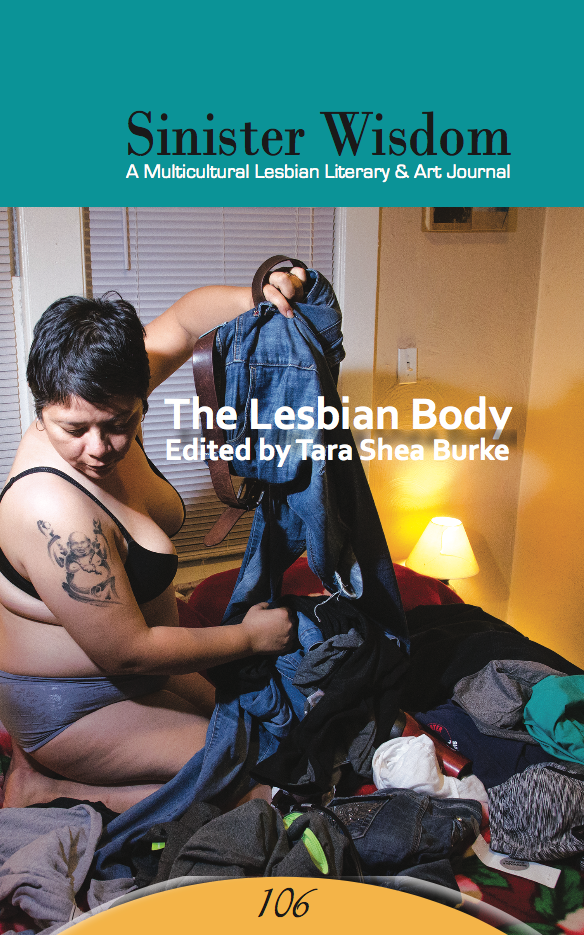 Sinister Wisdom 106: The Lesbian Body revisits a theme woven through all previous one hundred five issues of the journal. How does lesbian become embodied? How is lesbian as an identity bound to embodiment? Where does lesbian map onto the body and like what does this mapping feel? Where do our bodies and our identities connect and where do they diverge? For more than forty years, lesbians have been writing about and around these questions within the pages of this journal. Sinister Wisdom 106: The Lesbian Body renews these questions and these conversations with new energy, spirit and gusto. I am thrilled about the voices that Tara brings into this conversation, excited by the continued attention to lesbian, to body, to the concatenation of the two: lesbian body.
In preparing this issue for publication, I returned to Sinister Wisdom 49, also titled, The Lesbian Body. Published in 1993, Sinister Wisdom 49 is "dedicated to the memory and inspiration of Audre Lorde, who died in 1992. The issue opens with this couple from Lorde's poem "Meet," published in Sinister Wisdom 3 in 1977:
I have heard you calling across this land in my blood
Twenty-five years since that issue on the lesbian body and forty years since Sinister Wisdom published Lorde's poem, Sinister Wisdom still hears lesbians calling across this land in our blood.
Popular in the Community