Happy Fortieth Anniversary Sinister Wisdom! On July 4, 1976, Harriet Desmoines and Catherine Nicholson published the first issue of Sinister Wisdom, welcoming into the world a lesbian journal to celebrate the many sinister wisdoms of lesbians. Sinister Wisdom 99: Pleasure begins the calendar year 2016.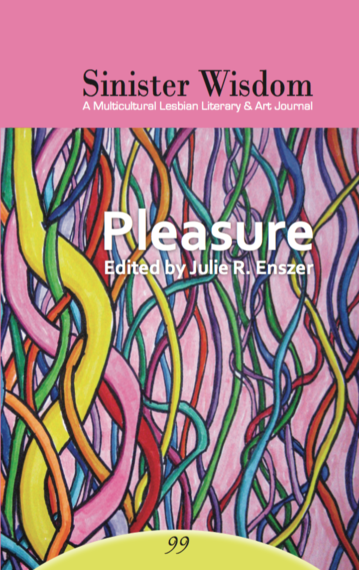 Since 1976, an extraordinary group of editors, guest editors, writers, contributors, artists, and volunteers have labored to make Sinister Wisdom happen. Sinister Wisdom continues as physical journal, recognizing the importance of lesbian embodiments in the world as a way to assert lesbian space and lesbian significance. Sinister Wisdom publishes regularly to mark the consistency of lesbian life--even as historical conditions change. Sinister Wisdom is mailed regularly to subscribers and shared hand to hand in lesbian spaces across the United States and around the world. Our reach into lesbian imagination is mighty.
I am celebrating Sinister Wisdom's achievement and endurance for forty years by publishing more amazing work. Sinister Wisdom 99: Pleasure showcases new and returning writers to Sinister Wisdom. One of my pleasures is publishing our beloved lesbian-feminist writers, like Kitty Tsui and Cherry Muhanji, as well as newer writers like Denise Miller, Allison Berry, Sarah Neal, and many others. In Sinister Wisdom 99: Pleasure, readers will find an array of incredible lesbian and queer writers.
What brings us pleasure? For so long, one of our sources of pleasure--sexuality--was stigmatized. In an environment of homophobia and lesbophobia, talking about pleasure, seeking pleasure, celebrating pleasure becomes dangerous and difficult. Yet a vital part of our resistance and resilience to environments hostile to us as lesbians is asserting pleasure and its importance in our lives. The work in Sinister Wisdom 99: Pleasure celebrates pleasure, particularly lesbian pleasure. For me, too, some of my greatest pleasures are reading and writing.
Is reading lesbian literature one of your pleasures? Is writing one of your pleasures? Does the concatenation of lesbians and language bring you pleasure? If so, foreground pleasure in your life this year! Curl up with these words from lesbian writers, with these sparks of lesbian imagination, for your own pleasure and discovery. When you are done reading, share it with a friend. I know every page in Sinister Wisdom 99 will bring you pleasure.
Cherry Muhanji ends her wonderful story, "Lulu's Pleasure Palace," in Sinister Wisdom 99: Pleasure with this line: ". . . somebody is singing, and I am everywhere these stories are told . . . ." If you listen, everywhere lesbians are singing. Everywhere lesbians are telling their stories. Sinister Wisdom is everywhere lesbians sing and tell our stories.
Calling all HuffPost superfans!
Sign up for membership to become a founding member and help shape HuffPost's next chapter