While working on the current issue of Sinister Wisdom -- and thinking about the fortieth anniversary of Sinister Wisdom in 2016, the song "Anniversary" has been playing in my mind. When Meg Christian and Cris Williamson sang "Anniversary" at Carnegie Hall on November 26, 1982, they were celebrating the tenth anniversary of Olivia Records--and the launch of the womyn's music movement. Then, Olivia and the womyn's music movement had flowered beyond anyone's wildest expectations.
In the song, Christian and Williamson open with this verse:
I know, you know
just how happy we ought to be
the mother of invention
has lead us here tonight
step into the light
get the spirit
you can hear it
in the land
They continue with the chorus:
anniversary
anniversary
anniversary

ten years we are changers
in the making we are changed
face the music
it's a night dream
turning it over turning it over again
Even without imagining this future, Sinister Wisdom continues to thrive. Sinister Wisdom is one element of a long history of lesbian culture--and a bold reach to the future with each issue published. I am pleased to be the steward of Sinister Wisdom during this auspicious year.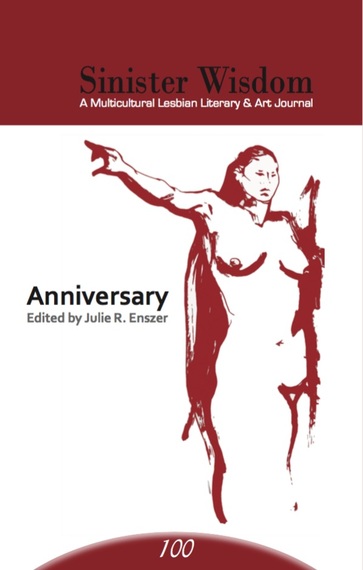 The hundredth issue of Sinister Wisdom, Sinister Wisdom 100: Anniversary features new work by lesbian-feminist writers and artists from around the globe, including work in translation from Lithuania, Slovenia, and Bolivia. A collection of photographs by Lynda Koolish captures the labor of artists in lesbian communities. Short fiction, memoir, and poetry are all gathered in this issue celebrating forty years of lesbian imagination.

Sinister Wisdom 100: Anniversary has many voices -- old and new -- singing in harmony. I invite interested readers to enjoy this concert of our anniversary and our one hundredth issue. Together we can imagine another forty years of sinister lesbian imagination.