There is a short period between when I receive the new issue of Sinister Wisdom from the printer and when it goes to into the mail to subscribers. I love this time. I carry my personal excitement about the beauty of the new issue, my bliss at the milestone of completion, my anticipation of how women in the world will receive it. It feels like I have a secret, but only for a brief interlude. Soon, a lesbian world shares in my joy as women around the globe open their mailboxes to discover Sinister Wisdom 96: What Can I Ask: New and Selected Poems 1975-2014 by Elana Dykewomon.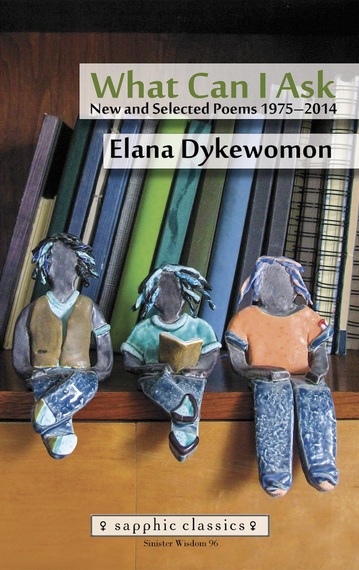 Sinister Wisdom's third Sapphic Classic, co-published with A Midsummer Night's Press, is Elana Dykewomon's collection of poems, What Can I Ask: New and Selected Poems 1975-2014.
I started Sinister Wisdom's Sapphic Classics series to keep collections of lesbian poetry in print and available to reach new readers. Collections of lesbian poetry fall out of print too quickly; they are not collected enough by libraries. Lesbian work is too easily forgotten, erased, rendered obsolete. Books by lesbian poets sometimes need time to find their readers -- and for their readers to find them. Sapphic Classics return them to the world for new discovery and conscious re-engagement. Minnie Bruce Pratt's Crime Against Nature was the first book to sing; then Cheryl Clarke's Living as a Lesbian shared its tune. Now Elana Dykewomon's What Can I Ask is poised to be heard by women who listen.
Initially, reviewing Dykewomon's poetic oeuvre, I was going to reprint her collection fragments from lesbos. fragments from lesbos contains some of the most beautiful lyrics about lesbianism and intimacy between women. Dykewomon published fragments from lesbos herself. The beauty of the poems is echoed by the care and beauty of the book object she produced. Dykewomon learned printing as a part of the movement of women committed to self-sufficiency and learning marketable trades. She also distributed fragments from lesbos herself through the distribution company, Diaspora Distribution, that she operated with her compatriot, Dolphin. I love fragments from lesbos, but I realized reading through Dykewomon's work that ALL of her poetry was out of print, and that unlike Minnie Bruce Pratt and Cheryl Clarke, Dykewomon did not have a selected volume of poems.
A challenge that our most established lesbian poets face is publishing collections of selected poems. Selected -- or collected -- poems signify a poet's accomplishment to larger communities of poets and literary critics. They mark a distinguished body of work, a body of work that needs and deserves serious critical attention. With this third Sapphic Classic, Sinister Wisdom addresses the dearth of selected work by lesbian poets.
Generations of lesbians have found themselves reflected in the pages of Elana Dykewomon's novels since Daughters Publishing Company Inc. first published Riverfinger Woman in 1974. Dykewomon's powerful debut was followed by two other novels, Beyond the Pale, originally published by Press Gang in 1997, and Risk, published by Bywater Books in 2009. This work, in conjunction with her collection of short stories, Moon Creek Road (Spinsters Ink, 2003), establish Dykewomon as an important novelist -- and as a writer who engages lesbian experience and sensibility. While Dykewomon's novels now enjoy new audiences through reissues from lesbian publishers and as e-books, finding her poetry has been more difficult, until now. What Can I Ask: New and Selected Poems returns Dykewomon's poetry to print for contemporary readers to discover her powerful poetic voice.
What Can I Ask gathers poems from across the three collections of Dykewomon's published poetry. Poems from Dykewomon's book, They Will Know Me By My Teeth (Megaera, 1976), which included both poems and short stories, are in What Can I Ask. Most of the poems from fragments from lesbos (Diaspora Distribution 1981) are gathered in these pages as are a selection of poems from Dykewomon's earlier selected poems, Nothing Will Be As Sweet As the Taste (Onlywomen Press, 1995). In addition, What Can I Ask includes a generous selection of Dykewomon's new poems written during the past twenty years.
In "A Fool for love," Dykewomon writes:
I want to imagine a world
in which we thrive
where difference engages us
and root holds fast with root.
Dykewomon's vision of lesbian communities in this poem expresses my modest hope for this book. I want What Can I Ask to be a root for Dykewomon that holds fast, binding her poetry to the roots of other righteous lesbian-feminist poets, providing a site for engaged reading and interpretation, and operating as a source of "comfort, guidance, moral values, [and] prophecy."
Support HuffPost
Every Voice Matters
Popular in the Community