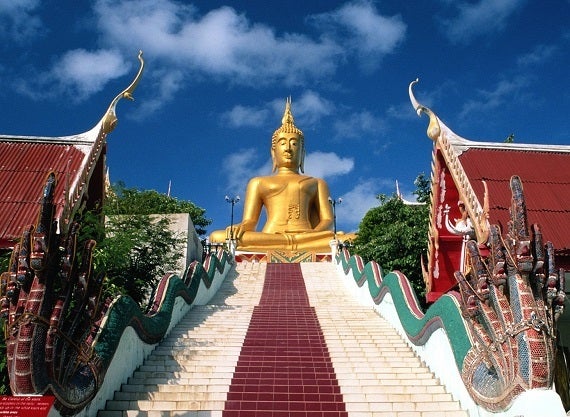 Drop by the folkloric show at a Mexican resort hotel and you'll likely see dancers in colorfully embroidered blouses and billowing skirts sparkling with sequins and beads. You'd never guess that this traditional Mexican dress came from Asia – and that it migrated here centuries ago by way of a kidnapped Indian princess, a slave market in Manila, a sneaky deal cut in Acapulco and a Mexican fashion explosion that came to be known as "the China look."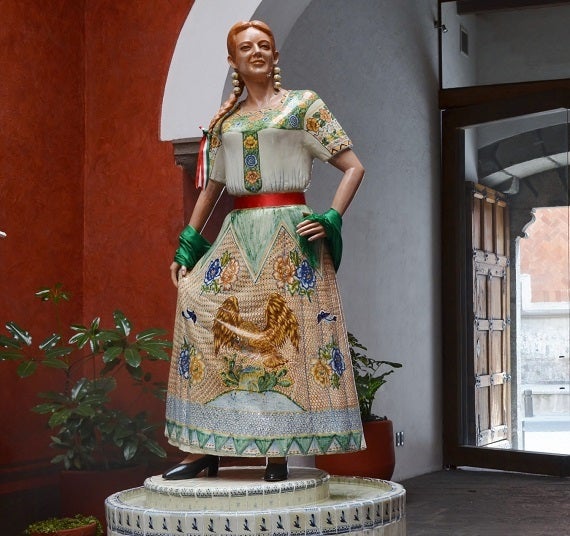 The story starts in the early 1600s in the shadow of the Taj Mahal in the wealthy town of Agra in northern India. One day, a band of Portuguese pirates broke into a local palace, kidnapped a young princess named Mirra and hauled her off to the southwest Indian trading port of Cochin (now Kochi) on the Arabian Sea. After a while she managed to escape and hid out in a Jesuit convent, where she converted to Catholicism.
In a bizarre twist, Mirra was spotted a few years later by the same pirates, who scooped her up again. This time, they sold her into slavery at Spain's trading outpost in Manila. There, word was out that the Viceroy of Mexico was looking for a young Chinese woman – meaning an Asian woman (in old-time Mexico, anyone or anything from Asia was tagged Chinese) – to work as a "personal servant" in his palace in Mexico City. A local trader in Manila saw Mirra, now in her early teens, and figured she'd fit the bill (especially since she'd never stopped wearing her Asian-style wraparound sari dresses).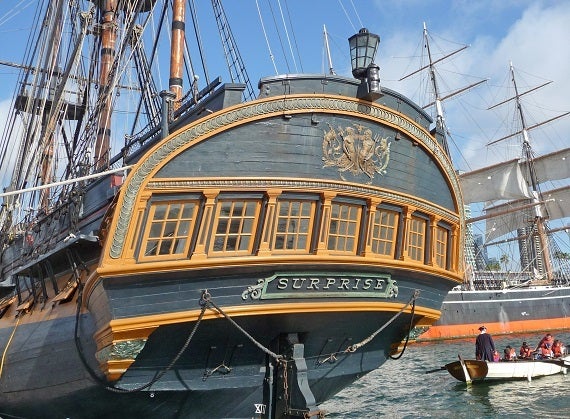 So he bought her and booked passage for both of them on the next galleon heading to Mexico. The voyage took about six months, during which currents and winds took the ship across the Pacific to Northern California, then down the coast to the tip of the Baja Peninsula at Los Cabos, then across the Sea of Cortes to Mazatlan and then down the Mexican coast to the main Spanish port at Acapulco. The last five weeks of the trip were spent dodging pirates at Manzanillo, Zihuatanejo and other bays on the Mexican coast.
Sold To The Highest Bidder
When they arrived in Mexico, possibly in 1620, the trader met a wealthy man from the inland city of Puebla who was willing to top the viceroy's offer for Mirra. So they cut a deal, and off Mirra and her saris went to Puebla some 200 miles away. Her new owners, Miguel de Sosa and his wife, Margarita, were childless, and they treated her like a daughter until de Sosa died in 1624. In his will, he freed Mirra.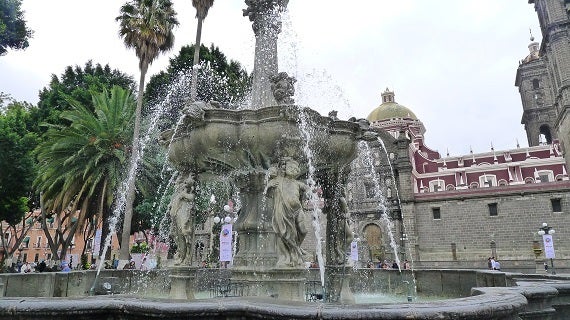 After a brief marriage – history is fuzzy about it – Mirra began seeing visions of Jesus Christ and the Virgin Mary. History is equally sketchy about where the sightings took place, and about where she lived for the next 60 or so years until she died in 1688.
One account puts her in the care of a Spanish sea captain after her marriage. In that story, he took her to "La Casona," his home in Puebla, and there she's said to have had ongoing visions while "giving spiritual and material aid to anyone who needed it" for the rest of her life.
Another popular story instead put her in a Jesuit convent in Puebla, where it's said she lived out her remaining days as Catarina de San Juan "in a veil of holiness."
Most accounts of her life agree that she was revered by the local folks in Puebla, and that she was buried in the town's still-standing church of La Compania de Jesus. A stone plaque marks the spot where her remains are believed to be.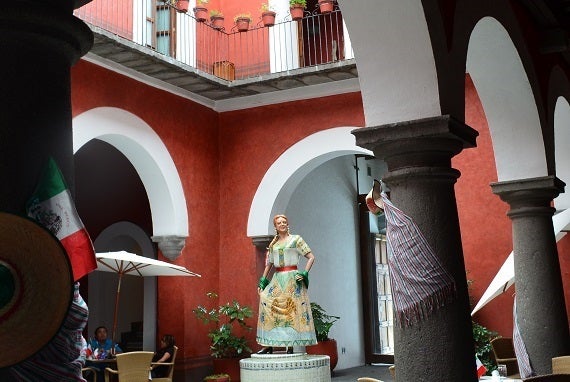 The house where she lived in the La Casona story is still there, too, although today it's an upscale boutique hotel called "Casona de la China Poblana."
Inside, 10 suites with names like "Agra," "Mirra" and "Catarina de San Juan" edge a charming old-world courtyard featuring a statue of Mirra.
Historians say Mirra continued to wear her native saris over the years, but little by little she adapted their designs to the culture of Mexico. Her outfits began sporting colorful flowers and even the country's classic eagle on a prickly pear cactus clutching a snake.
Her saris eventually morphed into what would become a dress style consisting of a short-sleeved white blouse with vibrant silk embroidery, a billowing skirt decorated with sequins and beads, a white, lace-trimmed slip that dropped below the skirt's hemline and a shawl woven from blue and white thread.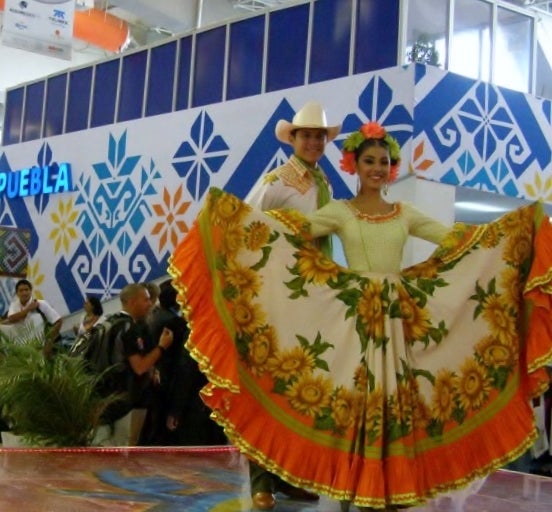 The "China Poblana look," as it came to be called, first captured the women of Puebla (Poblana means Puebla) and then jumped 80 miles northwest to become a hit in Mexico City. From there, the look rolled over the rest of the country like a tidal wave.
By the end of the 17th century it had become the traditional dress of Mexico. And it still is.
Related
Popular in the Community