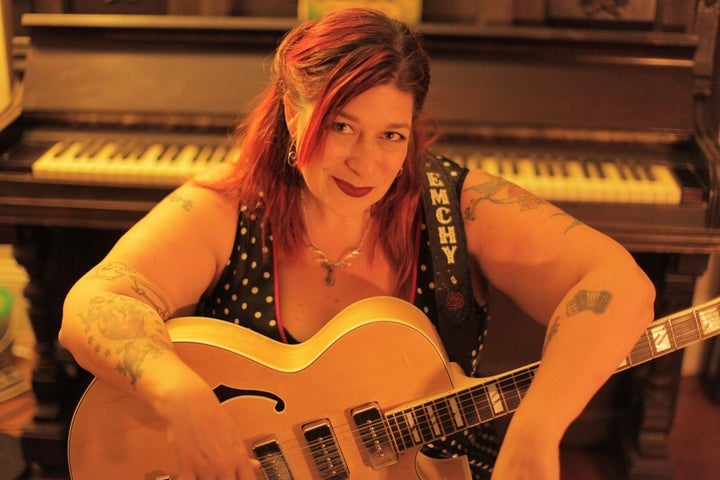 Cindy Emch, aka Emchy, is singer, songwriter, author, poet, and radio host extraordinaire. She and her band, The Secret Emchy Society, "play foot stompin' heart breakin' cowboy songs about good friends and hard times." And her latest album, The Stars Fall Shooting Into Twangsville, emanates the thick aroma of too much whiskey, too many cigarettes and too much fun.
Once I'd heard her music, how could I resist the opportunity to interview "The First Lady of Queer Country?" You'll discover as I did, that she's not only a talented singer, but a wonderfully compassionate person with a great sense of humor.
How would you describe yourself?
Dang - a hard one right off the bat! I would say I'm the kinda girl who will pour you whiskey all night and coffee all morning. A night owl who is also a ridiculously cheerful morning person. An introspective poet who always has a smile and some optimism for you. A queer artist trying to make it as a country singer because that's the music that speaks most closely to my soul. So I'm (laughs) complicated? But pretty fun to be around most of the time.
What kind of guitar do you play? And why?
Currently I'm playing a 1974 Guild that a friend found for me about two years ago. I got this text message that a guitar had come into his job at a music shop, and as soon as he strummed it, he knew it had to be mine. We went back and forth a bit since I already had a 12-string Washburn and a Johnson resonator that I was using as my main performance guitars. But when he reminded me that we'd been friends for ten years, that he had worked with new and consignment guitars for that entire time and never tried to sell me a thing... well I said ok and he shipped it down from Portland sight unseen to me. When I opened the box I fell in love. So that's my current primary guitar. For a while I had a Gibson 1912 L-2 roundhole arch top that practically played itself. My current holy grail is to have one of those again. But that's primarily for practice at home. Taking a piece of history like that on the road just feels like asking for trouble.
What's the story behind the name The Secret Emchy Society?
Well Emchy is a nickname I got back in my old spoken word days that pushes my first and last name together to give an option that is easier for people to pronounce than Emch. However the theory behind the band is that the musicians (aside from me) rotate based on what town I'm in, or who is available. So the actual membership of the society, the makeup of who is on stage playing, is a secret ... sometimes even to me!
The media has dubbed you "The First Lady of Queer Country." How do you feel about the tag?
I love it. I think it's a huge honor. There are for sure other amazing folks making queer country out there these days like Karen & the Sorrow, My Gay Banjo, Eli Conley, Storm Miguel Florez, Shawna Virago, the P's & Q's, (and more) and I love seeing how our experience folds into the larger Americana / country community of music. It feels like a going back to the roots of who we are as humans. My hope is that holding the mantle of queer country allows for folks across the spectrum to see how much we're all together in this crazy life and hold each other up. I mean I've already had three straight guys ask if they can cover "Jagged Edges," the love song I wrote for my wife of 19 years. That tells me that our orientation doesn't divide us, our experience brings us together. We all walk this same road of love, heartache, and we're just trying to pay our rent and make our way through.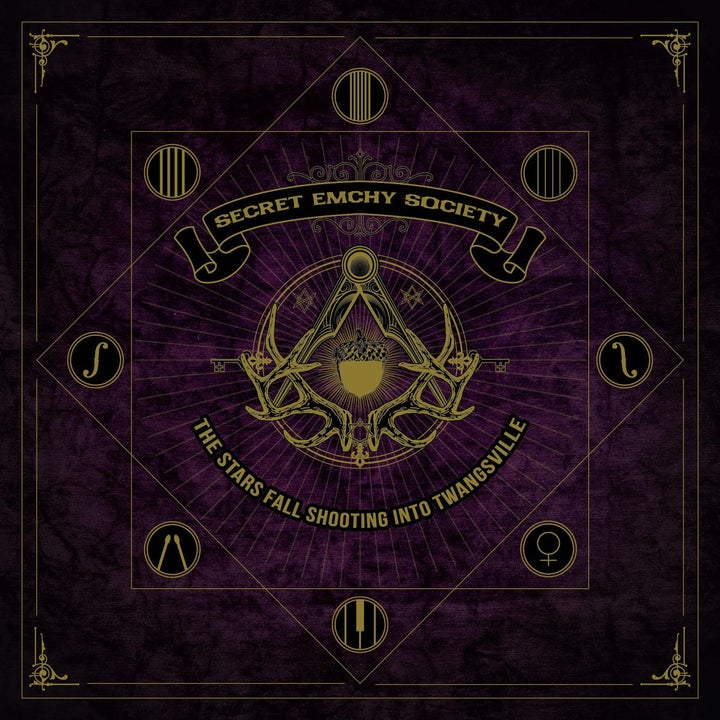 I really like The Stars Fall Shooting Into Twangsville. What inspired the album?
The first song on the album was really the inspiration for all of it. I unexpectedly got to spend the day before Halloween in New Orleans reading in a haunted bar in the French Quarter and drinking wine on the company dime. I started writing down what the last few days in town had been and realized I had this story to tell.
Are you happy with the way the album came together?
Absolutely. Carolyn Mark and Tolan McNeil are two of my favorite musicians/songwriters in the world. I was absolutely honored when they agreed to both be on the album and help me pull it together. Dennis Siemens was the backbone of the whole process as he wrangled all of the musicians together, and then Grayson Walker on accordion, Joel Fernandes on drums/guitar, Olivier Clements on brass, and J McLaughlin on backing vocals just killed their parts and all together I feel like we really formed a musical family that created an incredibly solid album.
Are you working on any new songs?
I AM! I have a solid four new ones on track, two of which I've released demos of on my Patreon. There are probably eight new fragments waiting for me to work on them too. My favorite new one is currently called "Leaving Powell River."
I know you're about to go on an extensive tour. For you, what's the best part of touring?
The best part for me is always seeing old friends on the road and meeting new friends on the way. Musicians I'm playing with, couches I'm sleeping on, folks in cafes, there are just so many ways to meet and connect with people; it warms my heart.
Find out more about Cindy Emch here.