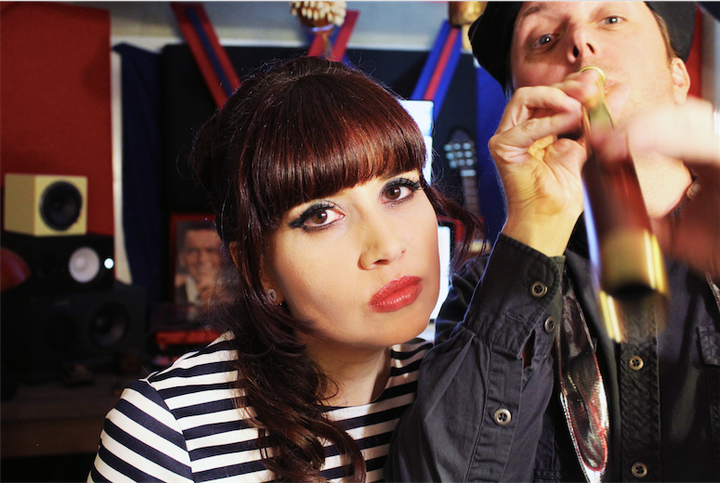 Barb Vest (BV) and Allan Vest (AV) recently released their debut album, The Moonlit Fables of Jack the Rider. Allan was the driving force behind the Starlight Mints, while Barb hosted and produced Filmscapes, a nationally syndicated film music program. Together, as doubleVee, they create what I call mischievous pop music with avant-garde flair.
How would you describe yourself?
BV: We'd describe ourselves as musicians who take listeners on melodic treks through seemingly familiar and yet sometimes quite surprising musical odysseys where things are often not as they first appear. We hope that our listeners bring their own experiences to bear on the musical ideas and interpret the stories through their own lenses while peeking through ours.
What kind of guitar do you play?
AV: I fell in love with a friend's Gibson ES-135 way back in the late nineties. It was one of the first models made in 1992. He gladly sold it to me for a decent price and over the next several years I invested in replacing the tuners and putting in strap locks and other various things suited to my studio playing and live needs. After finally having it PLEK'd (a basic laser-precision tuning of the neck) one summer and finally being completely satisfied with its playability, it was sadly stolen while I was on tour in the Minneapolis/St. Paul area. I ended up buying another (a later issue but same model) and still use it to this day. Funny story is I found the stolen one for sale online about four years ago at a guitar boutique in St. Paul. I contacted the police and found it had been sold via Ebay to someone in Canada. The case is currently in limbo, but we are still in pursuit.
What singers/musicians influenced you the most?
AV: As a kid, I didn't sing too much, so I had to develop my chops in college when I bought a four track recorder and started using that to write song ideas. I was very conscious when I started singing of who I sounded like, depending on who I was listening to – Lou Barlow, Bill Callahan and Syd Barrett to name a few. Those people sort of became my early vocal mentors, so to speak. Over time, I found a vocal style that stuck and I felt comfortable with, and I have been building on that since. I've found myself being inspired by more female writers these last several years, which I think mixes things up.
BV: I love the vocal interplay in bands like Stereolab and Cocteau Twins and the multilayered instrumentation and poetic lyrics of The Legendary Pink Dots. Tori Amos' music has been meaningful to me since I first heard the opening notes of her Little Earthquakes album in high school. The film music of composers like Danny Elfman, Bernard Herrmann and Ennio Morricone has always fascinated me with how it colors and intensifies a scene.
How would you describe your style of music?
BV: It's hard to describe one's own music, I think, and we also don't see it as fitting neatly into a predefined category, but in general we think of it as colorful and cinematic with hints of psychedelia and dramatic but with a playful undertone. Others have called it enticing in its peculiarity and courageously unconventional, which we think are pretty great ways of describing our style.
I really like "What You Deserve." What inspired the song?
AV: I had the melody for many years. I remember sharing the idea with my then bandmate Ryan Lindsey (now of Broncho) and wanting to flesh it out for a possible Starlight Mints song. I remember him telling me it was a keeper and I put it in my personal "must complete ASAP" list. Barb and I had a lot of fun with the lyrics. It started getting a bit twisted with the verses (as one could imagine), but we dialed it back a bit and rewrote a few particular tragedies. We managed to work in a reference to a close encounter with a baboon that we had in Kenya a few years ago, but in general wanted to get across the idea of the inevitability of karma.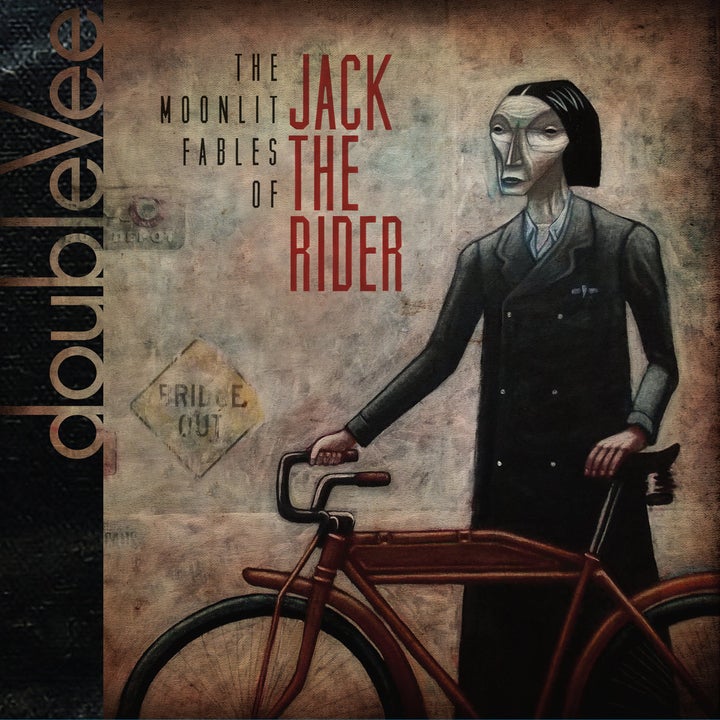 The title of your latest album is The Moonlit Fables of Jack the Rider. Is there a story or concept behind the title?
BV: Yes, there is a story line behind the title that ties the songs together, with the music following our title character into a distorted world where nothing is exactly as it seems. We meet up with him in the first song on the album, "Jack the Rider," and begin following him on his journey, with his history unfolding with each sonic tale.
Are you working on any new songs?
AV: We have a bunch of older material we have been tinkering with from time to time and we're planning on diving into some fresh ideas this fall for sure.
What is your songwriting process? Do the lyrics come first, followed by the music or vice versa?
AV: Music and vibe usually happens first but a lyric idea for a verse and chorus is often standing by. Sometimes the music itself is strong enough that we have multiple ideas for lyrical content and that itself can make a song more challenging. "Frucus Minus" originally had a more Lou Reed-esque talking verse (if that makes sense.) It was really cool and gritty sounding, but we started writing the chorus and middle 8th parts and things naturally became more melodic.
What's next? Another album or perhaps a tour?
BV: We would love to release another album and to develop a live theatrical show around our music. We've spent a lot of time daydreaming about the best way to present our songs in a live environment, but for now we're continuing to get the word out about our debut album as we keep working on getting our ducks into formation.
Find out more about doubleVee here.
Popular in the Community