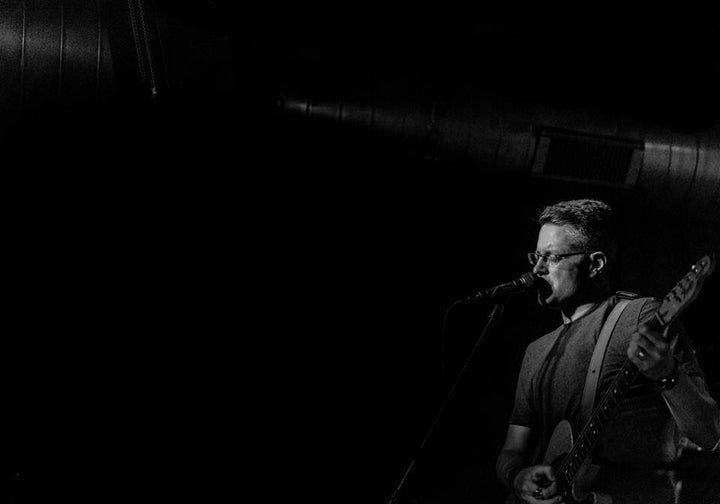 June 30 is the day It's Just Craig's new album will drop. The album is called Dark Corners. A short while back, I had the opportunity to preview it for Huff Post. I liked it – a lot. In the course reviewing it, I discovered that in one reality Craig is a corporate attorney, and in another reality he is a singer/songwriter, kind of like Clark Kent/Superman. And since most people, me included, don't normally associate "suits" with Goth Country music, I decided he would probably be an interesting guy to interview. And oh yeah, I really got a charge out of the name It's Just Craig. So I contacted his PR people and so on and so on.
And voila, here's the interview. Read and enjoy.
What is the most trouble you've ever gotten into?
Well, I did get the first detention ever given to a 5th Grader at my Catholic grade school, so I've always been in trouble...
What's your favorite song to belt out in the car or the shower?
Anything off Damien Rice's "O," random Ryan Adams songs, Counting Crows' "Goodnight Elizabeth."
What kind of guitar do you play? And why?
On electrics I tend to like Telecasters. I have a great hollow body Telecaster Marc Ford sold me that was used during his time in the Black Crowes. That guitar is comfortable, has killer tone and easy action. Earlier this year I lucked into a Fender toronado that was allegedly used by John Frusciante in the Chili Pepper's "Can't Stop" video. It's the only non-Telecaster I'm playing currently. On the acoustic side, I recently bought a Guild Jumbo from Richard Edwards that he used on tour with Margo & The Nuclear So & Sos and it has become my go to acoustic. I sound best on that guitar; it's like we were made for each other.
How did a corporate attorney come to write and record music?
I was in a lip-sync contest in 8th grade which obviously led me to sing in cover bands in high school. I wrote and recorded an album in my college dorm room (Please don't try and find Betraying the Cool Exterior by Gnat & the Twelve Trombones). I put music away (or hid it in my basement) while diving into the practice of law and starting a family, but I've always loved music, supported musicians and played in my basement. When I was about to turn 40, I wrote a song and I sent it to my friends Marc Ford, Elijah Ford and John Vanderslice and before I knew it we were planning on doing an album together. Two albums in, I really feel like I know what I'm doing now...
What singers/musicians influenced you the most?
Now that people have heard two albums from me, I've been accused of having a wide range of influences. On a call with SiriusXM, the music director said my record collection must be quite diverse - and he wasn't wrong. Roger Waters and his era of Pink Floyd, the Marc Ford era Black Crowes, John Frusciante (both solo and with the Red Hot Chili Peppers on Blood Sugar Sex Magic), the storytelling, vulnerable vocals and beautiful chord changes of Richard Edwards, Ryan Adams, Counting Crows (the sad slow songs), Damien Rice, Matthew Logan Vasquez (the raw energy of Solicitor Returns, Big Thief (the beauty of Masterpiece), the lyrical beauty of Samantha Crain or Frontier Ruckus/Matthew Milia, the delicate beauty of Carson McHone, the pop rock of Elijah Ford and the Bloom, the glitch of the Dirty Projectors, the aggressiveness of the grooves from Thao and the Get Down Stay Down, everything about Jenny O.'s Automechanic, the straight ahead simplicity and beauty of Nikki Lane, and tons more...
How do your influences affect and shape your music?
If I could do what they all can do … wow. I take bits and pieces of what I love. When I first started writing for Blood on the Table (my first record) I looked at songs like "Oh My Sweet Carolina" and tried to figure out what was common in the songs I love. Apparently I love slow, brooding, depressing songs. I love Am and F. I love songs that walk a bass line between chords. I love music where the artist opens up and lets you in. I love when in doing that you can realize their song is actually about you...
How would you describe your style of music?
I use to call it chill rock … but have fallen in love with the terms others are using, specifically Goth Country or Goth Americana, with a touch of folk, glitchy indie rock and jazz.
Where do you find inspiration for your songs?
I find inspiration in the experiences I have that I know we all have, in the situations I know we all experience that are also universal, and in the littlest moments that mean so much at the time or in the future looking back.
What is your songwriting process? Do the lyrics come first, followed by the music? Or vice versa?
For me, they always come together. I start playing the guitar and singing. Everything starts out as an acoustic folk song; sorry, as a Goth Americana song. The glitchy indie rock and harmonies are always second.
I really like your new album Dark Corners and the concept behind it. How did you come to write it?
I fell in love with a band, Von Strantz, after seeing them perform in Indianapolis at the HiFi. They had backed me up for a SoFar show, but I was not familiar with their original music. The songs were raw, breakup songs and stunningly beautiful. I texted John Vanderslice during the show and asked if he'd help me make their record. He agreed and by the time they stepped off stage, I'd arranged to take the profits from my first record and give them to Von Strantz so they could make something beautiful with the team I had worked with.
Shortly after that, Vanderslice and I were discussing the logistics of the project and the conversation drifted to my day job. I mentioned that I was tied up with a bankruptcy of a major ocean cargo shipline. They were out of money and their 52 ships were stranded just off shore in view of their destinations but couldn't unload. It costs somewhere around $2 million to unload a container ship and they didn't have it. So for fourteen weeks the captains of these vessels, men and women who had worked their way up to these elite positions, who left their families and land for months at a time, were anchored, stranded, within view of their destinations -- for 14 looong weeks. At the end of the story I joked, "So my entire next album is gonna be from the perspective of a stranded cargo boat captain." Vanderslice immediately exclaimed "That is fucking brilliant."
It struck me that JV was absolutely correct and I wrote "Captain" that day. I had written "Go" by accident after being inspired at a Samantha Crain show in Nashville about a week earlier - after watching Samantha and Matthew Milia close a show with the most beautiful song ever. Samantha and Matthew were staying with me and I've always felt weird that I wrote that song while they were in other rooms at my place, after being inspired by Samantha's style and lyrics and their performance together. I've never told them that this album started with them. (There, it's out now!) Their voices together were the inspiration for the male/female harmonies on this record -- the same thing I love on Ryan Adam's "Heartbreaker" or Damien Rice's "O." Within two weeks I had written the entire concept album (tracks 1-8). Hidden track 10, my ode to Jason Molina and how I could be more like Jason if I didn't guard against it, was a left-over from the first album that never came together until this recording session.
How have your fans and reviewers responded to Dark Corners? Has the response been positive?
I was wholly unprepared for the onslaught of positive press and comments. I've been compared to my heroes. I've heard each of the 9 songs is someone's favorite. It's been wonderful. The album isn't even available until we release it June 30 with a huge party at the HiFi in Indianapolis, and still people are playing the advance tracks, writing me about the music they've heard and the reviews have been wonderful.
Are you happy with the way the album came together?
I love my first album, but Dark Corners is 1,000,000 times better. I was able to take the experience of the first album and communicate to my musicians (who are all the same with some additions) exactly what I wanted. They delivered on my vision and it exceeds my wildest expectations. With Elijah Ford (an amazing artist on his own), Marc Ford (Black Crowes/Magpie Salute), Jason Slota (Thao & the Get Down Stay Down, Rob Shelton (Meernaa), and Jess and Kels from Von Strantz, I knew it was going to be good … but it turned out waaay better than good. Am I allowed to say my own album is great, perfect, the embodiment of my vision exactly.
The amazing wizard John Vanderslice recorded, produced and mixed my album 100% analog at Tiny Telephone in Oakland California. John has worked with Spoon and Death Cab and Samantha Crain. St. Vincent opened for John when he was touring!!! He was assisted by the genius Jacob Winik. Bernie Grundman mastered it and cut the lacquer for the vinyl in Hollywood. He did Thriller. He did Purple Rain… Pink Floyd and Ryan Adams go to him when they remaster vinyl. Pinch me. Flipping pinch me.
Will you be touring any time soon?
We are planning an album release show at the HiFi in Indianapolis (hifiindy.com) on June 30 with 3 great opening acts (The McDonalds, Jeff Kelly & The Graveyard Shift and Von Strantz) and tons of guest appearances. We're giving the new album and all my merchandise to anyone who shows up and buys a $10 ticket. We're always open to playing out -- but for the minute this is the only show officially on the calendar. Something in Nashville this fall has been discussed, but it's a little early to say the "t" word.
Are you working on any new songs?
I'm always working on something, but this week we are prepping hard to play these songs live at the release show.
Did you study music/voice in a formal setting, or pick it up on your own?
I taught myself how to play by learning my favorite songs by ear. I convinced myself to sing by realizing that many of the artists I love, John Frusciante, Bob Dylan, Tom Petty, Tom Waits, Johnny Cash, Roger Waters, don't have amazing voices or ranges and just work with what they have. It opened up the world for me when I realized a four note vocal range was OK as long as you knew it and stayed within your own voice. A story teller's only job in a song is not to get in the way of the story.
Popular in the Community