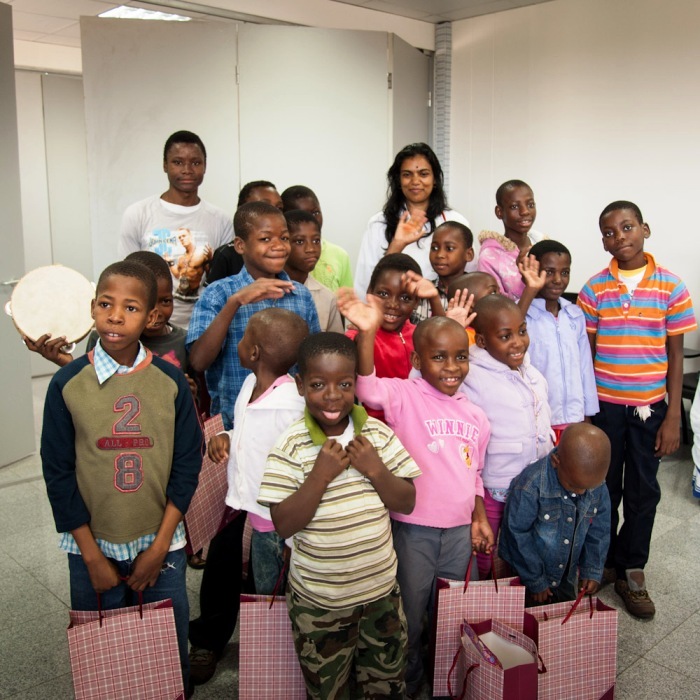 "It's a revolution in diagnosis which is leading to a revolution in treatment," says Philippe Douste-Blazy of UNITAID. UNITAID means helping together, roughly translated from the French and it's a visionary approach to solving the global crisis in health where depending upon where you live and your circumstances, you may receive excellent healthcare, some healthcare or none at all. Douste-Blazy is the former French Foreign Affairs Minister - equivalent to our Secretary of State - and is also a cardiologist by trade. He's been successfully able to combine these two skills - medicine and diplomacy - in service of creating miracles around the world for men, women and children.
UNITAID is a small but scrappy group based within the World Health Organization that is applying 21st century solutions to age-old problems using a 1-2 punch of innovative financing and futuristic technology. And they've had more than one knockout against their foes both tiny (e.g. viruses and bacteria) and gigantic (e.g. corruption, bureaucracy, poverty).
It's thanks to UNITAID's work that pediatric HIV drugs even exist. Douste-Blazy's team used micro-financing from small fees (about 1 euro on economy flights) on air plane tickets to persuade drug manufacturers to create drugs for an underserved yet desperate market. The people who need pediatric HIV/AIDS drugs tend to be mostly poor and African. Within only a few years, UNITAID's work in partnership with local organizations, governments and NGOs such as the Clinton Health Access Initiative, UNICEF, Doctors Without Borders and the ONE Campaign has created the tantalizing prospect globally of a generation free of children born with HIV. For those children on AIDS treatment, UNITAID covers almost 80% of them.
When asked about America's Miracle AIDS Baby, the 2 ½ year old who was treated with drugs and later became free of the HIV virus, UNITAID's Deputy Executive Director Philippe Duneton said: "What happened in Mississippi is, of course, great news. UNITAID pioneered the concept that even the youngest children can be treated for HIV and AIDS. If the miracle baby's success is replicable and we think it,is, then we can provide more treatment to more even more children with stronger drugs. We are already developing a new drug. They are "sprinkles" that don't need fridges, taste better and are easier to give to kids. It's possible that many more babies like this exist in Africa already but we don't have the tools distributed widely enough yet to monitor their condition."
UNITAID's focus on using its resources to bring cutting-edge solutions to the challenges of healthcare has in part meant mixing high tech and low tech. For example, in Mozambique, where electricity can be unstable or unavailable at times, UNITAID is working with its partners to roll out internet-enabled diagnostics at local clinics and hospitals that reduce the time to get a test result from 2 months to one hour(!). The diagnostic printers can operate for several hours without electricity, which is critical given the country's almost daily rolling power outrages. The machines have been miniaturized so the devices are the size of shoeboxes instead of the size of rooms and run on solar power. This technology can be life-saving - according to Dr. Ilesh Jani of the Mozambique's National Institute of Health, half of untreated children may die before the age of two due to the delays. The machines deliver diagnosis for infants, CD4 counts and viral load which allows children and adults to better track their conditions and receive more customized treatment. The printers use GPRS, which is similar to SMS but cheaper, and with encrypted data to maintain confidentiality, a contribution from mcel, a Mozambican mobile phone company.
Speaking of the Miracle AIDS Baby, it was advanced diagnostic technology such as this that enabled doctors to detect HIV in that newborn. By bringing this same nifty new tech to remote regions in Africa, UNITAID will enable health workers to test more newborns and provide them with life-saving treatment.
State-of-the-art gene therapy machines called GeneXpert are also delivering test results via GPRS giving information to tuberculosis patients so they know within hours not months if they have TB and whether it is multiple drug resistant or not. Lives hinge on receiving this information quickly so that TB patients get the right medicine before it's too late.
To treat malaria more effectively in Mozambique, UNITAID partner Malaria Consortium is distributing near-instant plastic malaria testing kits. Someday these might be 3-D printed locally or through a volunteer network. For now, traditional healers refer patients to local trained health care workers. There's a severe shortage of doctors and equipment - there's only 400 health care workers available to serve 3 million people in Nampula province. 1 not-very-new microscope that needs electricity serves 180,000 people and so on. So having a health care worker who can bicycle into a village and quickly test people with lightweight kits that only require a few minutes to reveal whether they do or don't have malaria? What once took weeks or months and cost lives now takes minutes, meaning faster medicine to those who need it. Local health care workers say it's having a dramatic decrease in deaths among kids. The Malaria Consortium is also testing a pilot program that sends messages via a special mobile app on Samsung phones to health care workers in the field to help keep their training up-to-date.
Mozambique is about to join a rapidly growing set of South American, European & African nations who have adopted the airline fee to support UNITAID's efforts so that their citizens become not just recipients of aid but donors to other nations in need. Americans are helping too, via the Bill and Melinda Gates Foundation and other NGOs. The Clinton Foundation and the Mozambique government are launching a public-private partnership with the local Coca-Cola bottling franchise to distribute essential medicines in four provinces. The people who brought us Coke Zero are providing empty trucks, fuel and drivers for one week each month with costs split between the Clinton Foundation and Coca-Cola.
That's a start, but Philippe Douste-Blazy of UNITAID is eager to get Americans like you and me in the game. He's a believer that one country alone cannot save all the world's problems. But working together, we can create more miracle babies. Bill Clinton is traveling to France this month to be honored by UNITAID yet despite all the U.S.'s contributions, we're not participating fully - the U.S. is not yet a member on UNITAID's board and has not applied the airline fee or other innovative financing measure. Yet I think most Americans would happily give a dollar or two for the type of results UNITAID is getting. Douste-Blazy says: "When millions around the world are sick, hungry, homeless and desperate, it's easy for someone using religion or politics to take advantage. Solutions can be either revolution or we use capitalism creatively like judo to save the world. Americans are leaders and UNITAID offers an opportunity to demonstrate that leadership in using innovation and technology combined with vision to ensure that all people have equal opportunities for their lives. Americans can be Number 1 in showing leadership in a financial and technological revolution that can quickly solves the world's problems with the world working together."
It's a crazy dream, maybe. But Douste-Blazy's dreams of miracles have a way of coming true. We'll have to see whether the Nobel Peace Prize-winning Obama Administration is ready to match its hope to this dream and lead the world in creating change for healthcare and beyond at a whole new level. The question is whether the Administration trusts that the American people are ready to jump into the fight.
© Photo credit: Giulio Donini
Related
Popular in the Community